In this guide I'll show you how to configure WooCommerce extra product options. WooCommerce products have limited features. There's no need for WooCommerce to be packed with all the functions because it is easily expandable with plugins. If you need more features for your products such as date pickers, checkboxes, selects or text fields, this article is the guide you are looking for.
What are WooCommerce Extra Product Options
Most of the e-commerce stores sell standard physical products. E-commerce platforms such as WooCommerce are well-made for them. However, sometimes stores need something more.
For example, you want your store to be more customer-friendly. You want to let a customer order a gift wrap. It's a very needed option for customers during holidays, Valentine's Day and other events. The best solution would be to add a checkbox for such a feature. It is a product add-on as it is not built in WooCommerce itself.
Another example would be a diet box store. You want to let customers choose a date to start a diet or what specific ingredients they would or wouldn't like to be included. To add such features you will need a WooCommerce plugin to add extra product options.

How to add WooCommerce Extra Product Options
There's plenty of plugins on the market. Based on our experience we've created our own! This is our fourth free plugin and our plugins are used by over 225,058 WooCommerce stores worldwide. That gives me the confidence to say that our plugin WooCommerce Product Add-Ons is one of the best in its category.
Flexible Product Fields PRO WooCommerce

£

59
Create a product wizard to sell engravings, gift wrapping, gift messages, business cards, stamps and optionally charge for it (fixed or percentage).
Add to cart
or
View Details
WP Desk
Last Updated: 2022-11-04
Works with WooCommerce 6.7 - 7.1.x
Now, I am going to show you how to use it. All examples below use that plugin. Flexible Product Add-Ons is a free WooCommerce plugin but we have also created a premium version if you need some more advanced features such as conditional logic. However, you don't need to buy a PRO version in the beginning.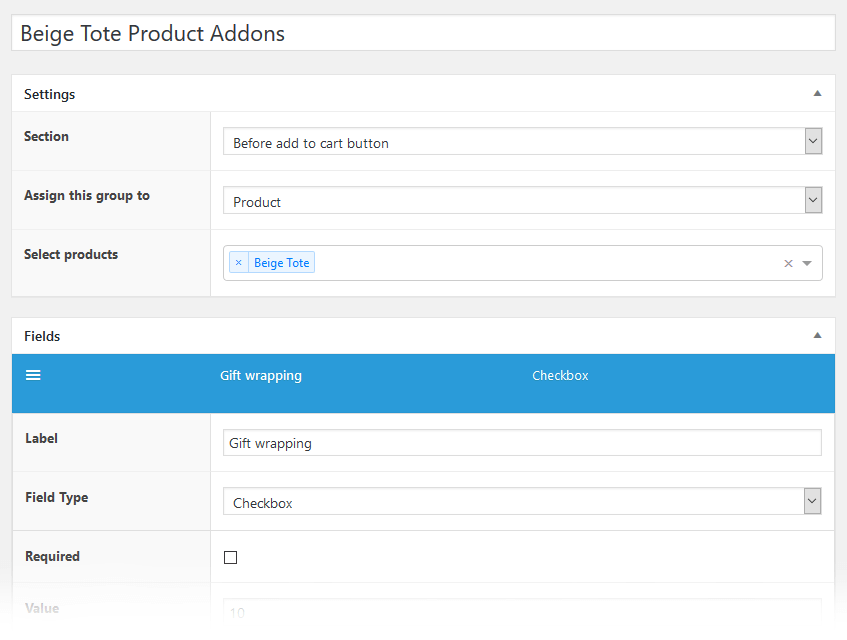 All product fields explained
Learn more about all the fields you can add using Flexible Product Add-Ons →
Use cases for WooCommerce Extra Product Options
WooCommerce Bookings made easy
You don't always need the overdeveloped WooCommerce bookings plugins. They are pricey because they have a lot of features. Not only are they expensive but also they consume a lot of your server power and time to configure. WooCommerce extra product options may be a cheaper and more lightweight option.
You can let the customer choose the arrival and departure dates. They can specify the number of guests or choose the bed and breakfast option.
Check out WooCommerce Bookings Alternative Guide if you want to know more.
WooCommerce gift wrapping
How about Christmas gift wrapping? It's a great idea for a last minute present. There are a lot of special events during a year. Gift wrapping is a cool feature that could be really attractive to your customers. Also, you could make more profit thanks to offering such a feature at an additional price.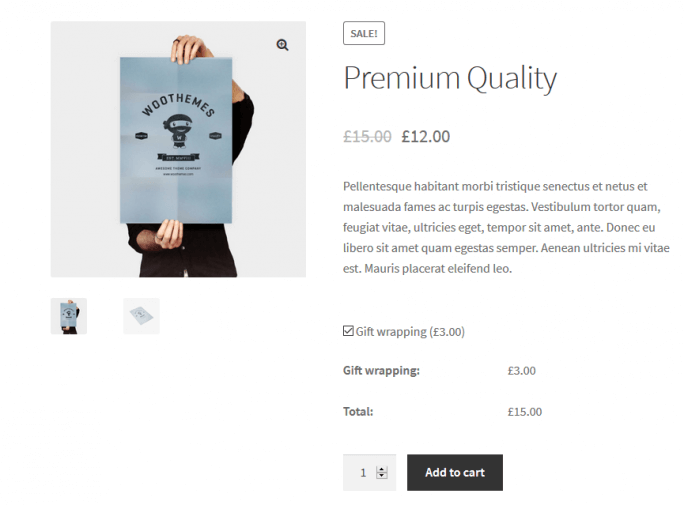 Are you ready for the feature in your shop? Read our gift wrapping use case →
WooCommerce gift message
It is another cool feature for your store. Gift wrapping is useful for a customer if they don't have time to do it themselves. Gift message is something different. A customer can write a message in the form of the short letter that is added to a product by the store's staff before shipping. Such a gift could be then sent directly to the person that your customer wants to give the present to.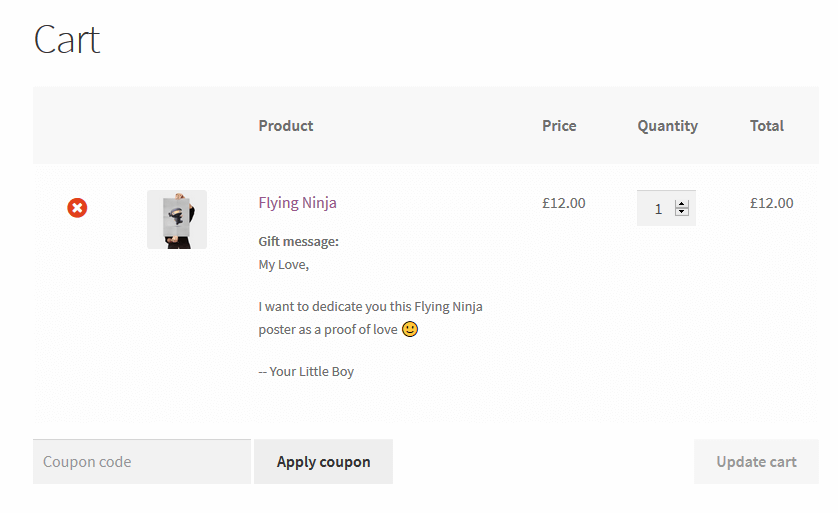 This article shows you how to add gift messages to your products →
WooCommerce catering ordering
People are more and more interested in healthy eating these days. Yet, keeping a diet all by yourself is a difficult day-to-day task. Counting calories, making lists of meals, shopping, cooking. These people are in need! However, there is a simple solution: food boxes or personal catering.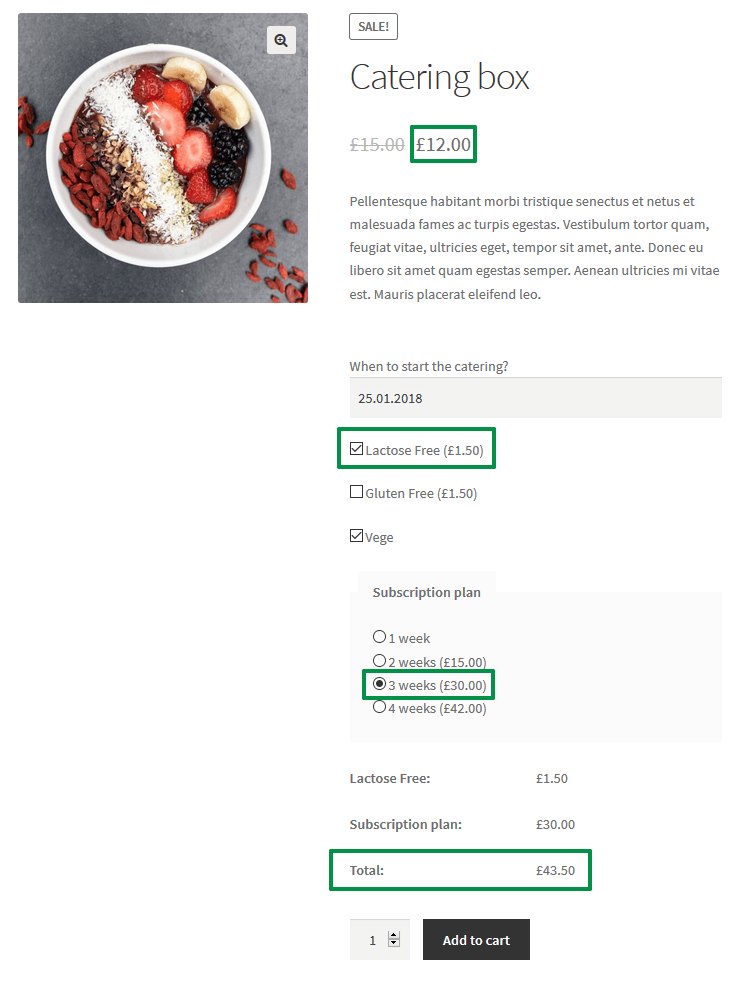 You don't need a dedicated plugin to add catering options to your WooCommerce site. All you need is WooCommerce extra product options that allow you to add such elements as a date field (catering service start date), a select field (meal calories), and a checkbox to include or exclude some ingredients from the diet.
This guide shows how to configure WooCommerce extra product options as a WooCommerce catering plugin alternative →
WooCommerce insurance for products
More and more stores cross-sell insurance for the products they offer. It is a very good idea as it can provide you with an additional profit. Insurance companies split profits with the middlemen, which in this case, are the stores.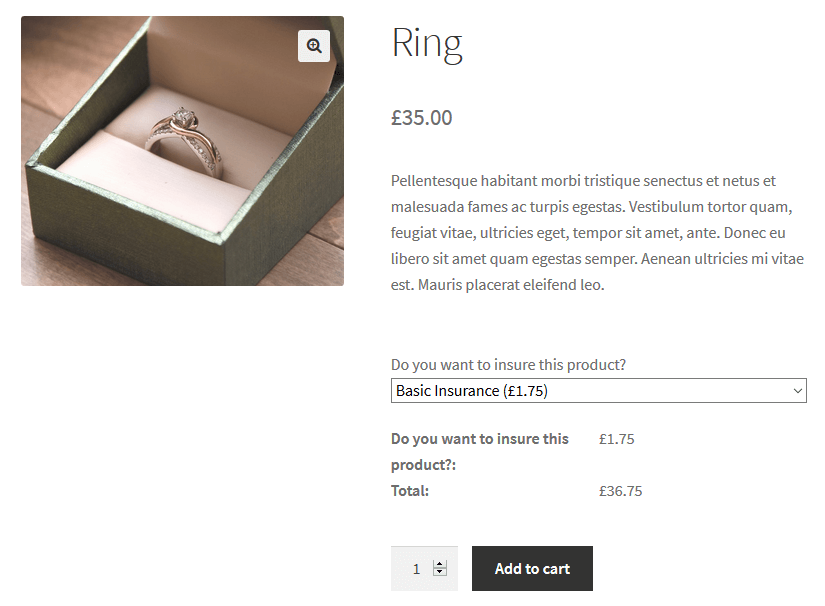 Become one of them! Read our WooCommerce Product Insurance Guide →
WooCommerce product engraving
If you sell products that you can make engravings on, you have to add WooCommerce product engraving feature to your store! We value unique things. That's why we like to personalize things we own or the ones we give to others as gifts. Such a feature as engraving can provide a perfect personal touch.
Are you interested in this feature? Check out our WooCommerce Product Engraving Guide →
WooCommerce Computer Builder
You can create a computer configuration wizard in your store, too!
Some customers need more RAM and better GPU because they work on videos. Programmers prefer high-end CPU. Different customers have different needs.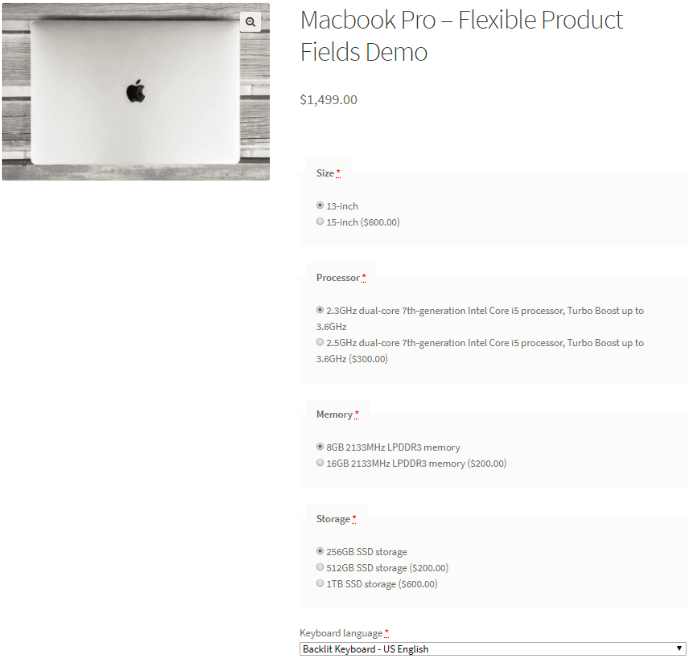 Do you want your customers to be able to personalize computers they buy? Check out our WooCommerce Computer Configurator Guide →
Are you ready to use WooCommerce Extra Product Options?
Perhaps WooCommerce extra product options seem like a set of some simple features. However, they are really powerful! You can use them either as additional features or as an alternative to other robust and often expensive plugins.
You'd better check out the Free WooCommerce Product Add-Ons plugin. It's really free, so no worries :) Also, it lets you set your own custom CSS class.
Also, we'd be happy to get feedback from you! Please use the comment section below and let us know what you think.