If you sell products that you can make engravings on, you have to add WooCommerce product engraving feature to your store! We value unique things. That's why we like to personalize things we own or the ones we give to others as gifts. Such a feature as engraving can provide a perfect personal touch.
WooCommerce Product Engraving - Plugin Configuration
Flexible Product Fields WooCommerce
Create a product wizard to sell engravings, gift wrapping, gift messages, business cards, stamps and optionally charge for it (fixed or percentage).
Download for free
or
Go to WordPress.org
WP Desk
Last Updated: 2022-11-24
Works with WooCommerce 6.7 - 7.1.x
First, you need the free Flexible Product Add-Ons plugin. You can download it for free from WordPress.org or install it right from your store's plugins section searching for flexible product fields: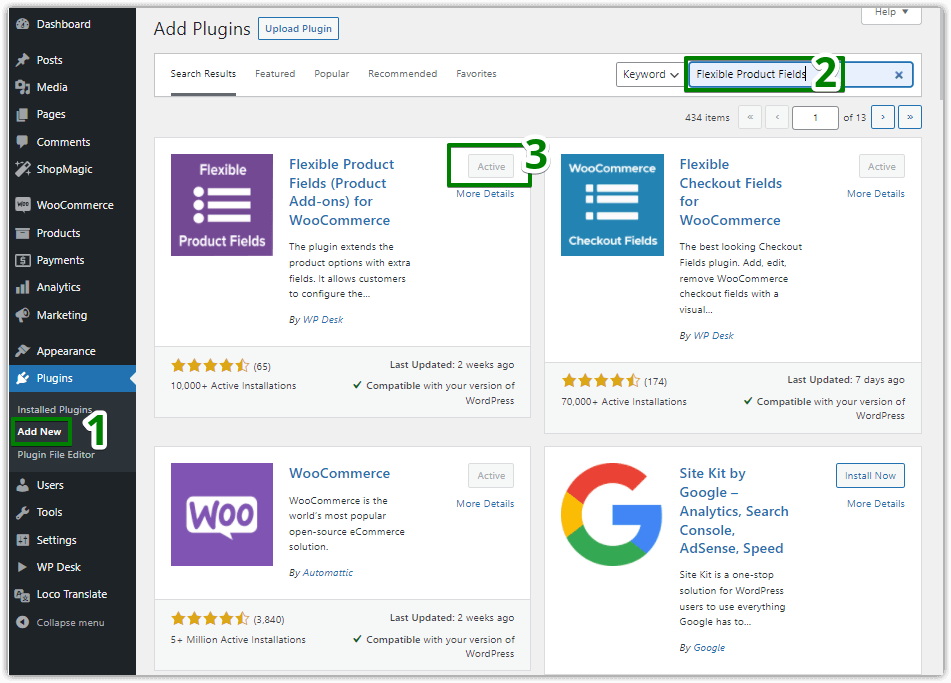 Once you have the plugin installed and activated, let's configure it. Choose: Products → Product Fields in your WordPress menu. Then you need to add a new field group: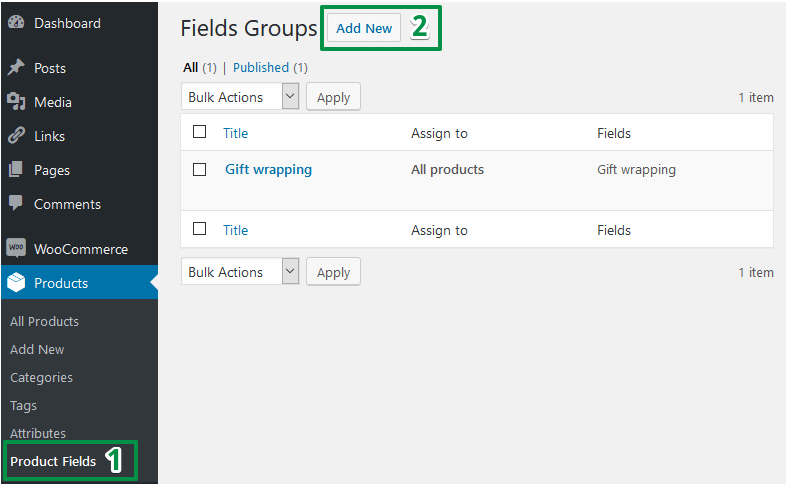 You need to specify the product(s) for which a customer will be able to order gift message. This is easy.
In the free version of the Flexible Product Fields, you have to specify products one-by-one while in the PRO version you can select either all products from a category or all products in the store.
WooCommerce Product Engraving as a free feature
Next thing you need to do is to configure the engraving text field. Just add a text field in the Fields section below the Settings section.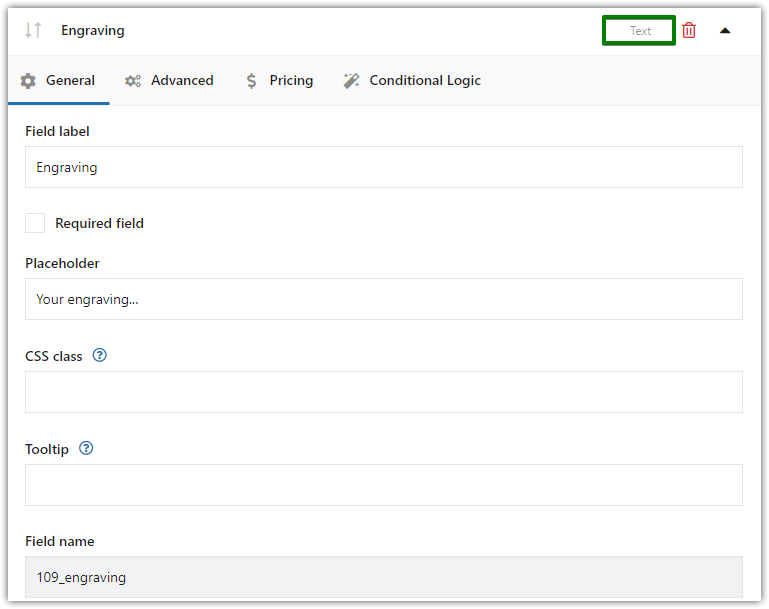 You can set a character limit if you want to. There's also an option to set a placeholder. That's how the engraving text field looks like on the product page: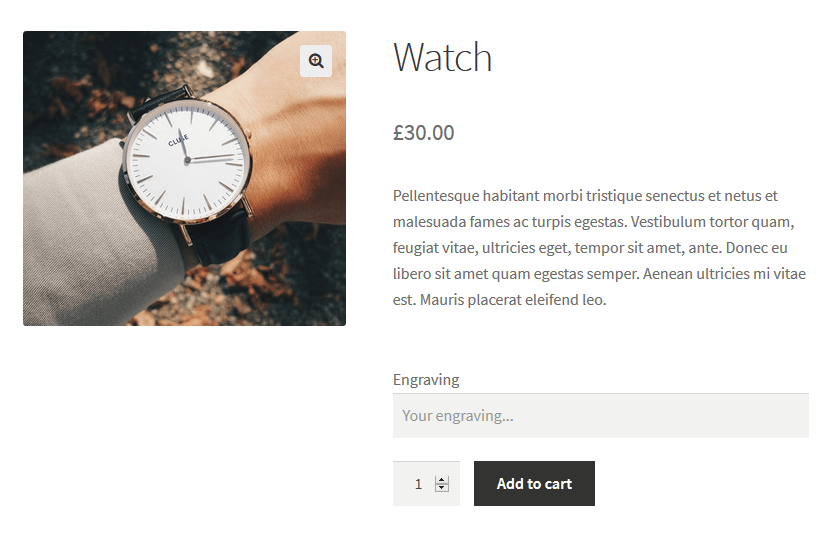 Here you can see how it looks like in the cart. I typed To my loved one in the engraving text field before adding the watch to the cart.
WooCommerce product engraving at an additional cost
Although the previous example is completely fine, sometimes you may need something more. Of course, there are brands which would like to make engravings for free. If you want to charge a customer for it, you need some additional configuration. You can set any price you want for engraving so you can make some profit out of it, too. If you want to add price to the fields, you need the PRO version of Flexible Product Fields plugin.
After installing and activating the PRO version you will see the Price type and Price options. Look how I configured them: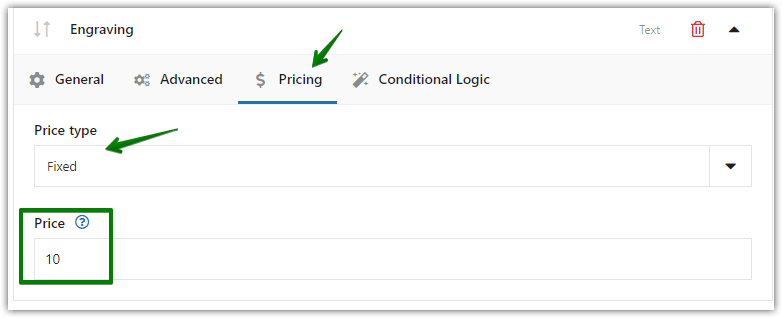 That's how it looks like on the product page. The cost of engraving is not added to the product cost when the field is empty.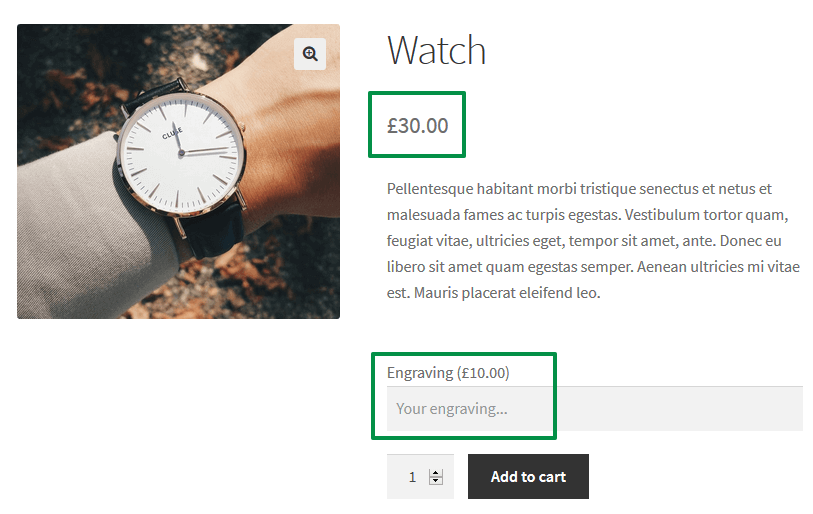 As soon as a customer types something in, both the engraving cost and the product cost are summed up.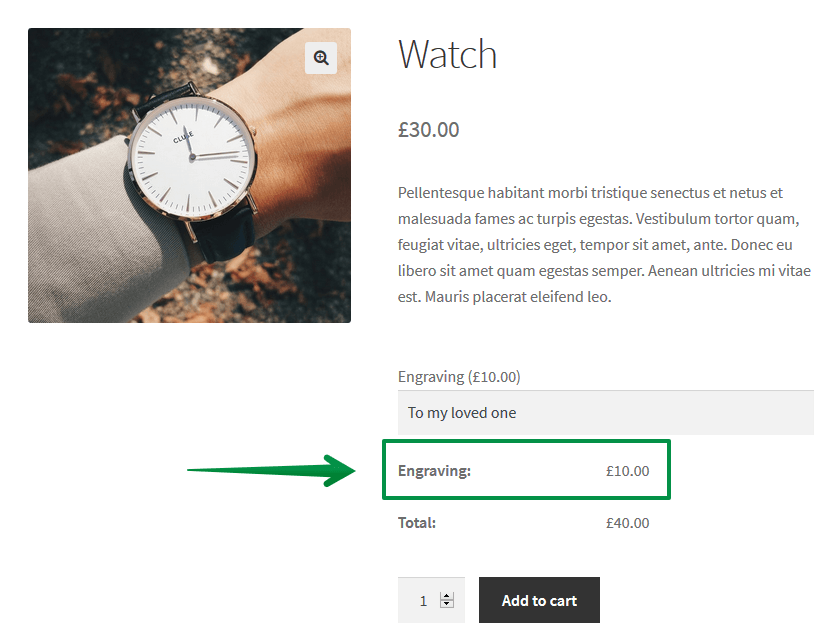 Conditional Logic in WooCommerce Product Engraving
Maybe you don't want to show the engraving text field on the product page for every customer. It takes some space and may distract your store's visitors. The best way to hide this text field is to use a checkbox. If a visitor clicks on the checkbox, the engraving text field shows up. You need two fields (checkbox field and text field) where the second one uses conditional logic: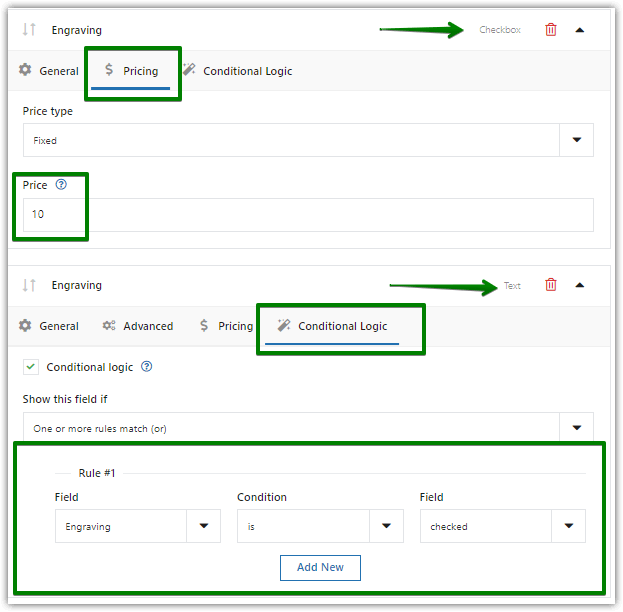 Here's how it works on the product page. Neat!
In the settings, I set a price on the checkbox (£10) which is added to the product price right after your customer clicks on the checkbox.
Are you ready to add WooCommerce product engraving to your store?
That's all! You are ready to go. This way, you can add the WooCommerce product engraving feature to your store. I hope this option boosts your sales! If you have any concerns, just ask me in the comment section below.
Also, check out our WooCommerce Extra Product Options Guide if you want to learn more use cases for the Flexible Product Fields plugin.