More and more stores cross-sell insurance for the products they offer. It is a very good idea as it can provide you with an additional profit. Insurance companies split profits with the middlemen, which in this case, are the stores. Become one of them with this WooCommerce Product Insurance Guide!
How to add WooCommerce product insurance with a plugin
I think the best way to cross-sell insurance is doing so on the product page. You will need the free Flexible Product Add-Ons plugin.
Flexible Product Fields WooCommerce
Create a product wizard to sell engravings, gift wrapping, gift messages, business cards, stamps and optionally charge for it (fixed or percentage).
Download for free
or
Go to WordPress.org
WP Desk
Last Updated: 2022-11-24
Works with WooCommerce 6.7 - 7.1.x
You can download it for free from WordPress.org or install it right from your store's plugins section searching for flexible product fields: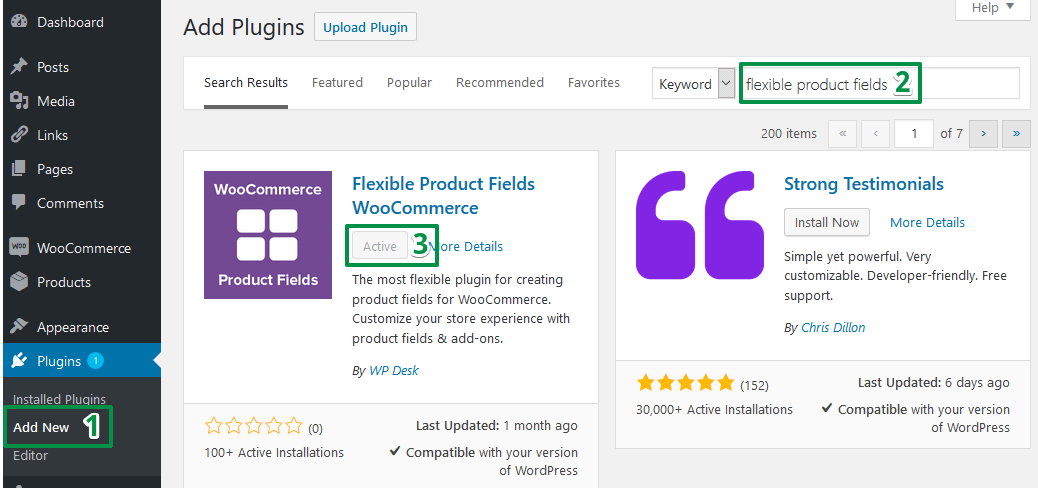 Once you have the plugin installed and activated, let's configure it. Choose: Products → Product Fields in your WordPress menu. Then you need to add a new field group: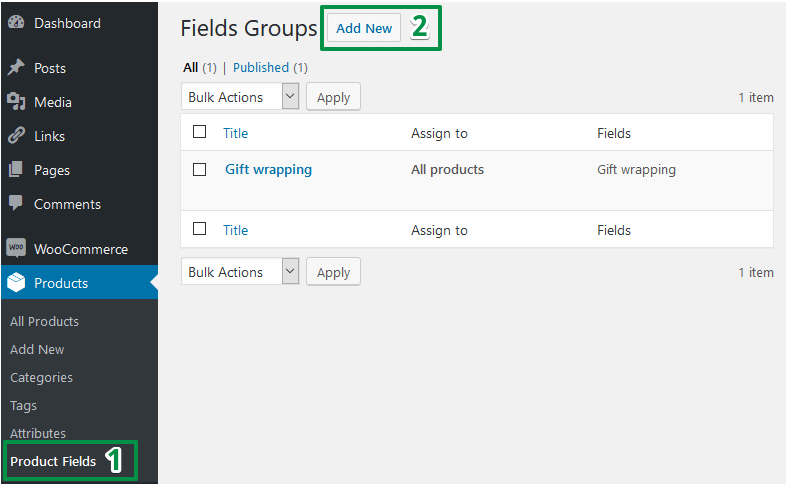 You need to specify the product(s) for which a customer will be able to order insurance. This is easy.
In the free version of Flexible Product Fields, you have to specify products one by one while in the PRO version you can select either all products from a category or all products in the store. You have to buy the PRO version if you want to add insurance cost to the total cost of the product in the cart.
WooCommerce Product Insurance in a Nutshell
As I said before, I think the best way to cross-sell insurance is doing so on the product page, right before the Add to Cart button. It should not take too much space on the page. I think that a select field is the best one for this option. In this example, I will configure a percent price type (PRO version). Check out the configuration below: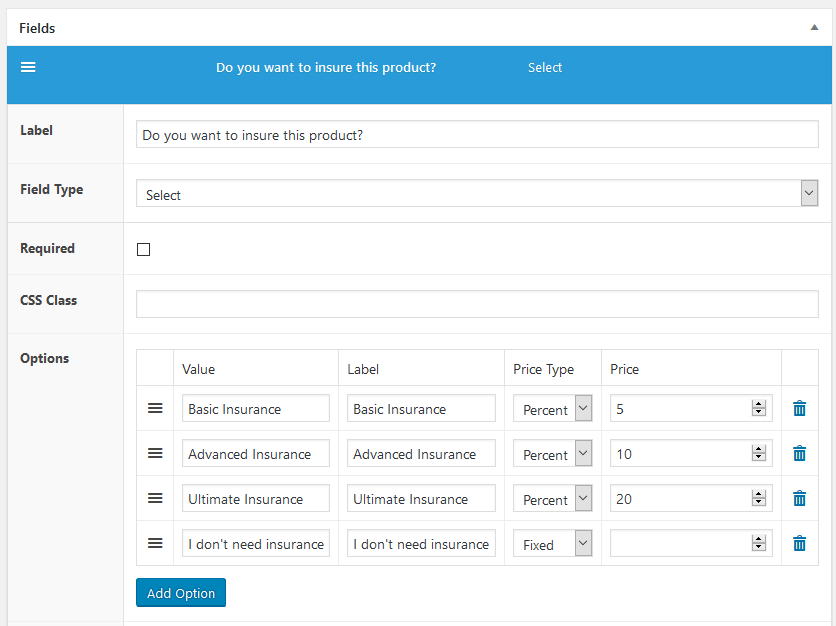 It will look like this on the product page: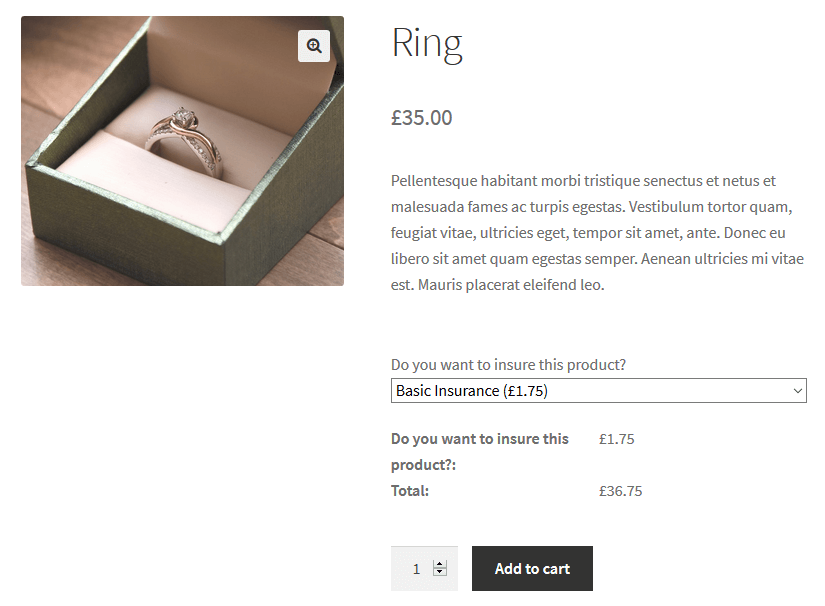 The cost of the insurance is calculated automatically based on the configuration:
Basic Insurance - £1.75 (5% of the product price)
Advanced Insurance - £3.50 (10% of the product price)
Ultimate Insurance - £7 (20% of the product price)
You can see the select field with the following prices: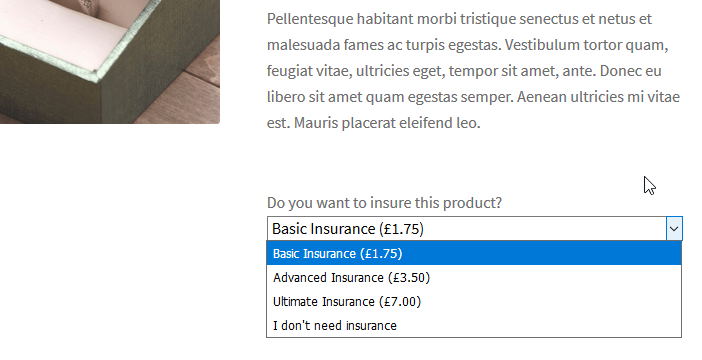 When a customer adds this product to the cart, it looks like this: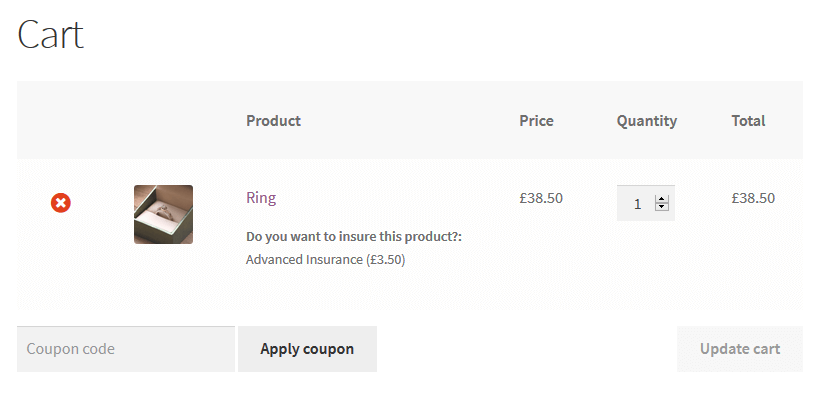 Are you ready to add WooCommerce product insurance to your store?
In this WooCommerce product insurance guide, you have just learned how to make some additional profit in your store ;) I hope that you can make a some additional money using this method! If you have any questions about WooCommerce product insurance, just use the comment section below.
Also, check out our WooCommerce Extra Product Options Guide if you want to learn more use cases for the Flexible Product Fields plugin.