Sale season is coming - Black Friday, Black Week, and Cyber ​​Monday! Prepare your online store for increased traffic and offer your customers WooCommerce discounts for Black Friday. Because more people will buy your products at a lower price, the income at the end of the day may turn out to be higher than if with regular prices.
Black Friday 2022 is on Friday, November 25
Cyber ​​Monday 2022 is on Monday, November 28
From this guide, you will learn:
Change product prices manually
In WooCommerce, you can set a sale price for each product.
Of course, you can manually set the sale price for each product, and after the sale period, you manually restore the regular prices. Of course, you may use the built-in sale calendar, but please remember that you can use the tool only for one product at a time, so you would have to set it product by product.

By default, in WooCommerce, you can set sale prices for many products using the Bulk Actions feature. Suppose you want to introduce sale prices for products from one category, 10% lower than the regular prices.
Just follow the steps below:
Go to the product list screen
List products from the category that interests you
On the list, select the products that you want to sell at a sale price
Select Edit from the Bulk Actions
Go to the Sale section
Select Set to regular price decreased by (fixed amount or %):
Enter the value 10% and confirm:
Using the Bulk Actions menu, you will not remove the promotional prices! To undo the changes, you will have to "click" through each product separately….
As you can see, it's neither intuitive nor convenient, is it? Moreover, this method will only work for simple products.
If you use variations in your store, their prices will not be changed!
Flexible Pricing plugin - WooCommerce discounts (on Black Friday too)
You can set up a similar promotion in seconds with the Flexible Pricing plugin.
Flexible Pricing is a plugin for creating promotions and discounts. Therefore, it is perfect for setting up promotions in WooCommerce on Black Friday! With its help, you can implement advanced scenarios.
You can find the plugin in our store:
Flexible Pricing WooCommerce

£

79
Customers love sales and pricing deals. Use this! Create promotions like Buy One Get One Free to get more sales in your store.
Add to cart
or
View Details
WP Desk
Last Updated: 2023-01-11
Works with WooCommerce 6.6 - 7.1.x
After installing and activating the plugin, go to the WooCommerce -> Flexible Pricing menu. Then go to the Category Pricing tab: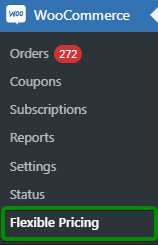 Here you can set a 10% discount on products from the selected category:
First, activate the discount by checking the checkbox in the Enabled column
Later, select Percentage Discount in the Type field
Enter 10 in the Amount field:
And it's ready! It didn't take very long, did it?
After saving the changes, your customers will immediately see discounts in the store: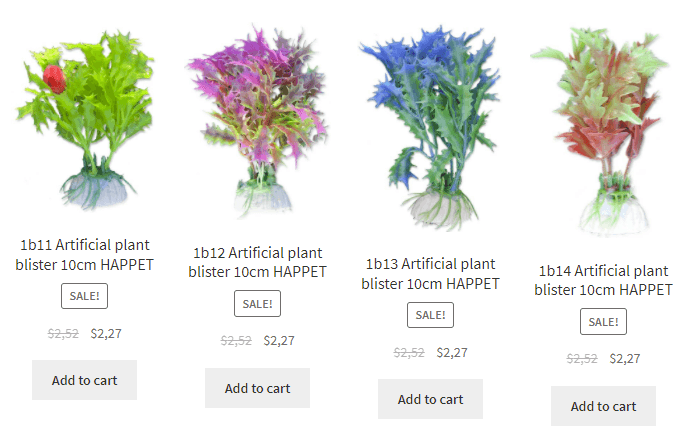 Of course, you can set a discount for many product categories in your WooCommerce store this way. The discount will also work for variations!
When Black Friday is over, all you need to do is deactivate the WooCommerce promotions by unchecking the checkbox in the plugin settings. And the prices displayed in the store will return to regular prices.
Of course, in the plugin, you can use more of WooCommerce dynamic pricing & discounts. Let's see some of them!
Second product for $1
A discount like "Buy one product, get another for $1" is one the most popular in e-commerce.
On Black Friday, it's a good idea to offer some WooCommerce products to your customers by lowering the price - all to drive sales of other products. Take a look at how easy it is to set up a "Buy one product, get another one for 1 dollar" promotion with the Flexible Pricing plugin:
Create a new category of WooCommerce products, to which you will then assign products that will be available for purchase in the promotion.
Go to the Products -> Categories -> Add new: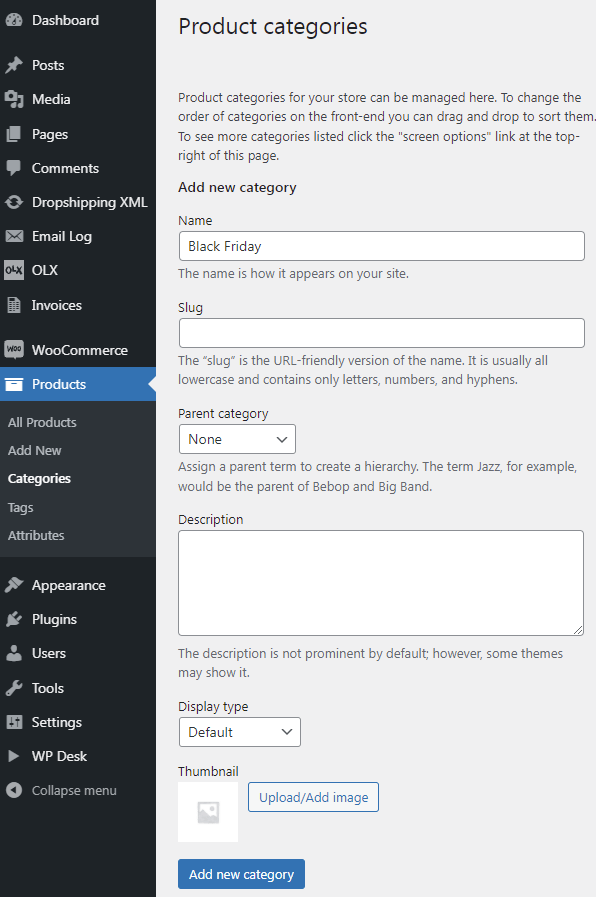 Then assign products to the new category that are to be offered for $1 when buying other products from the selected categories. You can do this by using the Bulk Actions feature again:

You have just created a new product category. Also, you've added products to that category so buyers will get the $1 product if the contents of their cart meet the appropriate conditions.
Now configure the "Second product for 1$" sale.
Go to the menu: WooCommerce -> Flexible Pricing -> Promotions for categories -> Advanced promotions for categories:
Enter the title of the promotion (optional)
Then, select Everyone in the Applies to field from the drop-down list
Specify that the terms of the promotion should be based on the number of items in the cart: Calculate quantity based on cart item quantity
And select the categories on which the terms of the promotion will depend and the categories that will be discounted in the cart.
Final result: if the buyer adds a product from the category to the cart, he will be able to buy a WooCommerce product from the Black Friday category for $1.
Buy Flexible Pricing plugin →
Higher-order value - higher WooCommerce discounts
You can also offer your customers a progressive discount - the more, the cheaper. Increase the value of shopping carts by encouraging buyers to add more products as they shop. The higher the value of the order, the higher the discount will be charged in the cart.
If the order value:
exceeds $100, the discount will be 10%
will be higher than $200, the discount will be 20%
exceeds $300, the discount will be 30%
To implement this promotion in your store, go to the Order Totals Pricing section and configure the promotion thresholds as indicated in the screenshot below: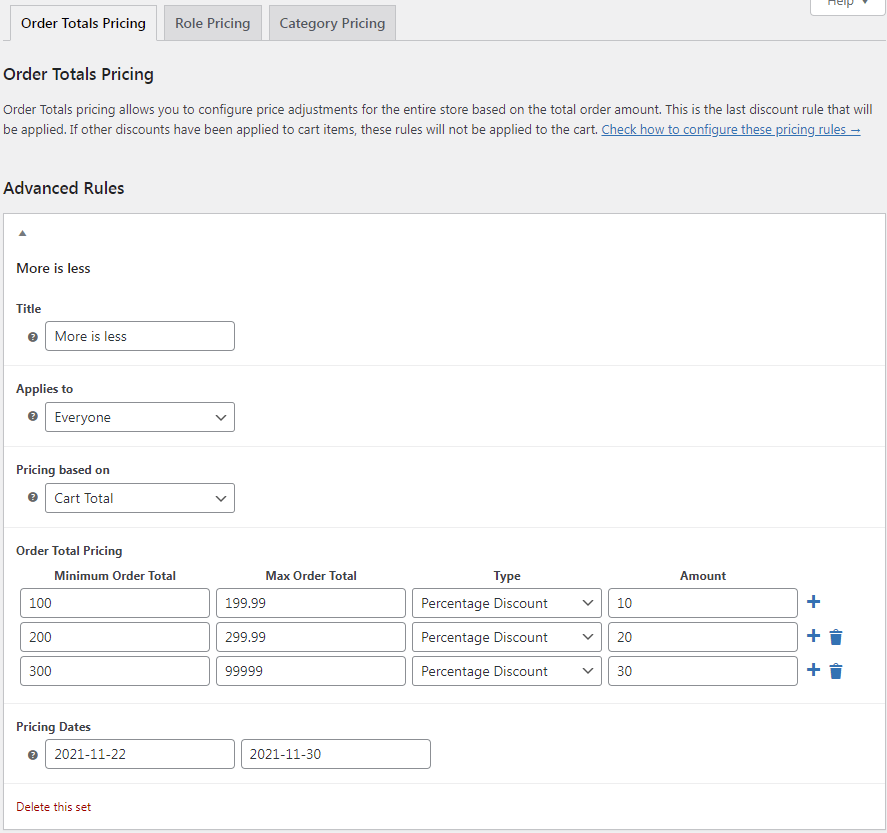 The final result will be visible in the cart:

Buy Flexible Pricing plugin →

The Flexible Pricing plugin and other plugins from WP Desk can be tested in a free demo!
Voucher for future orders
If you would like your customers to come back to you after Black Friday, offer them the opportunity to purchase a discount voucher for their future purchases in your WooCommerce store. It can also be the perfect Christmas gift for loved ones.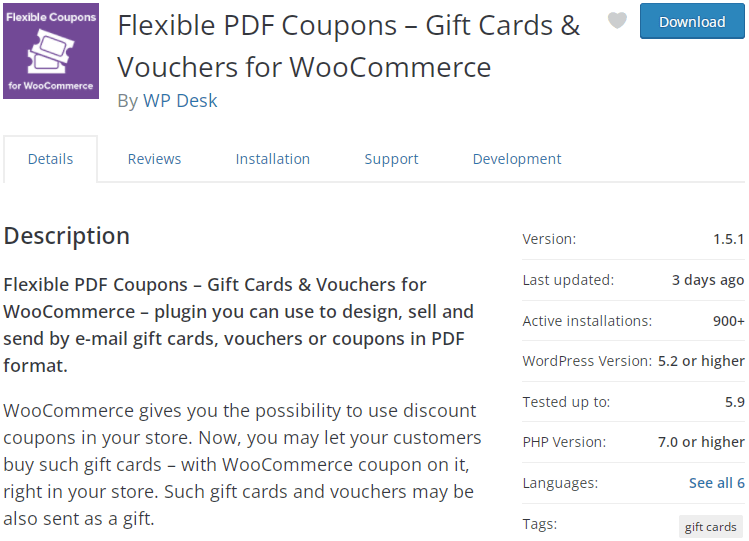 Download the free WooCommerce PDF Coupons plugin from the WordPress repository and create elegant gift vouchers that can be purchased in your store. The generated coupon in PDF file format will be sent by e-mail. Such a gift card can be a great gift for various occasions!
See the WooCommerce PDF Coupon options on the plugin product page.
Best plugins to boost your WooCommerce Black Friday
Creating promotions on special occasions to boost your sales may be much more than WooCommerce discounts and vouchers! Let me show you some plugins that can help you get more WooCommerce customers on Black Friday but also throughout the year.
Flexible Product Fields
Customize your WooCommerce products to offer extra packaging, additions, and services (also on Black Friday)!
Read how to customize a WooCommerce product page with text fields and use WooCommerce product options in the example of gift wrapping.
Flexible Product Fields PRO WooCommerce

£

59
Create a product wizard to sell engravings, gift wrapping, gift messages, business cards, stamps and optionally charge for it (fixed or percentage).
Add to cart
or
View Details
WP Desk
Last Updated: 2023-03-15
Works with WooCommerce 7.1 - 7.5.x
TIP: The plugin has also a free version! 😊
Flexible Checkout Fields
Customize the WooCommerce checkout, for example, to configure checkout without an address in 5 minutes or
Checkout Notes to configure the Section the Way You Want.
Flexible Checkout Fields PRO WooCommerce

£

59
Edit, add new or hide unnecessary fields from the WooCommerce checkout form. It's all about conversions and better user experience.
Add to cart
or
View Details
WP Desk
Last Updated: 2023-03-15
Works with WooCommerce 7.1 - 7.5.x
Also, there is a free version of Flexible Checkout Fields! 😊
Flexible Wishlist
Maybe you want to let your customers create wishlists, for example, on Birthdays with ease. There is a great & free plugin to add products to wishlists in WooCommerce. You may also use the Flexible Wishlist - Analytics & Emails add-on if you want to send personalized emails! ⭐
Last Updated: 2023-03-22
Works with WooCommerce 5.6.0 - 6.0.x
ShopMagic
Speaking of emails! There is a free plugin to send follow-ups and build your email marketing in WooCommerce. It's a must-have to run your store! The plugin has some free add-ons that make it easy to start WooCommerce email marketing! 🌟
Learn how to create automated emails in WooCommerce and see all plugin's features and add-ons.
Custom Price
There is also a way to let customers name the price for WooCommerce products. You may also use the plugin to get donations with custom prices along with other products in your store.
Last Updated: 2023-03-13
Works with WooCommerce 7.1 - 7.5.x
One more thing! The Custom Price plugin is compatible with Flexible Coupons! 🎉
Flexible Invoices
Ok. This plugin may help you after successful sales, as you need to... issue invoices for your customers! 😊
Visit FlexibleInvoices.com to get the plugin (also a free version) and start creating WooCommerce PDF invoices in no time!