Offering WooCommerce coupons during the Black Friday campaign to your customers always comes with win-win situations - customers are more willing to buy so your sales grow. Wondering how to enable and set up the Black Friday coupons feature in the WooCommerce platform? Read on to learn the entire process.
In this article you will learn how to:
How to enable WooCommerce Coupons?
The activation process is as easy as a pie. Just go to WooCommerce in the left-hand WordPress menu, click Settings. In the General settings enable Coupons. Now you need to enable WooCommerce coupons by ticking the checkbox.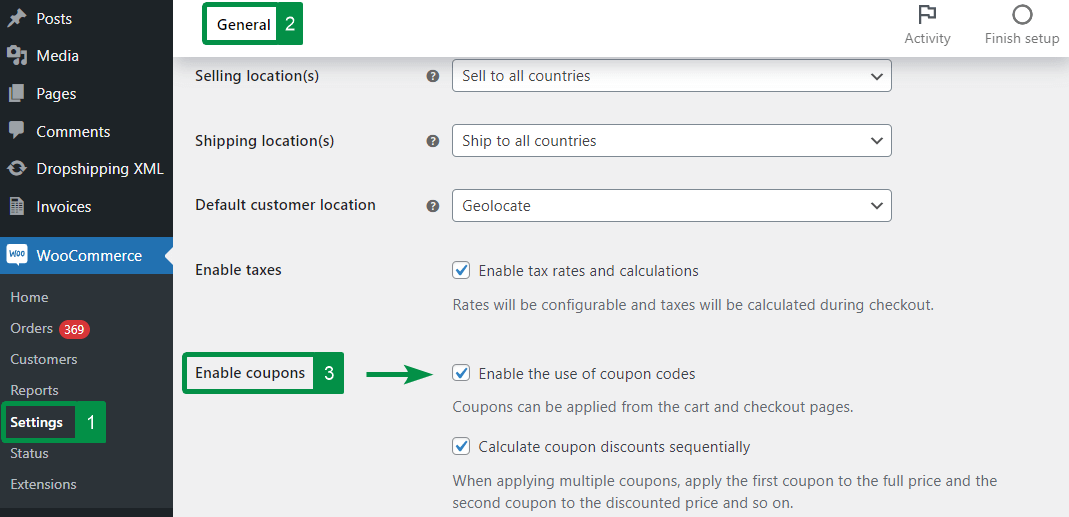 You may also decide to enable the Calculate coupon discounts sequentially option. Customers will be able to add multiple WooCommerce coupons. WooCommerce itself will apply the first coupon to the full price and the second coupon to the discounted price and so on.
Adding WooCommerce Coupons
Right after activating coupons, you can add your first coupon. You can simply do this by choosing Marketing → Coupons and then clicking on Add coupon button.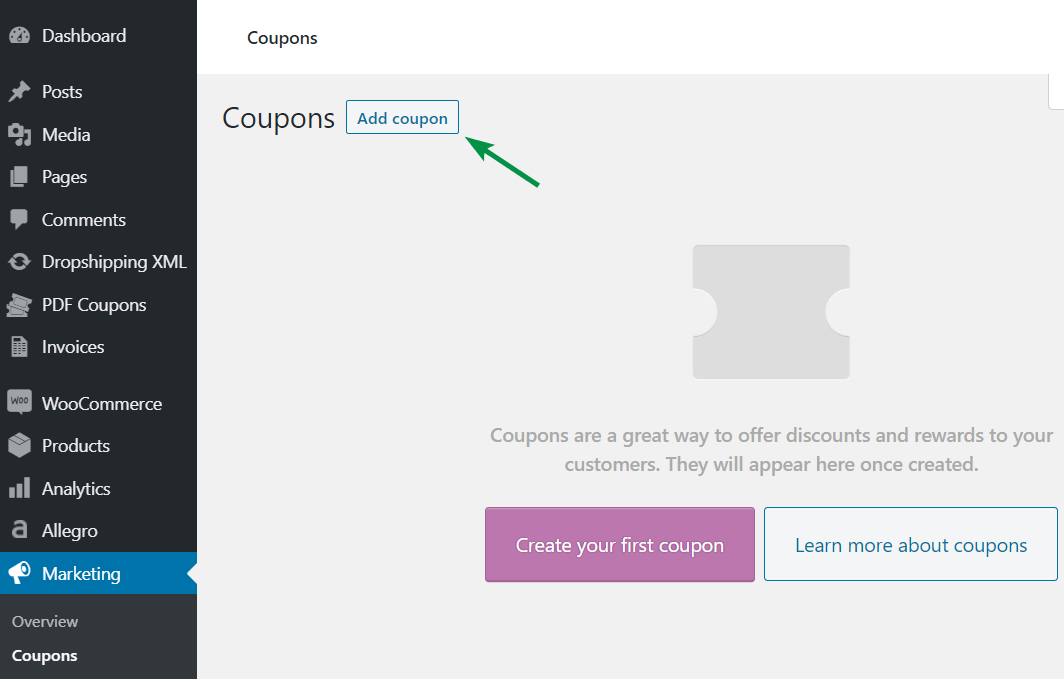 Now it's time to add a new coupon.

To add your coupon, fill in the following fields:
Coupon code - this is a discount coupon code entered by the customer in the WooCommerce cart.
Description - in this field, you can add some information about your coupon, with as many details as you need. The description is only visible in the admin panel. Even though the description is optional, it's good to use it. If you have multiple promotions or marketing campaigns it will help you identify the coupon after a few weeks or months.
Coupon General settings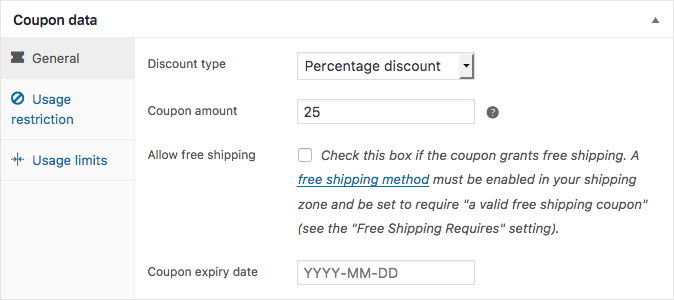 Discount type
Percentage discount - a type of discount used when the item is discounted by a percent of the original price (for instance, a 20% off coupon).
Fixed cart discount - it's a fixed value discount for the entire cart. For instance, it could be a coupon worth $100.
Fixed product discount - a fixed discount for selected products only.
Coupon amount - enter the coupon value as an amount or by percentage, depending on the coupon type you choose. Use a decimal system appropriate for your shop's locale. Don't use the currency or percent sign - just enter the number.
Allow free shipping - check this box if you want to offer your customers a free shipping coupon. However, remember to enable the Free Shipping voucher option in WooCommerce → Settings → Free Shipping → Free Shipping requires. Learn more about WooCommerce Shipping →
Coupon expiry date - optionally select the day when the WooCommerce coupon is no longer active.
WooCommerce Coupon - Usage restriction
Here you can set a limit for selected products, categories, or email addresses. This configuration is optional, so you don't have to restrict the coupon usage.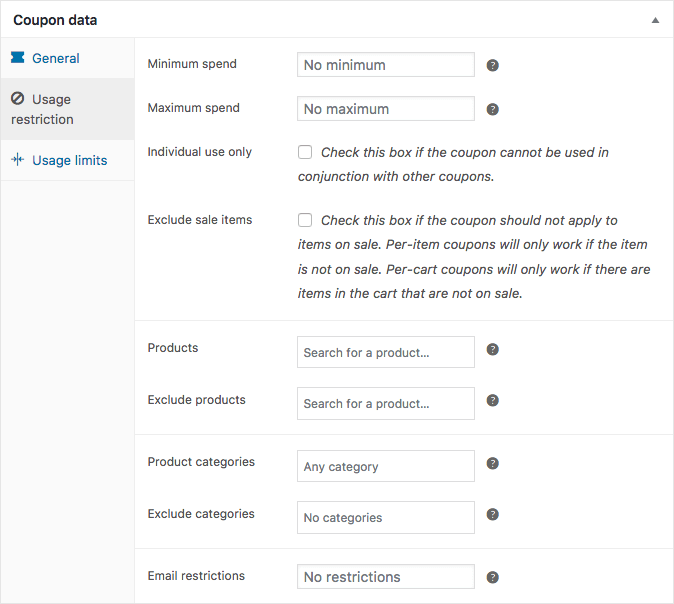 Minimum/maximum spend - this option allows you to enter the minimum or maximum value of your coupon order (which is a subtotal needed to use the coupon). Remember that the amount is set before tax calculation.
Individual use only - check this option if you don't want the discount to be used in combination with other coupons.
Exclude sale items - tick this checkbox if the coupon can't be applied to products on sale.
Products - select a list of products that the coupon will be applied to.
Exclude products - select the products to which the discount won't be applied.
Product categories - select the whole categories that will be eligible for the discount.
Exclude categories - this option allows you to select the categories to which the discount won't be applied.
Email restrictions - enter the email addresses that can use the coupons. If you want to add more than one email address, separate them with a comma.
Usage limits
Here you can set a usage limit for your coupon. This configuration is also optional, so decide for yourself whether you want to use it or not.

Usage limit per coupon - specify how many times the coupon can be used before it expires.
Limit usage to X items - enter the maximum number of items the coupon can be applied to (for product discounts).
Usage limit per user - specify how many times each customer can use the coupon.
As you can see, the configuration isn't complicated at all. But if you have questions or need my help, don't hesitate to ask in the comments. We are always happy to help!
What about WooCommerce Coupon Code Generator?
If you need to create coupons in your store automatically you can do that too! How?
You can use the best WooCommerce coupon plugin to create PDF gift cards and vouchers in WooCommerce! The plugin will be in fact your WooCommerce coupon code generator. With the plugin, you will be able to set the gift card and coupon restrictions in the same way as for standard coupons in WooCommerce. This plugin will help you e.g. with your promotional campaign for Black Friday or Christmas.
Flexible PDF Coupons WooCommerce

£

59
Design your own PDF coupons and sell them as gift cards, tickets, or service vouchers. Use extra add-ons and insert your own shortcodes, delay sending coupons by email, or even generate QR codes.
💾 Active Installations: 1,000+ | WordPress Rating:
Add to cart
or
View Details
WP Desk
Last Updated: 2023-11-16
Works with WooCommerce 7.9 - 8.3.x
When WooCommerce Coupons are not enough
WooCommerce coupons are a great but limited feature. They do offer category discounts, scheduling, and restrictions to emails to name a few great additions.
But they require the customer to enter the coupon (they do not work automatically based on selected conditions), do not offer BOGO (buy one get one), BOGOF (buy one get one free), BOGOHO (buy one get one half off), or discounts for groups of customers.
These are huge drawbacks if you want to create flexible promotions and fight for more sales. But paraphrasing famous Steve Jobs' quote: There's a plugin for that :)
Need more features to create a promotion? See the plugin to create WooCommerce dynamic product Pricing & Discounts!
Flexible Pricing WooCommerce

£

79
Customers love sales and pricing deals. Use this! Create promotions like Buy One Get One Free to get more sales in your store. The most dynamic pricing plugin for WooCommerce.
Add to cart
or
View Details
WP Desk
Last Updated: 2023-11-07
Works with WooCommerce 7.9 - 8.3.x
With Flexible Pricing you instantly get:
Price, percent, or fixed discounts.
WooCommerce discounts for selected categories.
Discounts for selected roles or client groups.
Per product or variation discounts.
WooCommerce dynamic discounts based on order totals, totals in selected categories, or customer order history.
Different kinds of WooCommerce promotions like BOGO (buy one, get one), BOGOF (buy one, get one free), or BOGOHO (buy one get one half off) promotions. For example: buy X items of one product to get a discount for Y items of this or another product.
Buy a product from a selected category and get a discount for another product from this or another category.
Black Friday coupon plugin
The plugins presented in the article are great solutions that will efficiently allow you to run campaigns for Black Friday and the Christmas 2022. We know that holiday season is a huge amount of work for every woocommerce store owner. Using these plugins will relieve your workload, and creating Black Friday coupons will be hassle-free, fast and, most importantly, effective.