If you sell digital goods, you'd like to set WooCommerce checkout without address. You only need a customer's name and e-mail address. I'll show you how to configure the checkout the way you need.
WooCommerce Checkout Without Address in 5 Minutes
Flexible Checkout Fields WooCommerce
Edit, add new or hide unnecessary fields from the checkout form. It's all about conversions and better user experience.
Download for free
or
Go to WordPress.org
WP Desk
Last Updated: 2022-09-14
Works with WooCommerce 6.5 - 6.8.x
We will use the free Flexible Checkout Fields plugin to configure checkout like this: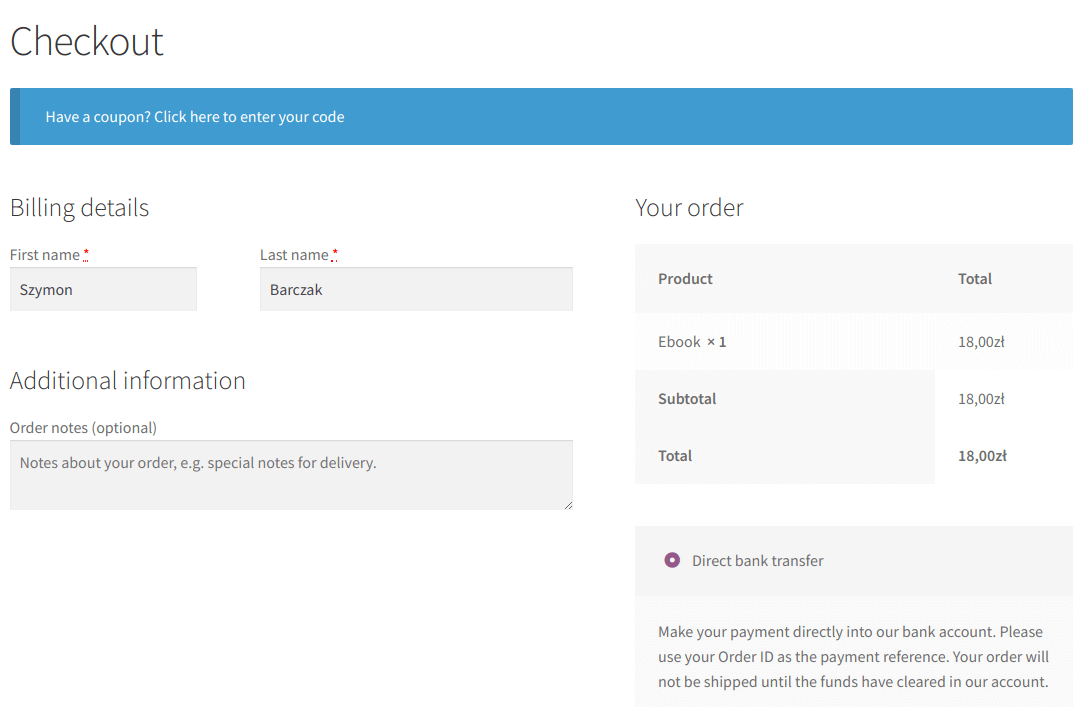 WooCommerce hides the Ship to different address section by default.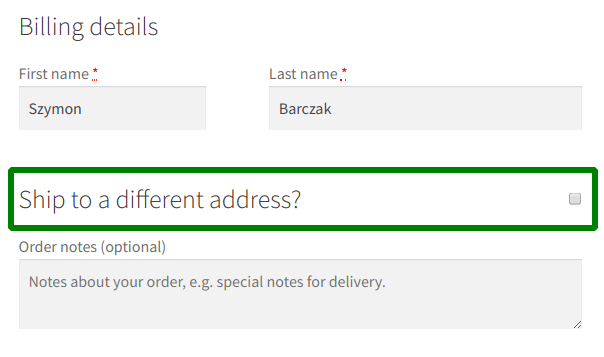 It happens when there are no physical products in the cart. Only the virtual ones.

So we need Flexible Checkout Fields to hide shipping address fields of the Billing section.
Once you install the plugin, go to WooCommerce → Checkout Fields. Then unmark Enable Field checkboxes on each field you want to hide:

That's all! You have configured WooCommerce checkout without address.
You can read more about WooCommerce Billing and Shipping Address Section →
More features of Flexible Checkout Fields
In short, Flexible Checkout Fields lets you create custom fields in checkout. Also, with this plugin, you can edit or rearrange default WooCommerce checkout fields. For example, you can disable address fields if you sell digital products.
Almost 70,000 stores worldwide use this plugin on a daily basis. People's ratings are 4.6 out of 5 stars. Look at the exemplary review: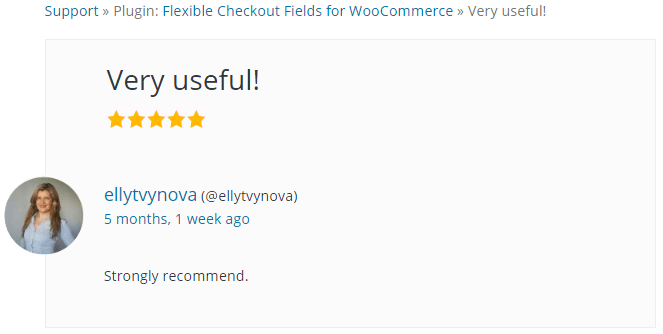 You can download Flexible Checkout Fields for free. Then you can upgrade to the PRO if you need more features.
The free version lets you create:
Single Line Text
Textarea
Paragraph Text
Number
E-mail
Phone
URL
Checkbox
Color Picker
Headline
Image
HTML
With the PRO version you can create: 
Multi-checkbox
Radio button
Multi-select
Select (Drop Down)
Radio with colors
Date
Time
Radio with images
File Upload
Also, the PRO lets you use conditional logic. This way you can create checkout conditional fields →
What are you waiting for?
Download Flexible Checkout Fields for free
Summary
You have learned how to configure WooCommerce checkout without address. You may also find interesting our articles about:
Have this article helped you? Let us know in the comments section below!