Probably you'd rather not have them at all! But returns and warranty requests may happen, so let's see how to manage them in your WooCommerce shop with a plugin. And why the refund and warranty management system is more important than you think! Save your time and increase your sales by building strong customer trust!
Returns and warranty requests in WooCommerce
You need to prepare the way your store takes care of refunds, returns, and warranty requests for several reasons. See the list below for some examples:
⚖️ Legal requirements - this is a very important and obvious reason,
😊 Understandable refund policy - your customers should know what to expect beforehand,
🌟 Customer experience - stand out with a better way of handling returns and unhappy clients,
🤝 Trust and loyalty - turn the unpleasant situations (returns, refunds, and warranty requests) to your advantage by offering a more customer-oriented approach. The customers tend to come back to stores they trust,
🚀 Faster customer support - save your time and speed up your support by building an efficient system.
Now, let's see how to prepare your WooCommerce for returns, refunds, and warranty requests!
Table of contents
Inform about the terms and conditions
Firstly, you should add the information about the WooCommerce store refund policy and also handling returns and warranty requests on one page. The terms and conditions may contain all policies, for example, under separate headings.
1. Start by creating a new WordPress page and fill it with all the information about returns.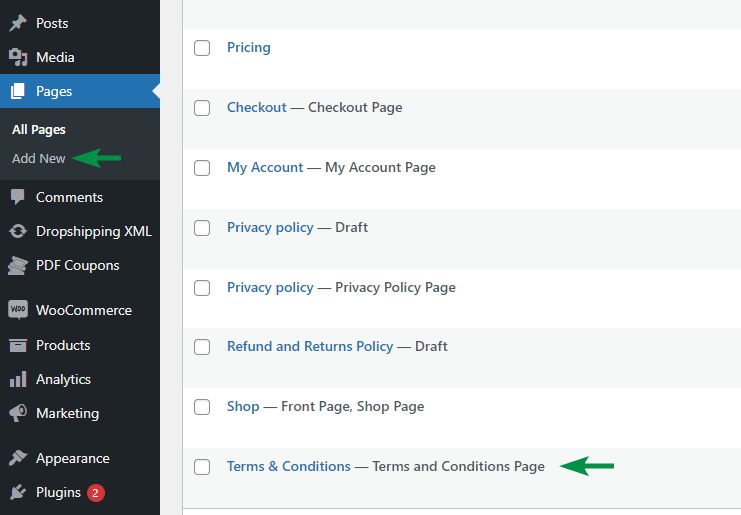 2. Next, choose the page to be the WooCommerce terms and conditions default page in WooCommerce → Settings → Advanced.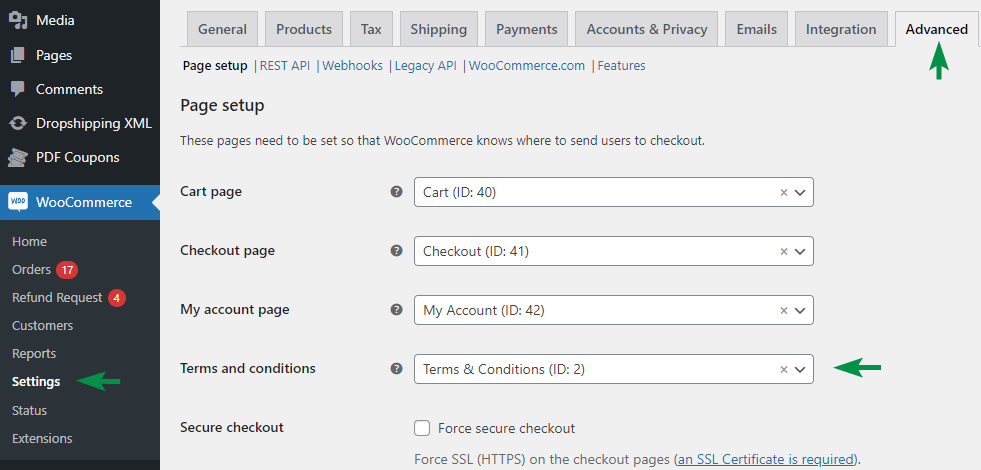 3. Then, add the link to your WordPress menus (at least in the footer), so customers may easily find it.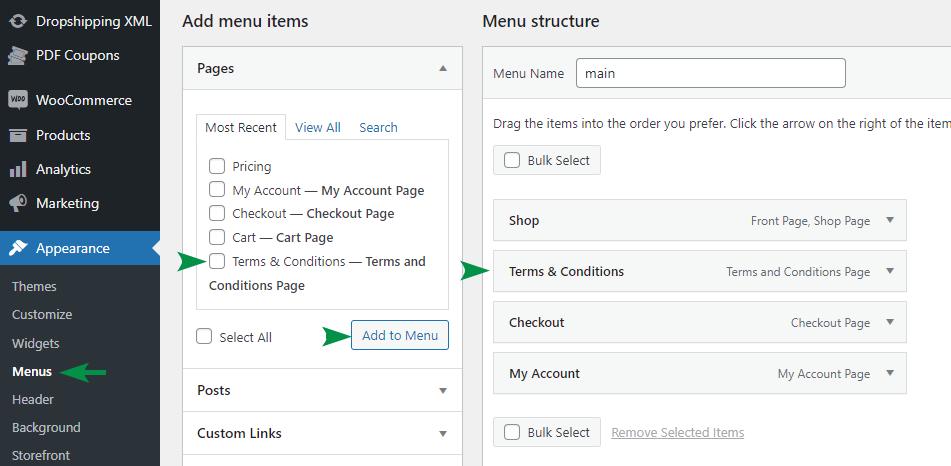 4. Also, show the terms and conditions in the checkout form. It will make buyers accept the terms (checkbox) to finish the order.
The example below comes from Storefront (a free theme for WooCommerce).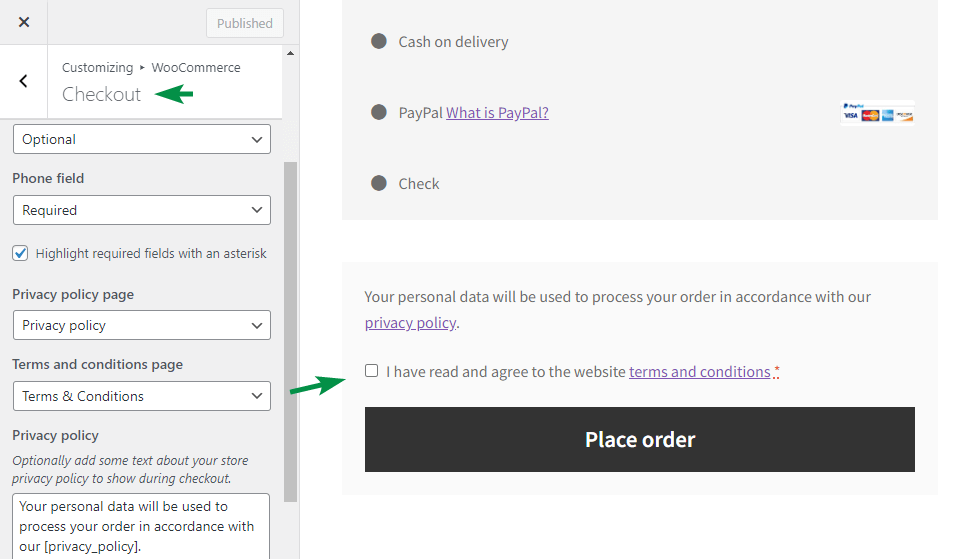 Manage returns and warranty requests in WooCommerce
Imagine that every person with questions about a return, refund, or warranty, contacts you or your support team. But this process may take your time and energy, and this can be optimized!
So, is there a way of speeding things up? Yes, there is! 😊
I will show you now how to manage your returns, refunds, and warranty requests in WooCommerce much faster, and with the Flexible Refund FREE plugin!
Get Flexible Refund.

Download the free plugin →

Turn on the plugin option to enable the refund requests for WooCommerce orders.

Create the refund form to get reasons and feedback from your customers. You may also add the privacy and refund policy checkboxes.

If you want, you may also add links in the WooCommerce emails that will lead to your terms and conditions and the customer's My Account->Orders page. That will be helpful as you will guide people about the steps to get a refund or send a warranty request. You can also customize the email templates themselves.

Customers will be able to send refund, return, and warranty requests from their accounts.

And you will manage your returns and warranty requests in WooCommerce from one place!

Let me show you also the short movie about the Flexible Refund plugin in action.

The plugin does a great job, won't you agree?
WooCommerce partial refunds, automation, and additional form fields
So, the basic version of the Flexible Refund and Returns for WooCommerce plugin lets you manage the full order requests in one place. Now, if you want to automate requests, handle partial refunds, and use more form fields, use the PRO.
PRO features
Handling WooCommerce partial refunds,
Conditions for the refund button visibility,
Refund button for specific user roles, order statuses, product categories, products, and payment methods,
Auto refunds to accept requests automatically,
Set the refund type to automatic WooCommerce coupons,
Hide the refund button after a specified time,
Additional form fields (Multiselect, Upload, HTML).
Visit the Flexible Refund and Returns for WooCommerce PRO plugin's page.
Flexible Refund and Return Order for WooCommerce

£

59
Flexible Refund and Return Order for WooCommerce is a plugin with which you manage the refund process in your store and improve communication with your customers.
Add to cart
or
View Details
WP Desk
Last Updated: 2023-09-13
Works with WooCommerce 7.7 - 8.1.x
WooCommerce returns and warranty requests - Summary 😊
So, today, you've read how to add the terms and conditions with the information about refunds, returns, and warranty conditions in your store. And most importantly, how to manage returns and warranty requests with a free WooCommerce plugin!
What next? Let me summarize the article in a few points!
Create the terms and conditions page.
Download and install Flexible Refund.
Enable the refund requests.
Personalize the refund form and add links in after-purchase emails if you want.
Automate even more with Flexible Refund PRO.
Of course, I encourage you to download the plugin, read the documentation and try the PRO version in your free demo!
Finally, if you have any questions, naturally let us know! 😊