As you know, the WooCommerce refund process may take some of your time. Especially if you have questions about reasons and want to provide a higher customer experience. Today, I will show you how to manage the refund and return process in WooCommerce faster, and more efficiently with a free plugin! Also, how to maintain good communication with your customers, get valuable feedback about refunds and returns in WooCommerce, add the refund policy consent checkbox, and save time!
Manage your WooCommerce refund process efficiently
By default, you can accept refunds in WooCommerce in the order edit screen. But the built-in refund system is based on manual actions, external emails, or phone calls. And that takes time obviously. Let's see the faster solution!
Table of contents
Learn how to speed up the WooCommerce refund process with a free plugin and what else you can do to make returns and warranty requests much better.
1. Let customers request a WooCommerce refund from their accounts
Sometimes your clients want a refund. It's obvious. But you may make the refund easier for you and your customers alike by processing the refund and returns directly in your store.
Let's see how to do that with a free plugin.
First, download and install Flexible Refund and Return Order for WooCommerce,

Download the free plugin →

Then, enable the refund button for WooCommerce orders,

Your customers will be able to ask for refunds directly from their accounts,

And you will manage all refunds and communication with clients from WooCommerce too.

It's a great and fast way to handle refund requests in one place, don't you think?
See below
how to add a refund form
for WooCommerce orders to learn about customer reasons and get the privacy policy, terms and conditions, or warranty consent at the same time!
If you want to see the installation process, settings, and plugin in action, watch the video:
2. Manage refund requests for orders from one place
So, with the plugin, you can manage all refund requests in one place. Flexible Refund adds a new submenu (you've seen above) and a new section in the WooCommerce Edit Order screen:

As you see, there is all the information from your customer about the refund request, the reasons behind it, and the products to return.
You may accept the request, reject it, wait for the products' return, and verify the request by asking for more information. Besides the status, you can also add a note to the customer.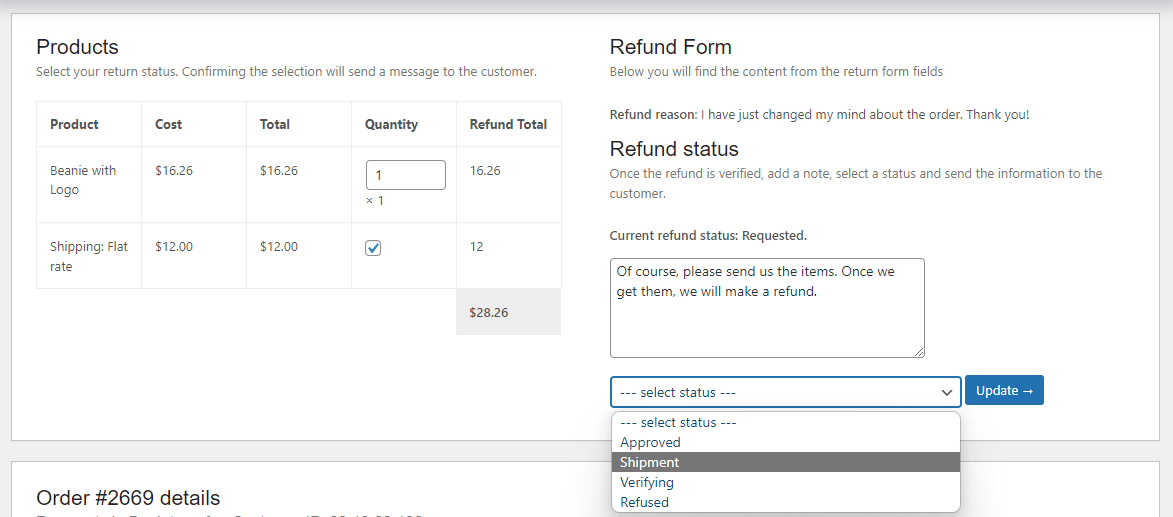 3. Communicate & get feedback on returns and warranty requests
Your customer will see your decision (for status changes of the refund request) and a note in an email: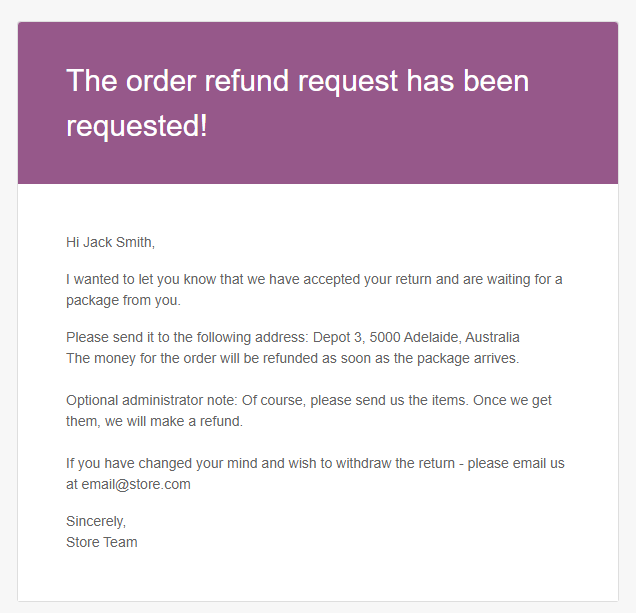 The request status and a note will also appear on the client's account for the refunded order: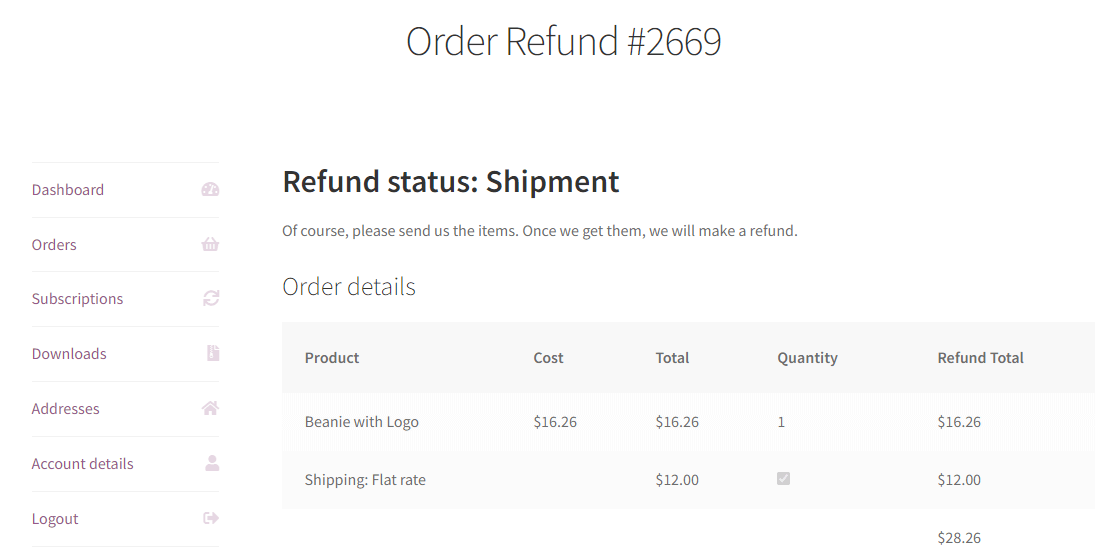 You can customize the emails too

by adjusting the content for each status: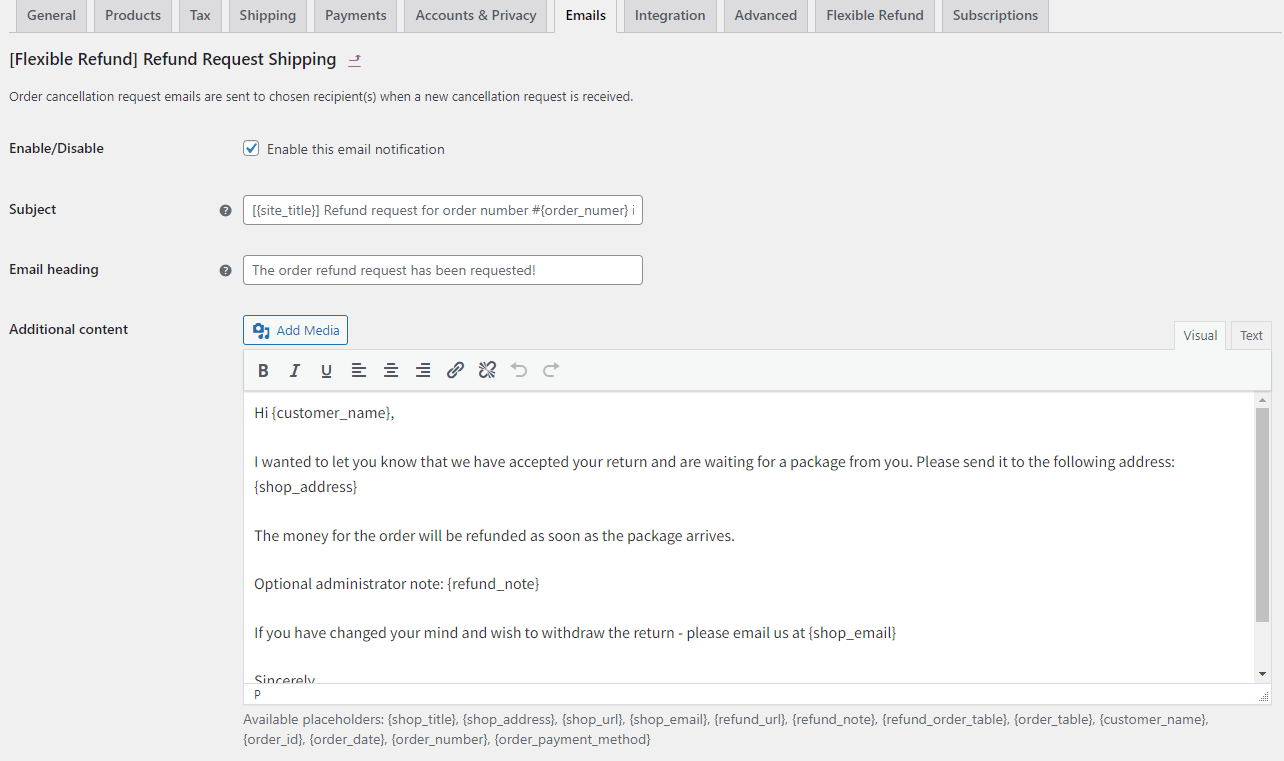 As you see, the plugin let you communicate about refunds easier and much faster. The email templates and the notes are not the only way to better manage the refund process in WooCommerce.
4. Add a refund form to get more info & gather privacy policy consent
There is also a way to gather more information from your customers, for example:
reasons behind the refund requests,
feedback regarding customer experience,
description and faults of the refunded products or services,
checkboxes for privacy, refund policy, or terms and conditions to get the client's consent,
inform about the further steps and FAQ,
etc.
You may add a refund request form in a few minutes: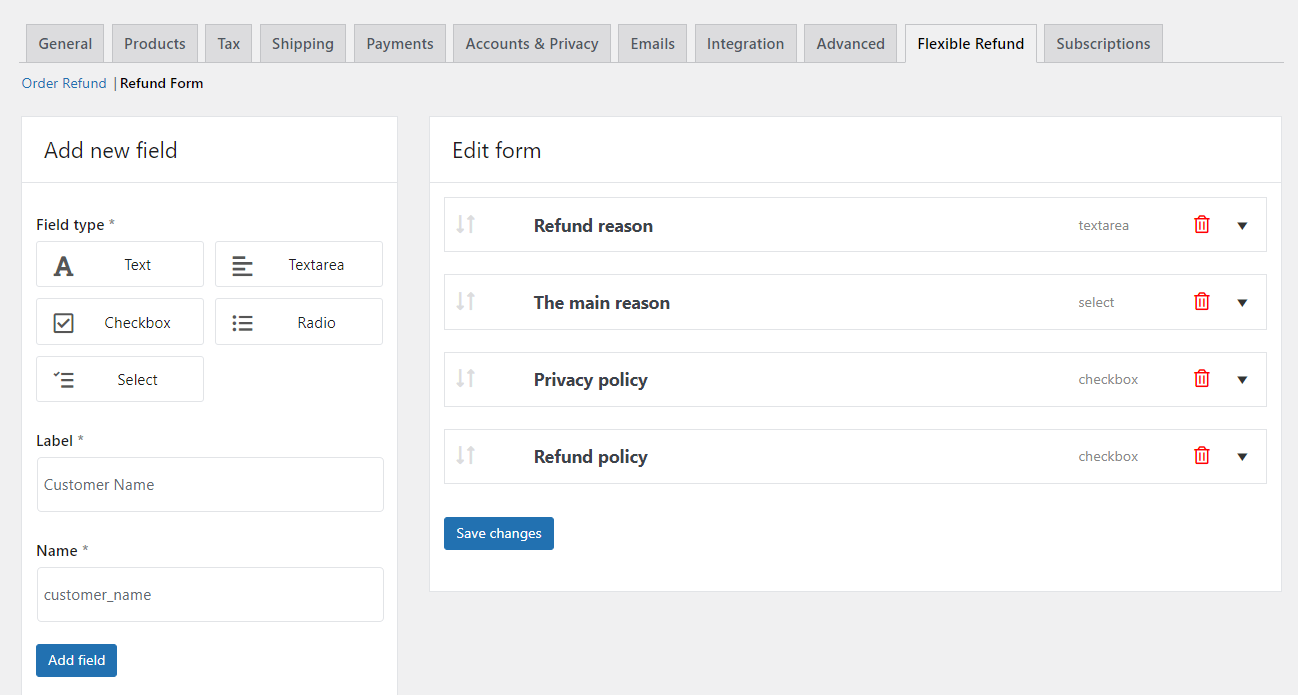 Now the customer will see the form to fill out while sending the refund request for a WooCommerce order from the account: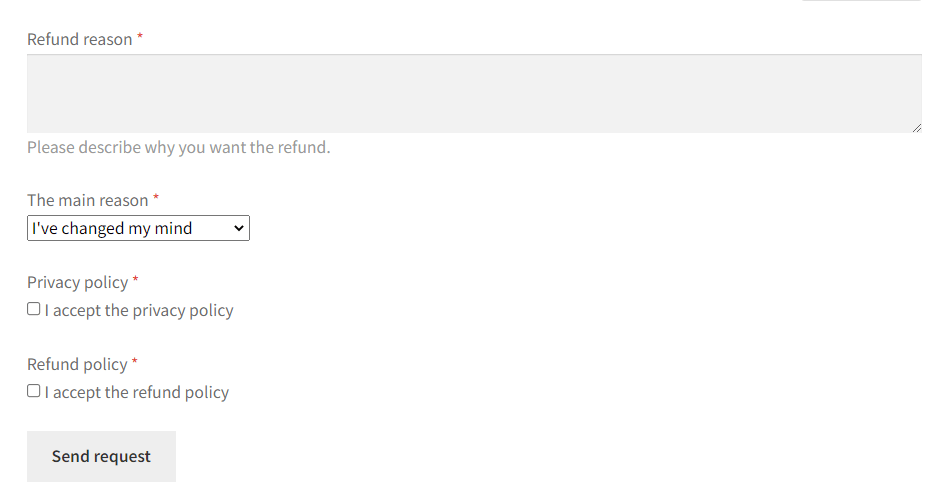 You will receive the request with all the information from the form: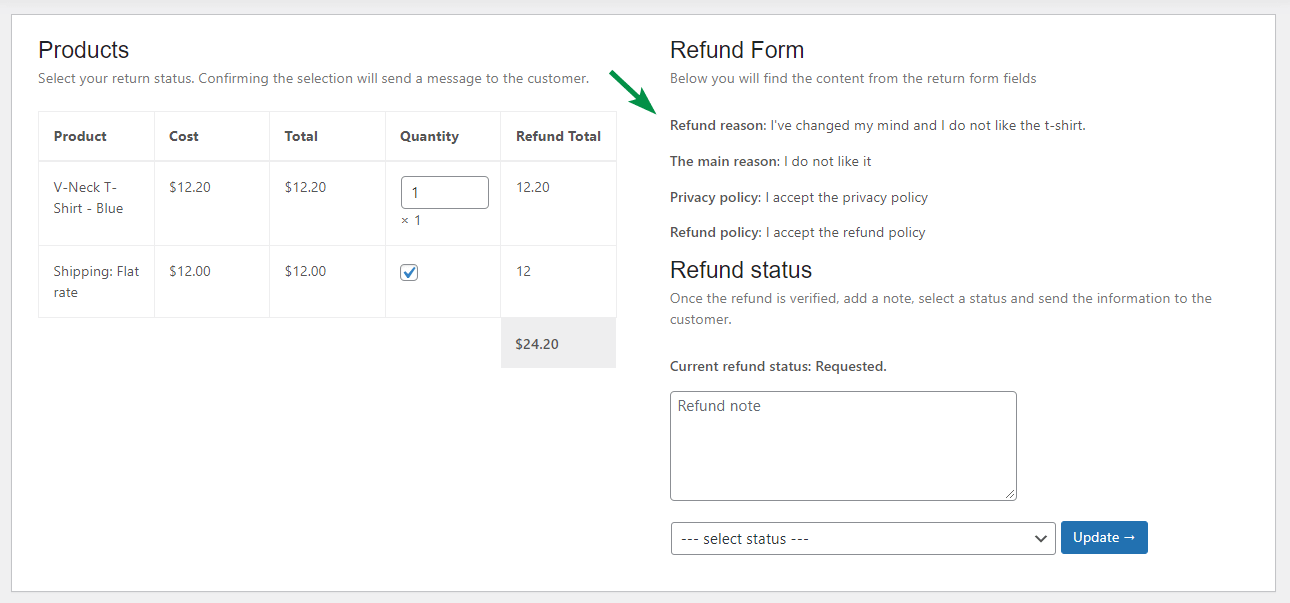 As you can see, the WooCommerce refund request will now give you a lot more information to decide about the refund. The form will also gather all the necessary consents about the privacy, refund policy, or terms and conditions in your WooCommerce store!
5. WooCommerce refunds under some conditions, auto refunds, refunds on coupons & more options in PRO
The Flexible Refund and Return Order for WooCommerce plugin has also the PRO version. There are additional settings available if you need more automation and options.
For example, in PRO, you will benefit from:
support for partial refunds,
the option to set the conditions for the refund button to appear,

auto refunds, if you do not need to accept requests manually,
the option to hide the refund buttons for WooCommerce orders after a specified time,
choosing the On coupon refund type (customers will receive automatic WooCommerce coupons rather than money),

additional field types (multi select, upload, HTML),

priority e-mail technical support,
new PRO features and updates.
Summary
Today, you've seen how to speed up and handle the refund process efficiently! Also, how to add a refund request form to gather all the information and necessary consent from your customers. And to customize the emails to automate the communication over returns and warranty requests in WooCommerce.
Visit the Flexible Refund and Return Order for WooCommerce PRO page to see all features of the plugin. Also, read the plugin documentation and try Flexible Refund in a free demo!
Flexible Refund and Return Order for WooCommerce

£

59
Manage the refund process in your store with ease. Activate refund form in My Account, enable automatic returns, disable refund form after a specific time, and manage refunds directly from WooCommerce orders.
💾 Active Installations: 1,000+ | WordPress Rating:
Add to cart
or
View Details
WP Desk
Last Updated: 2023-11-07
Works with WooCommerce 7.9 - 8.3.x
If you have any questions, suggestions, or ideas, let us know!