Christmas is a special time and the peak of online sales. Shops refine their sales mechanisms and each product turns into a gift. Use additional product fields to offer personalized items, for example, add a gift wrap option to your WooCommerce products!
Do you get questions about missing product features or special needs like a custom note or gift wrap?
Let me show you the way to add custom product fields to meet customers' needs & offer better products!
Table of contents
Add a WooCommerce product gift wrap option
First of all, you will need a plugin for that 😉. Meet Flexible Product Fields. 
✅ Flexible Product Fields expands the product page with new fields. It is a WooCommerce product configurator that allows customers to create a product tailored to their needs.
What's more, setting up such an additional product field in the WordPress panel is quite simple and gives a lot of freedom when making changes.
👉🏼 Follow this tutorial and find out how to add a WooCommerce gift wrap option using Conditional logic and a checkbox field 😉. 
💡 To follow the steps exactly how we do it in this guide, you will need the
PRO version of the plugin
, as it involves adding conditional logic. But, for the simple checkbox with a sample question
"Do you need gift wrapping?"
the
free version
will suffice!
Flexible Product Fields PRO WooCommerce

£

59
WooCommerce gift wrap option added easily. Enrich your product page and add conditional logic and extra pricing to gift wrap options.
Add to cart
or
View Details
WP Desk
Last Updated: 2023-08-11
Works with WooCommerce 7.7 - 8.0.x
Radio with images field and its applications
 ✅ Let's start with adding the first field: Radio with images.
WooCommerce product options are usually text fields. But adding graphics and images sometimes expresses more than words. The radio with images field is a radio field that has been extended to show an image instead of a label.
Such a field allows the customer to see a specific feature of the product and make efficient decisions.
So, it's much easier to configure the product and the entire purchasing process.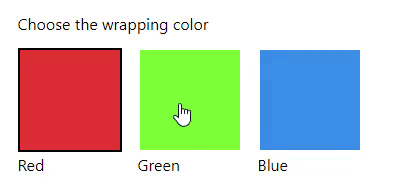 The Radio with images field will be suitable for showing for example:
the color of the product or its specific element
material (e.g. fabric or wood species)
printing or other decoration
WooCommerce product configurator with a graphic field
💡The "radio with images" field allows the customer to configure the product as a gift. Popular uses include gift wrapping and attaching a card or greeting card.
✅ This is how you configure it on your product page:
First, add a new group by clicking the "Add new" button.
Then, configure basic settings.

Enter a name.
Next, assign a group to products, tags, or categories.
And set the group as the last one (if there is more than one group).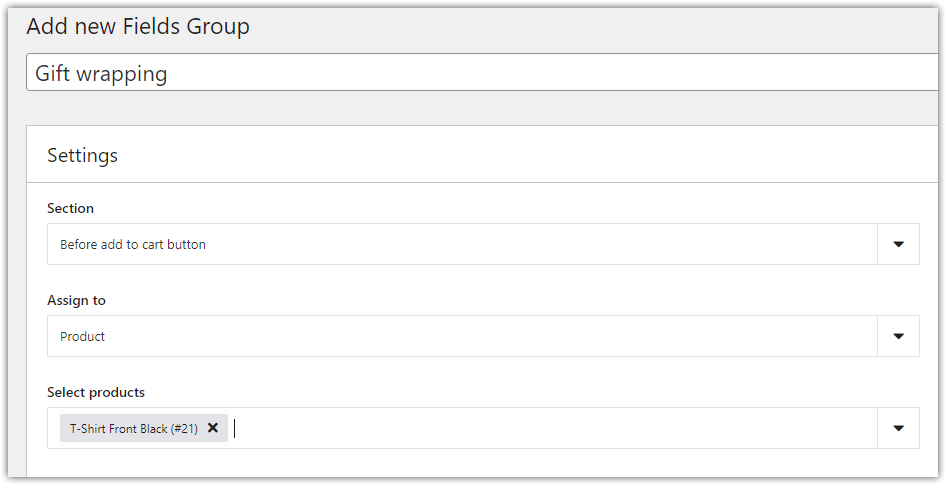 Add a Checkbox field
Now, add a new Checkbox field named Gift wrapping.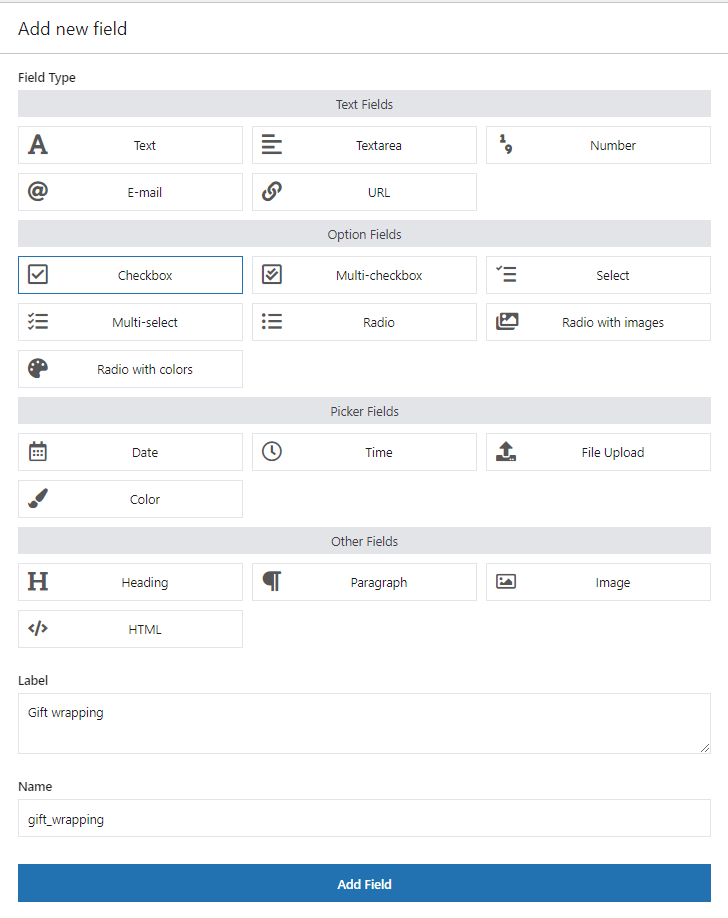 🎉 Your checkbox is added. Now let's continue with another field: Radio.
Add a Radio field
Also, add a new Radio field named "Package".

Select the "Required" option.
Set at least two options and their prices.
Finally, configure conditional logic - the field will appear if the customer selects the "Gift wrapping" checkbox.
👉🏼 This is how to do it step by step: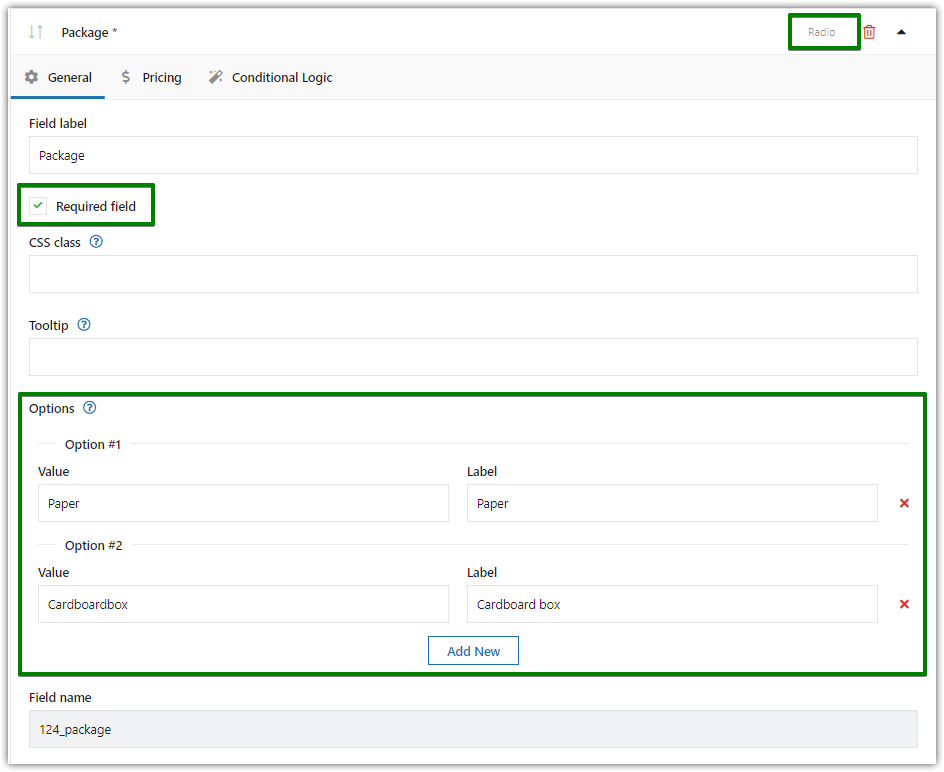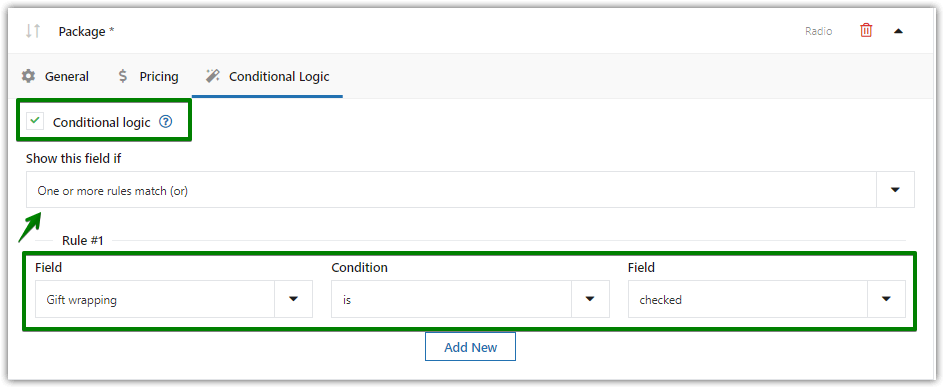 Add a Radio field with images
Now, add a new Radio with images field named Pattern.

Select the Required option.
Next, set at least two options and insert an image into each of them.
Images will be shown on the page as 150 x 150 pixels thumbnails.
And configure conditional logic - the field will appear if the customer selects an option in the Package field.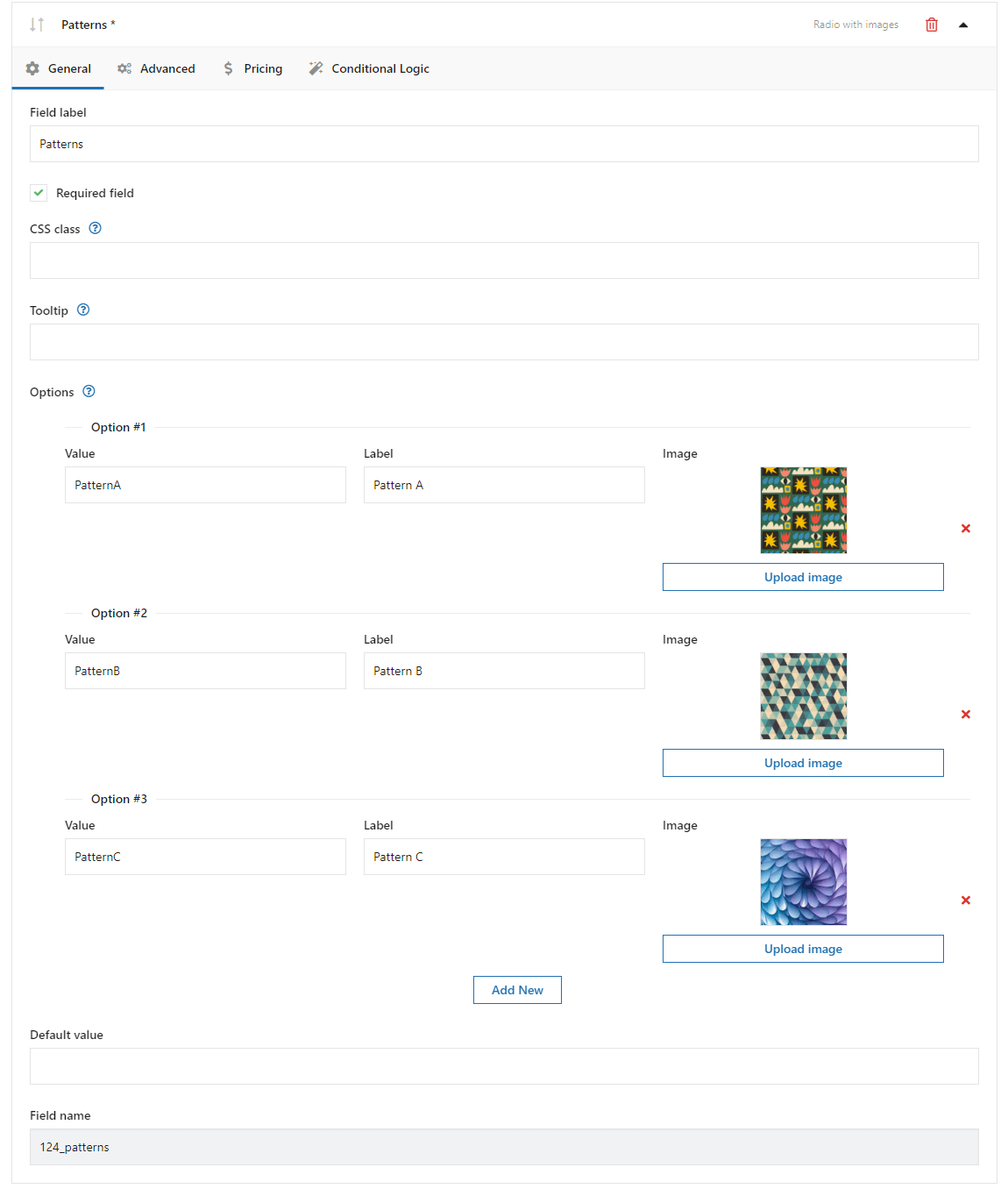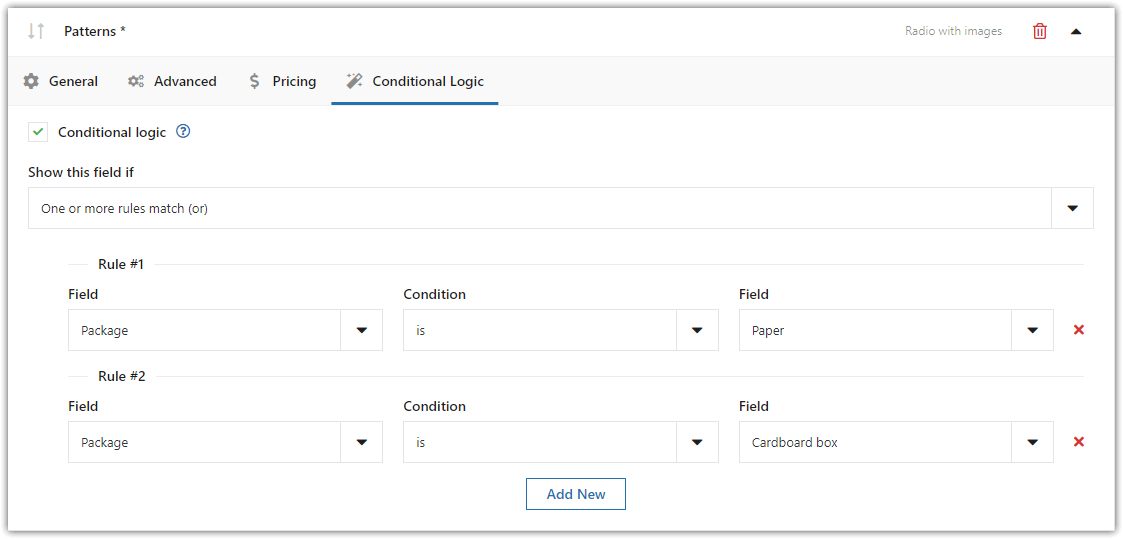 ✅  Finally, save your changes. Done! 
WooCommerce gift wrap - Final result
Let's check our configuration: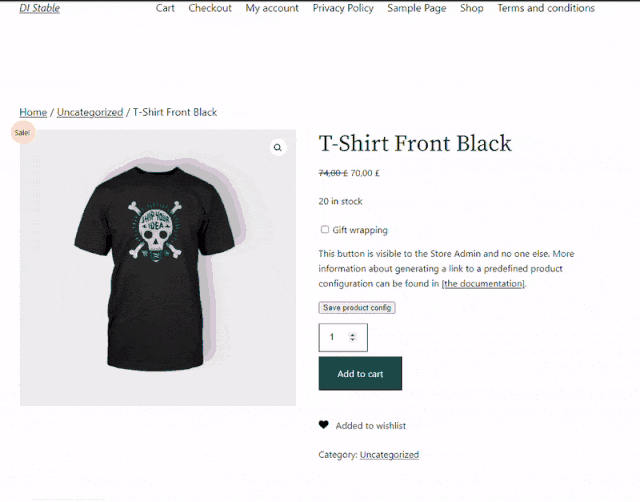 WooCommerce Product Options
As you can see, Flexible Product Fields has extensive field configuration functions. The available options depend on the field.
Tag filtering
FPF fields are assigned to the product using filtering. Tag filtering is a useful alternative to categories. It may be helpful in a large store where tags include the name of the brand or model.
Field description
The "Placeholder" and "Tooltip" options are settings that make it possible to insert an additional description inside the field (placeholder) or after hovering the cursor over the information icon [?].
Percentage price
The percentage price field is related to the product price set in WooCommerce. Editing this price on the product card also changes the field price. So, this feature makes it much easier to update store prices.
Save product configuration
On the product page (above the "Add to cart" button) there is a "Save product configuration" button. It is visible to the store administrator and gives the option to send the customer a preset product configuration (e.g. as a link in an email).
Summary
The Flexible Product Fields plugin will help to prepare the store for the upcoming Christmas (and for other occasions). The plugin will work as a product configurator or as a tool for selling additional services (e.g. insurance or extended warranties).
What's more, additional FPF product fields are compatible with WooCommerce variants. Our tool extends their application as it offers fields and functions not available for variable products.