Sometimes shops owners want to have different prices for different customers. Usually, it means giving some discount for registered users. After reading this article, you will know how to configure it. With our Flexible Pricing plugin, it's very easy.
To adjust price based on user role you should use one of the available plugins. We recommend Flexible Pricing WooCommerce. Not only because we made it, but we truly believe that it's one of the best WooCommerce plugins on the market.
Flexible Pricing WooCommerce

£

79
Customers love sales and pricing deals. Use this! Create promotions like Buy One Get One Free to get more sales in your store. The most dynamic pricing plugin for WooCommerce.
Add to cart
or
View Details
WP Desk
Last Updated: 2023-11-07
Works with WooCommerce 7.9 - 8.3.x
With it, you can do a lot more than just adjust price based on user role. It also allows you to set pricing based on cart total, category, and even order history. You can create buy one, get one for free deals and many more.
How to create user role-based discounts?
As I said, with our plugin it's very easy. All you have to do is go to menu WooCommerce → Flexible Pricing → Role Pricing and set it up.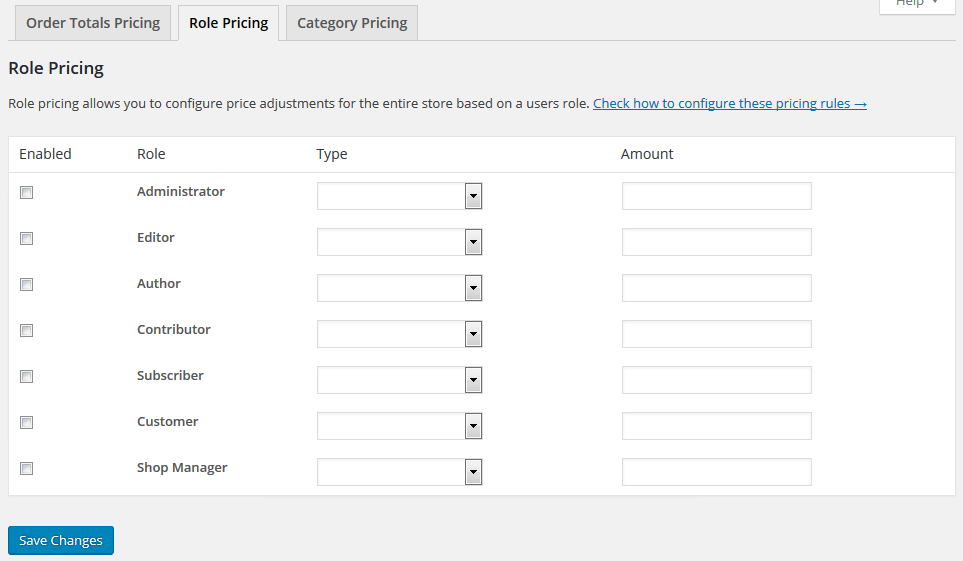 In Type field select price or percentage discount. In Amount enter the discount amount. Remember - do not add % symbol or currency.
Give a discount for registered users
That's one of the most common examples to encourage customers to register in your shop. Registered users get some discount for all products. How to configure it? First, enable the Customer role. Then select percentage in theType field and enter the discount in theAmount field.
Click Save Changes and the discount will be used for all products.
If basic WooCommerce roles are not enough for you, you can create new rules with the external User Role Editor plugin.
Price based on group membership
Flexible Pricing WooCommerce integrates with the Groups plugin and works the same as the Role Pricing. You can select the type of discount and the amount, depending on group membership. This doesn't affect on Role Pricing.

Summary
I hope that I proved that adjusting the price based on user type can be easy to implement on your WooCommerce based store. How do you like this option? Let us know in the comment section below.