Sometimes the standard unit of measure in WooCommerce is not enough. From this post, you'll learn how to add new units of measure and product dimensions in WooCommerce. See how easy it is to start selling products based on new units and product dimensions!
Product Dimensions in WooCommerce
By default, WooCommerce gives you weight and dimension units for all products. It's not enough, in my opinion, especially if you want to have products with different units and settings.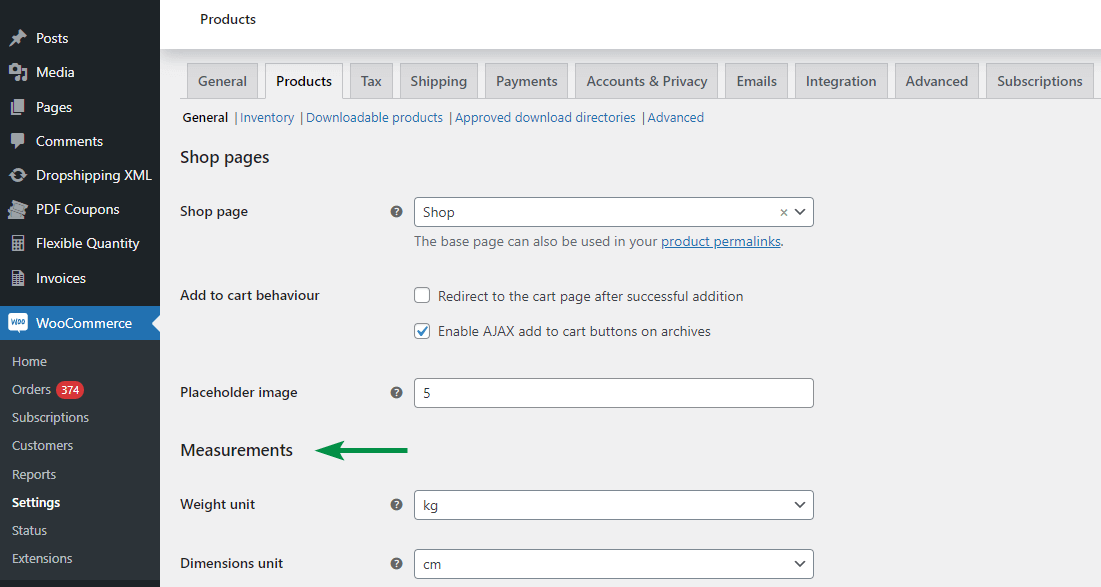 As you can see, there are kg, g, lbs, oz for the weight and m, cm, mm, in, yd for the dimension. What about adding a new unit of measure for WooCommerce products? Even with unit dimensions defined by your customers?! Read more to see how to set dimension-based products in WooCommerce.
Table of contents
A new unit of measure for WooCommerce products
To add a new unit, without your custom code:
Download a free Flexible Quantity plugin,
Install the plugin,
Go to the Product Edit Screen → Product data section → Flexible Quantity tab,
Finally activate and set the WooCommerce new unit of measure.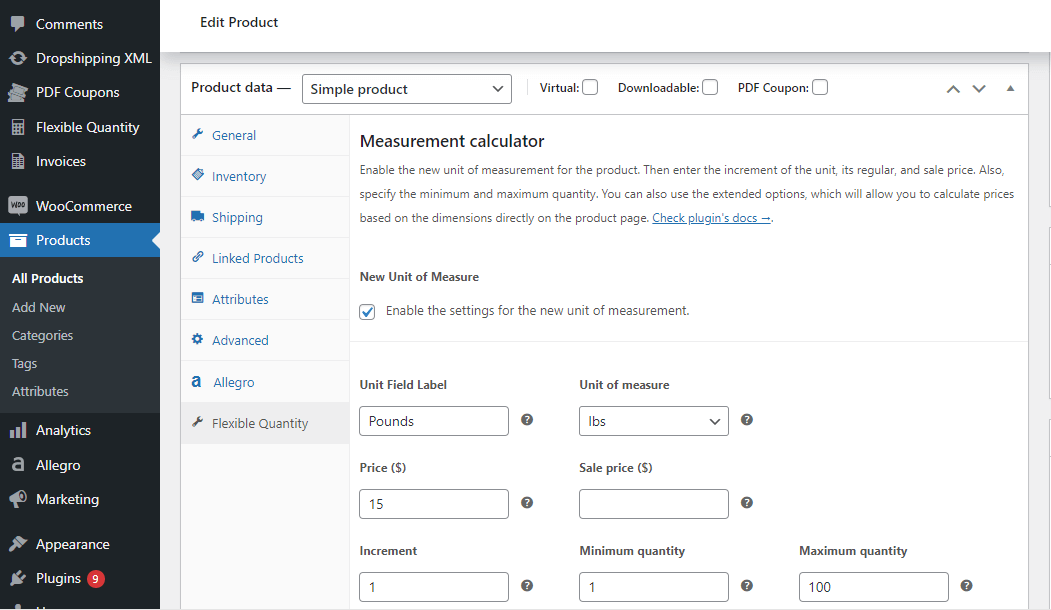 You can choose:
g, kg, t, oz, lbs, tn for weight units,
mm, cm, m, km, in, ft, yd, mi for length units,
sq mm, sq cm, sq m, ha, sq km, sq in, sq ft, sq yd, sq mi for area units,
ml, l, cup, pt, qt, gal, fl oz for volume units,
and cu cm, cu m, cu in, cu ft, cu yd for volume (LxWxH) units.
The plugin lets you manage the quantities and units of your WooCommerce products independently!
Add WooCommerce products with dimensions
Let's see now how to add a dimension-based unit of measure for a WooCommerce product.
Go to the Product Edit Screen,
Choose the new unit of measurement for the product (dimension),

Decide if the quantity of the new unit is used to change the product inventory.

With the free version of the Flexible Quantity plugin, you can set the new unit of measure in WooCommerce.
If you'd like to let your customers define their own values for the product dimensions, you can use PRO. I will show you how to use that option below.
Define Unit Dimensions
Now, let's enable the unit dimensions so that the customers can enter the exact dimensions for the WooCommerce product. This option is available in PRO.
First, go to the Product Edit Screen,
Open the Flexible Quantity tab in the Product data section (see above),
Enable and set the unit dimensions (you can choose the value or let users decide),

Save the changes and see the effect on the product page.

And that's it! The feature will be useful when you'd like to let customers define the WooCommerce product unit dimensions for better measurement price calculation.
There are more in the PRO for you. You may also set the pricing and shipping class tables for more flexibility!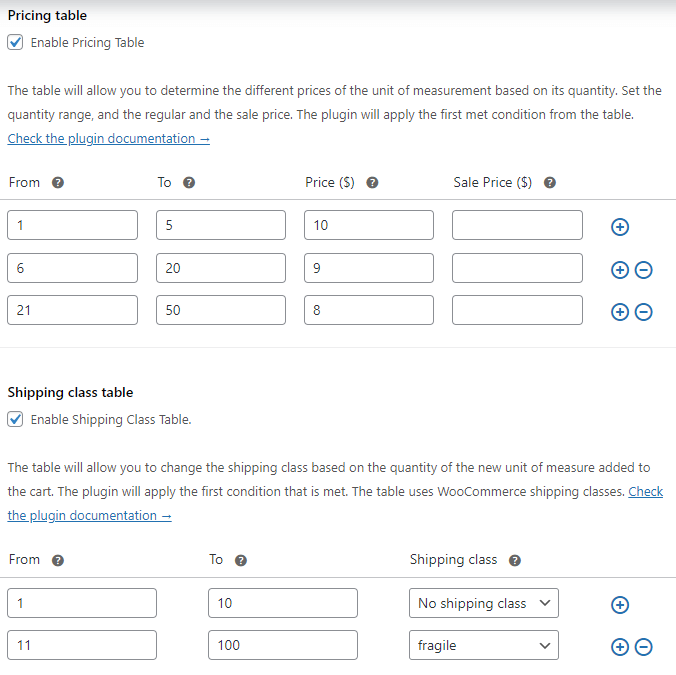 Summary
Today, you've read how to add the new unit of measure and dimension-based products in WooCommerce. Visit the plugin documentation and test the plugin in a free demo.
Visit the product page to see all features of the plugin and let me know if you have any questions!
Flexible Quantity Calculator for WooCommerce

£

79
Enable product price calculation based on dimensions on the product page. Set price and shipping thresholds for product quantities.
Add to cart
or
View Details
WP Desk
Last Updated: 2023-09-28
Works with WooCommerce 7.7 - 8.1.x
Also, read how to use the WooCommerce Price Calculator plugin to sell products based on weight and volume.