Today, I will show you how to import products in WooCommerce faster thanks to the bulk product upload. I will be using a free product importer plugin for WooCommerce. Start dropshipping in WooCommerce in 2023. Let's begin!
Table of contents
Before I continue, check out the All Plugins Bundle offer, which gives you the opportunity to purchase the Dropshipping Import plugin along with its add-ons and other products that complement its features. ↓
Last Updated: 2023-09-29
Works with WooCommerce 5.6.0 - 6.0.x
Ok, I will show below when, why, and how to import products to your store & tell you about dropshipping in WooCommerce. The first 3 paragraphs are the WooCommerce know-how basics. If you want to see the features & the plugin in action, go directly to the 4-6. To learn more about WooCommerce & Dropshipping go to the last one. You'll find links to helpful articles there.
When & why import products to WooCommerce?
If you want to add WooCommerce products, you may use the default Products → Add New option. Of course, during migration from another platform, CMS, store solution, or database, you'd like to add products faster, easier, and with more control.
So you use the import to add products as fast as possible. Why? To save time but also to create only products you wish to be available in your store.
How to import products to WooCommerce!
There are 3 main WooCommerce import product options you may go for.
1. A built-in Product Importer in WooCommerce
First, you may simply use a WooCommerce built-in product importer in the Products tab → All Products → Click the Import button at the top. Next, you can add a CSV or TXT file with your WooCommerce products and import them to your store.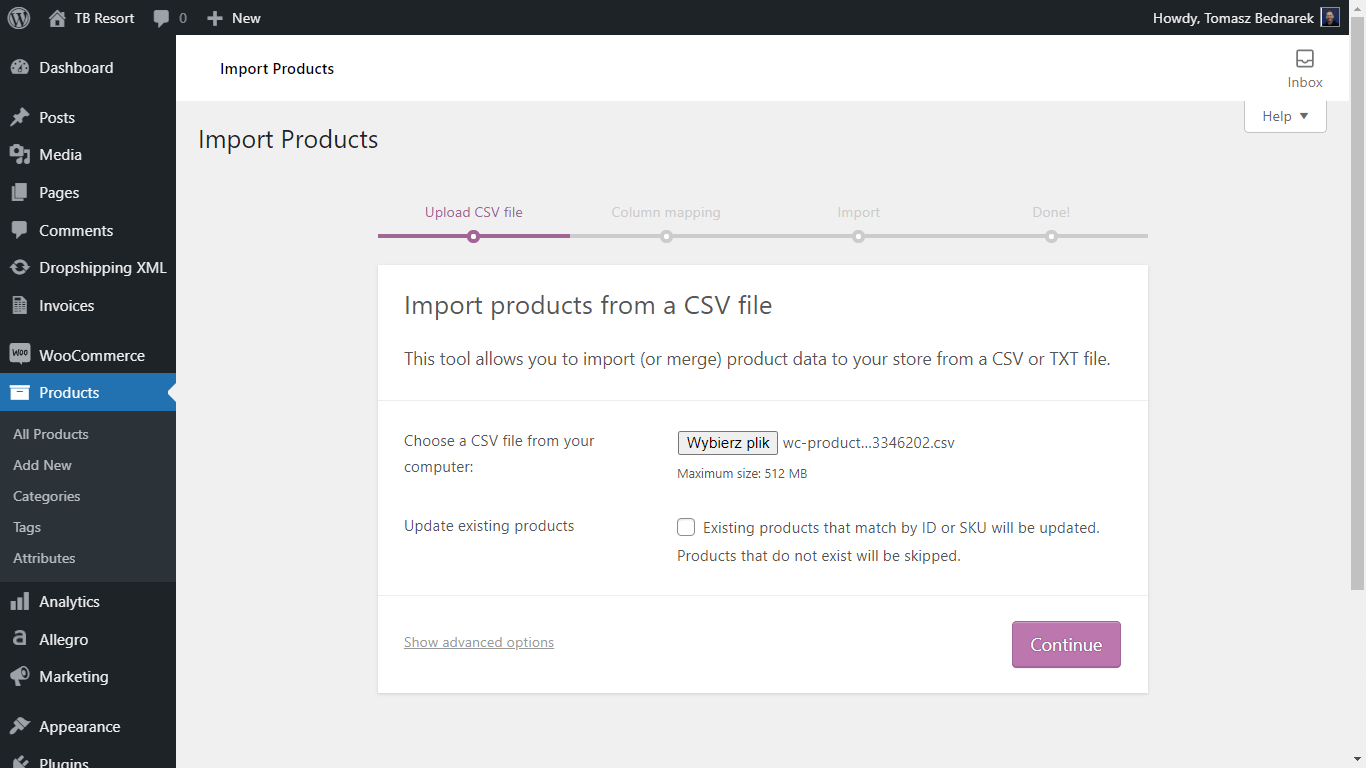 In the Column Mapping, choose what data should be saved and where.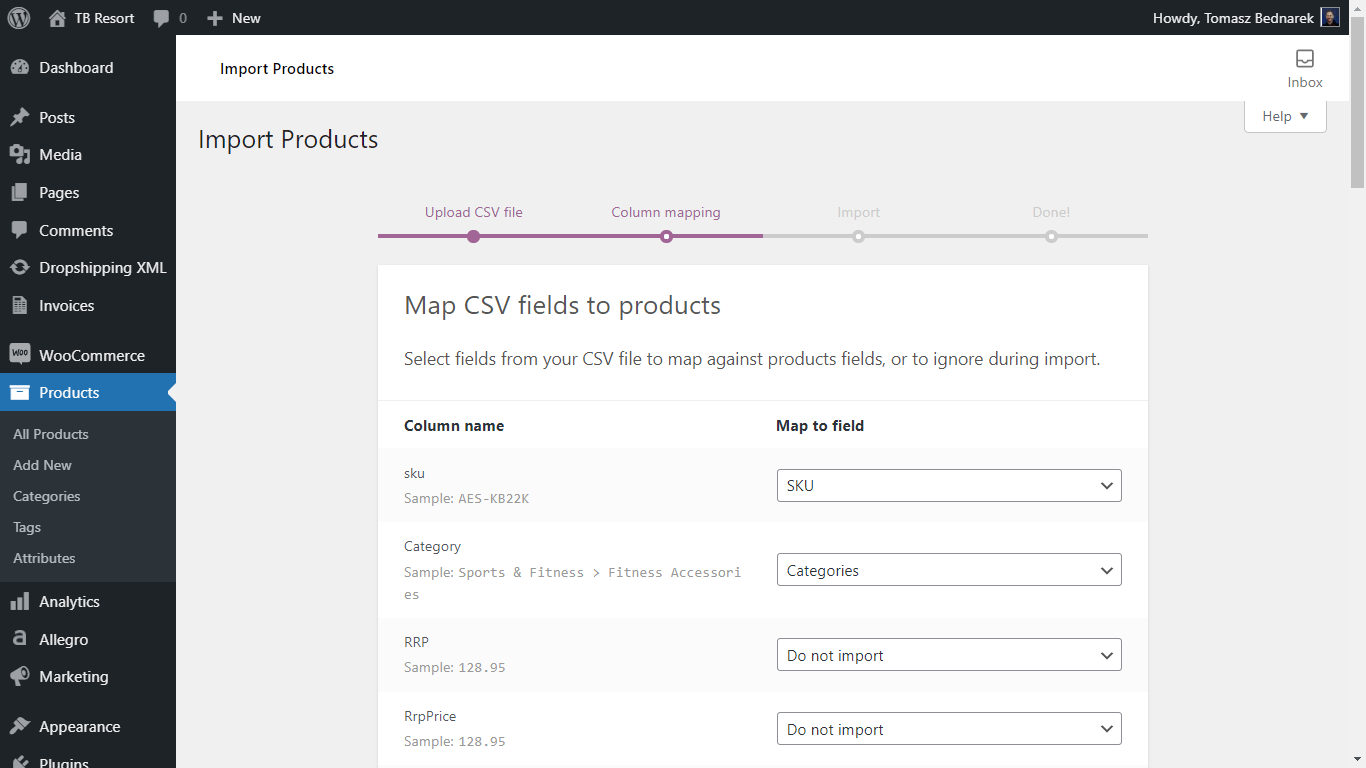 Finally, start the import process. WooCommerce will add new or update existing products in your store.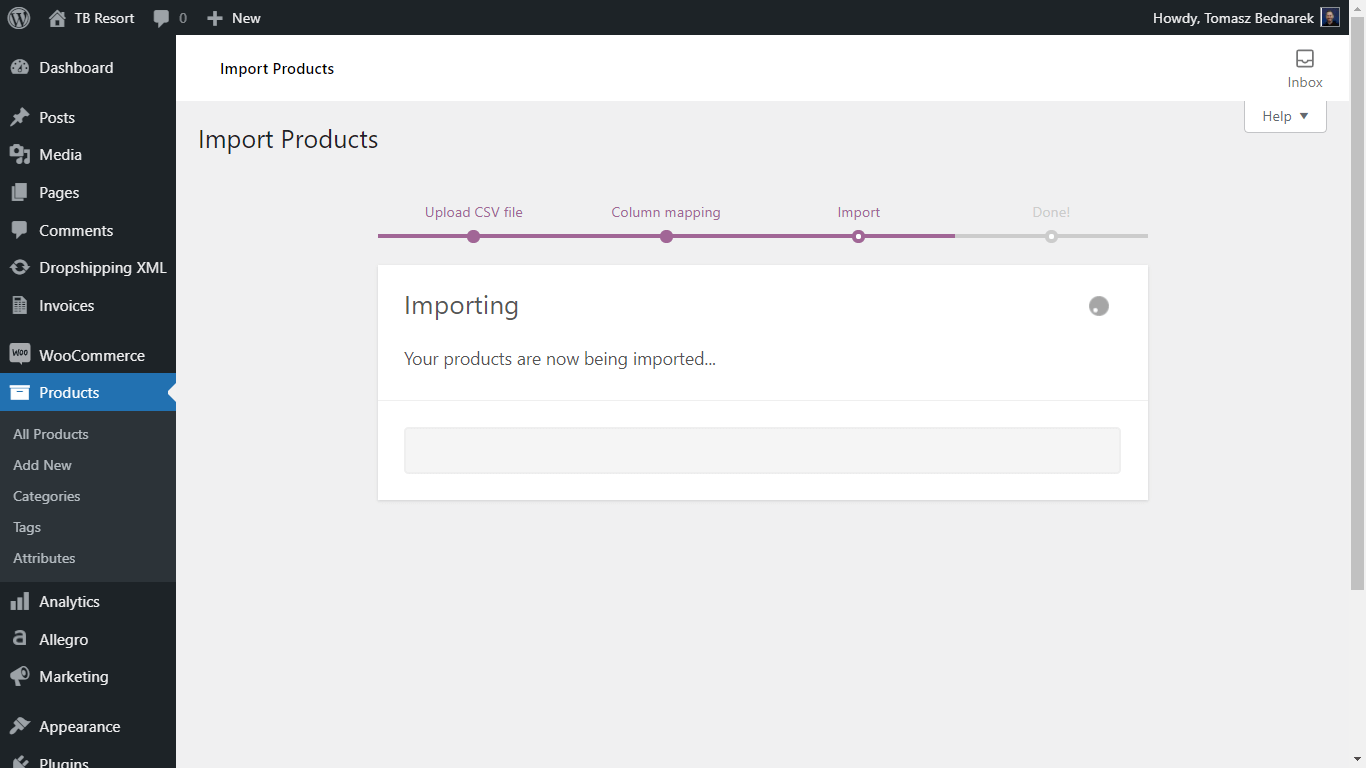 This method is simple, but you have very limited import options or customization for imported data. For example, you are unable to create variable products, map different tax rates, or import WooCommerce categories.
When you want to import products you need to go through the whole process again. 😔
If you need to import a few items just once, it may be enough though.
2. Add products directly to the WordPress database
Also, you may add more products programmatically using WC_Product_Simple, WC_Product_Variable, or WC_Product WooCommerce classes.
Creating products in such a manner requires programming knowledge. You also need to make sure all necessary data is added correctly and iterate through your custom code data.
3. Use a WordPress plugin to import products to WooCommerce
Last, you can use a plugin to do the job for you. Of course, a good plugin will create and update products automatically for you. You would also like to choose what products and their data to import, and when to update them. And to see a preview of the imported product feeds would be great too. 🎉
Why using a WooCommerce product importer plugin is the best option?
So, let's choose the third option & import products to WooCommerce with a WordPress plugin. What are the benefits of using a plugin? In my opinion, a plugin is the best option because:
such a plugin was explicitly created to help you import products into WooCommerce
you have more control over the import process
one can decide what things, items & product fields to import
you may import additional data such as categories, images, attributes, etc.
there are more product types to choose from (simple, variable)
you receive support (in the WordPress repository or premium support in PRO)
Of course, the import is often only the first step. You may also want to update the products later from a file. It may be very useful when you want to start dropshipping in WooCommerce & get the current data from your wholesaler product feed. And it would be great to have more product feeds ready to import and bulk product upload in your WooCommerce store! 🙂
A plugin lets you map WooCommerce Product fields with the file data and have options to import/ update products easily. And manage the import process, for example, stopping or restarting the process any time you need. Also, having the file preview, editing previously added settings, and having control over fields to import or omit would be very helpful!
Import & update WooCommerce products with a free WordPress plugin
Now, I will show you more about Dropshipping XML WooCommerce. The plugin lets you import products from any XML or CSV to WooCommerce with all necessary data (images, categories, attributes, price, stock, etc.). You may also create variable products!
It has got an easy-to-navigate & user-friendly interface and all options that I've mentioned.
Above all, after importing/ adding new products you'll update their data (or only selected fields) with one click! The plugin may help you enrich your store's offer and (also) dropship in WooCommerce. 🚀
Dropshipping XML WooCommerce free - video tutorial
Watch the video below to get a preview of the plugin's capabilities.
Dropshipping XML WooCommerce free vs PRO
The Dropshipping XML WooCommerce has also the PRO version. In the table below, you may compare both versions & their features.
See whether the free will be enough for you. Or you will need more product import options in the PRO.
| | Dropshipping XML WooCommerce | Dropshipping XML WooCommerce PRO |
| --- | --- | --- |
| Import any CSV or XML file | | |
| No limit of imported files | | |
| Import Simple Products | | |
| Import Variable Products | | |
| Create new products, also as drafts | | |
| Import Log | | |
| Start and stop the import process | | |
| File Preview | | |
| Drag & Drop XML or CSV fields | | |
| Import and map regular prices, sale prices, tax settings fields | | |
| Import the product image, attributes, stock, SKU, and other product fields | | |
| Visual and Classic Editor for description & short description | | |
| Use multiple fields, add your custom text | | |
| Choose product category or map categories | | |
| Change the stock to 0 if there is a product missing | | |
| Update only previously imported products | | |
| Choose product fields to update | | |
| Import External/ Affiliate Products | | |
| Limit for imported product images | 1 | No limit |
| Price modifier to change regular prices | | |
| Adding attributes as taxonomy (globally for all products) | | |
| Create new categories automatically | | |
| Option to move a product to trash if a product is missing | | |
| Conditional Logic options to set rules for product imports & updates | | |
| Schedule for automatic cron imports (days and hours) | | |
| Additional filters to modify the data during imports | | |
| Test the plugin | Demo | Demo |
| Support | wp.org support forum | PRO Support according to our Support Policy |
| Refund | n/a | 30 days according to our Refund Policy |
| Price | free | Pricing |
| Get it! | Download | Buy the PRO |
What are the most important features when importing products into WooCommerce?
In my opinion, when you want to add, bulk product upload, or import products to WooCommerce faster the plugin is the right choice. Because, the plugin gives you flexibility thanks to its functionalities, for example:
WooCommerce bulk product upload from any CSV or XML file,
Import all product data including attributes, categories, and images with a Product Mapper,

Import and update options,

Import and update WooCommerce products automatically based on the schedule,

See more in the plugin documentation.
Have you found above all the features you are looking for?
Let me know if the comparison has all features you'll need. Are there any features missing or ones that are more important to you & your store? What are features you take into consideration when successful imports & working with a plugin are considered? Have you tried any other WordPress plugins, for example, WP All Import WooCommerce to add products to your store? Let me know if you have & share your experience.
If you have any suggestions to better the plugin, also let us know in the comments below the article. 🙂
Share your ideas with us! We'll be able to improve the plugin. And add new functionalities in the future to meet your needs, so you may import products to WooCommerce even better! 🎉
Dropshipping XML WooCommerce - a free product importer plugin: Summary
There are three main WooCommerce import product options: through a built-in WooCommerce product importer, by creating your own code, or with an additional plugin. I have shown you how to use the free plugin to import products to WooCommerce from any XML or CSV files. Visit the plugin's website to see all features and start dropshipping with WooCommerce!
Dropshipping Import Products for WooCommerce

£

79
Import and synchronize wholesale products with WooCommerce products.
Add to cart
or
View Details
WP Desk
Last Updated: 2023-09-11
Works with WooCommerce 7.7 - 8.1.x
You may see the free version of the plugin in the WordPress repository.
I encourage you to visit the Dropshipping XML WooCommerce PRO product page & read the plugin documentation.
Last but not least, feel free to test the two versions of the plugin in our free demo. And, of course, contact us if you have any questions & ideas.
Bonus: More Articles about Dropshipping XML WooCommerce
Feel free to dive into the below articles to learn more about how to import products with the plugin. If you have any questions about the features or ideas let us know.