Hey, in this post, I will try to show you how to configure WooCommerce XML import with Dropshipping XML WooCommerce plugin. And I will specifically show how flexible it is to import products categories from XML into WooCommerce.
After installing the plugin, go to Dropshipping XML → Import and paste in a link to an XML file from your supplier and import it.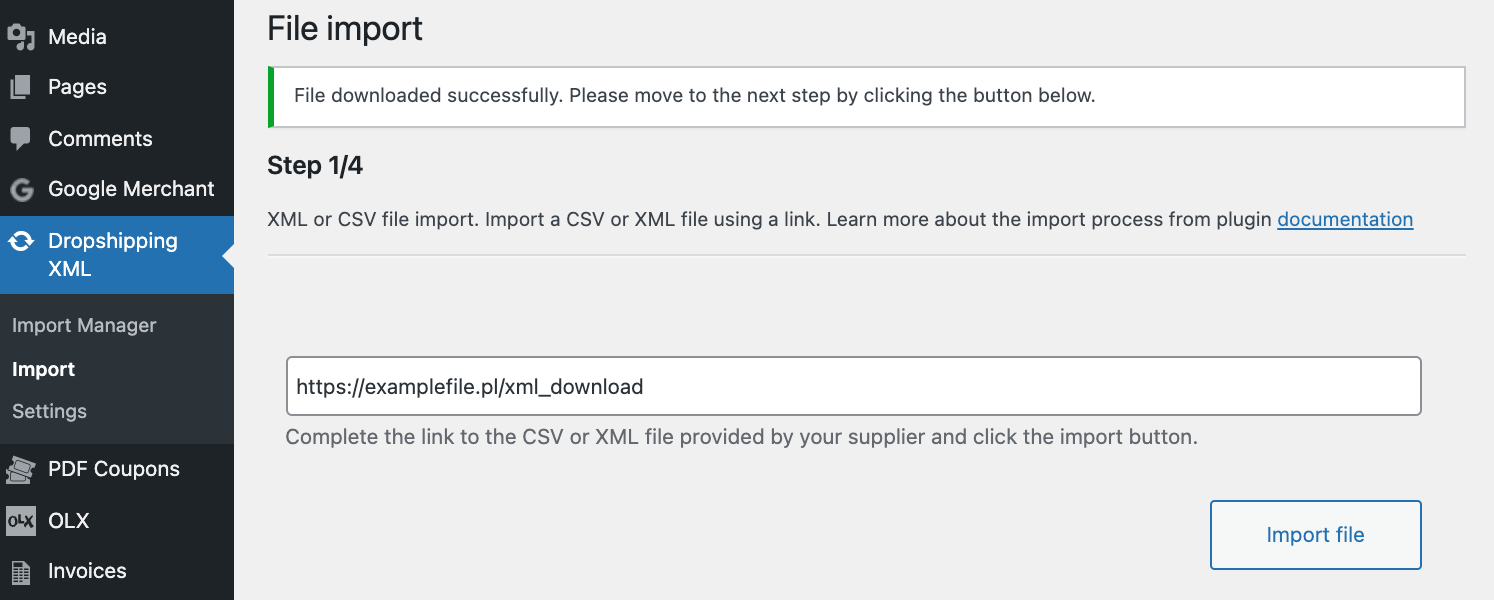 After clicking on Go to the next step, you will be taken to select the main product branch in the XML tree, and again click Go to the next step. The plugin will take you to the mapping settings between WooCommerce product and XML fields.
And here the magic happens!
Mapping the fields of the WooCommerce fields file is very easy. Just drag the field tag over the selected WooCommerce field and drop it.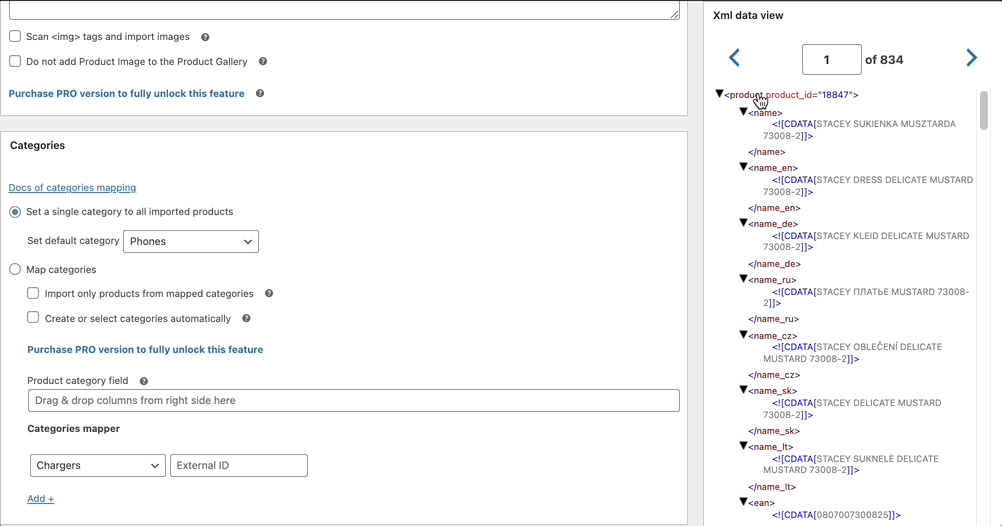 In the free version of the plugin, you can create a WooCommerce XML import for any WooCommerce default field. Product price, descriptions, variant fields, and - which I will write about in detail below - also WooCommerce product categories to import from XML or CSV files.
How to import categories to WooCommerce?
When importing product fields from a file to WooCommerce, you can choose the option that suits you best.
In the first option, you can decide to import categories from the file into a single WooCommerce category. There is no need to explain how this option will work - simply, all products will be imported into one category.
The next options are more interesting because they give you possibilities to map categories and make the product import-dependent on whether the product category has been mapped or not.
To import WooCommerce categories in such a way (using the category mapping option), point to the category tag like this: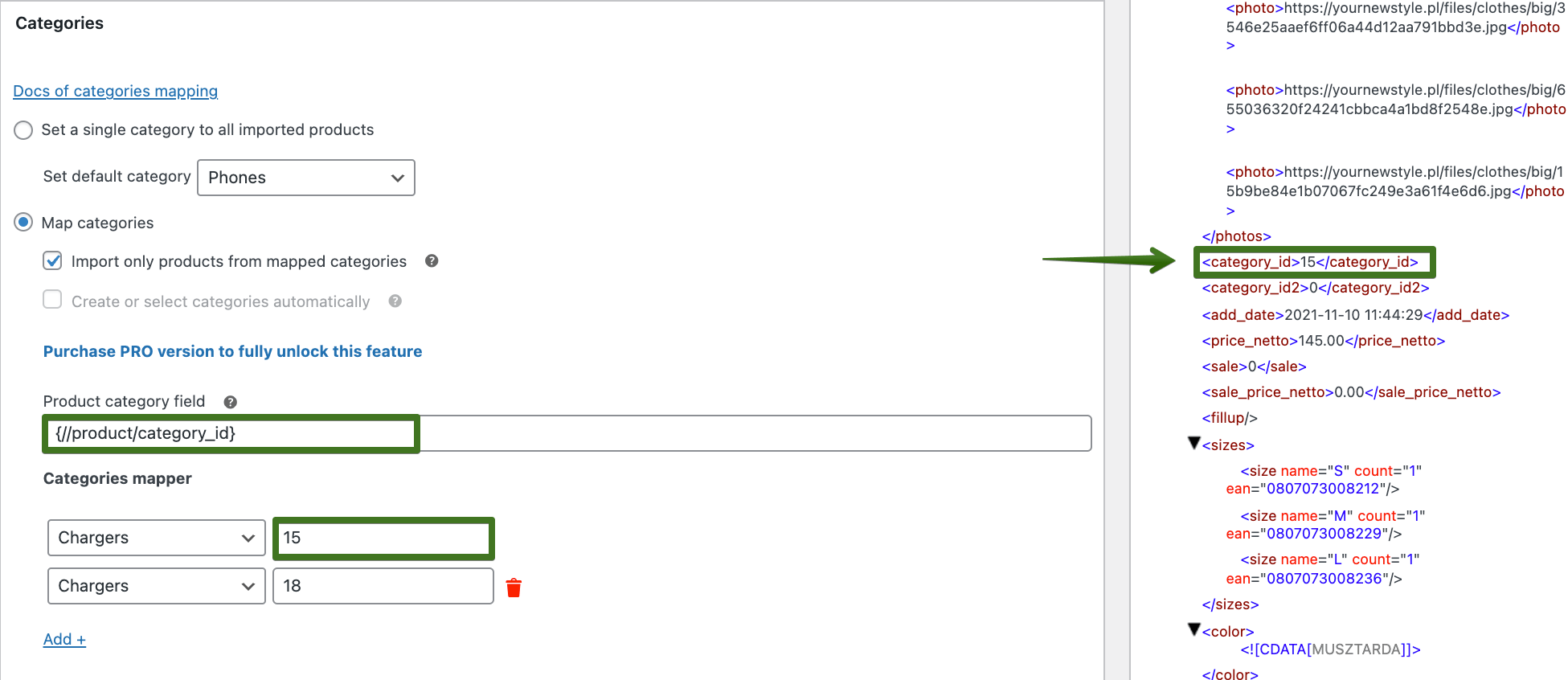 Then add the category IDs from your vendor file next to the WooCommerce categories.
The plugin gives you the ability to create as many WooCommerce XML imports as you want. This means that you can create separate imports for each product category and manage them in different ways. For example, by customizing descriptions or setting up different shipping classes for products from different categories.
Import products like a PRO
If you expect more from the plugin, such as:
Automatic synchronization of WooCommerce XML imports,
Import logic, which allows products import to WooCommerce after meeting the set conditions,
A multiplier for product prices,
Create attributes in WooCommerce based on taxonomy from XML,
Try the PRO version in your free demo. And see all features of the plugin.
Dropshipping Import Products for WooCommerce

£

79
Import and synchronize wholesale products with WooCommerce products.
Add to cart
or
View Details
WP Desk
Last Updated: 2023-09-11
Works with WooCommerce 7.7 - 8.1.x
You can also like...
Below you will find links to two articles about WooCommerce XML import that may be of interest to you:
If you have questions, please let me know in the comments.