Today you'll learn how to add questions to the WooCommerce checkout page. Also, how to use a customer purchase note (using the standard WooCommerce order notes) to learn about customers and their needs. Let's begin!
Knowing your customers is crucial. You can use the standard order notes but they may not be enough and so effective as separate questions in the WooCommerce checkout form.
I will show you the best way to customize your checkout to gather customer feedback!
Table of contents
WooCommerce purchase and order note
The WooCommerce checkout form has a built-in field to get customer feedback or a purchase note for an order called Order Notes. As the default description says you ask your customers here to give you more details about the order.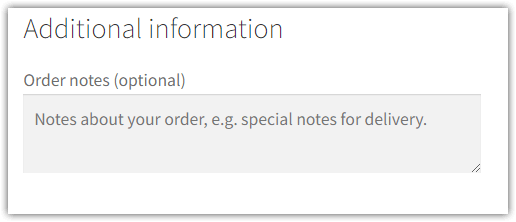 So a customer may easily add a purchase note to the WooCommerce order.
You will see the customer note in the order details: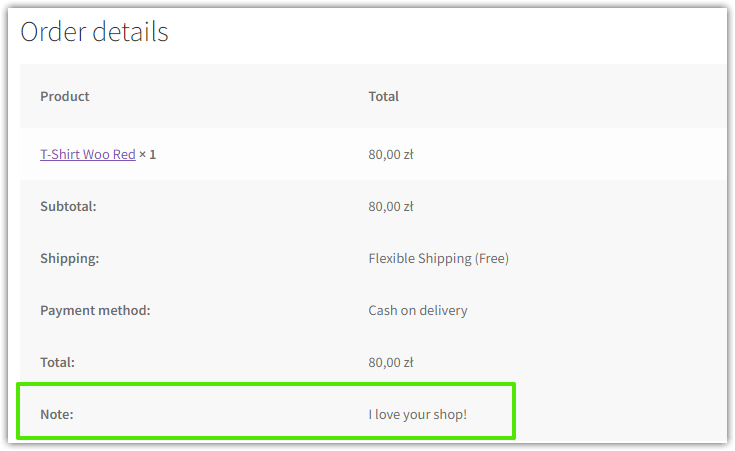 Of course, you may want to specify the new place for the customer note in the WooCommerce order form (more about that below). So you do not have to overload Order notes with many purposes.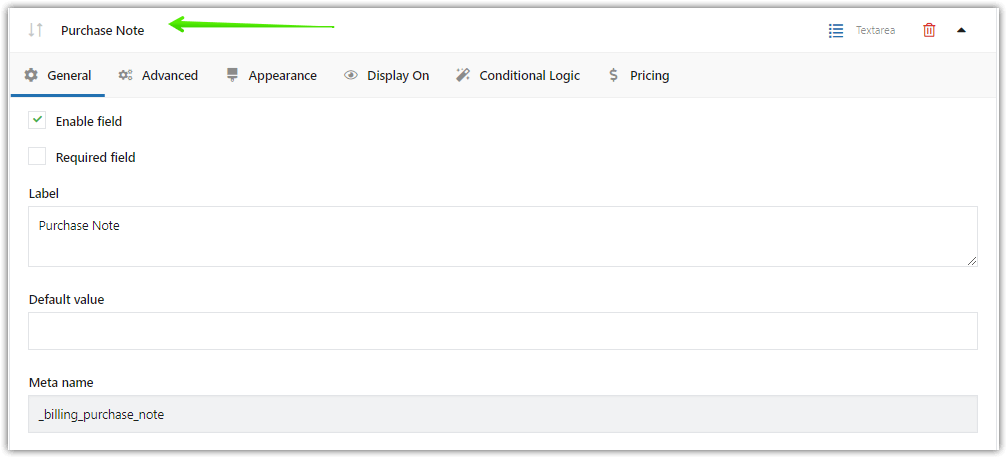 On the other hand, you can send an email with a purchase note to the customer for a WooCommerce order by using Note to customer: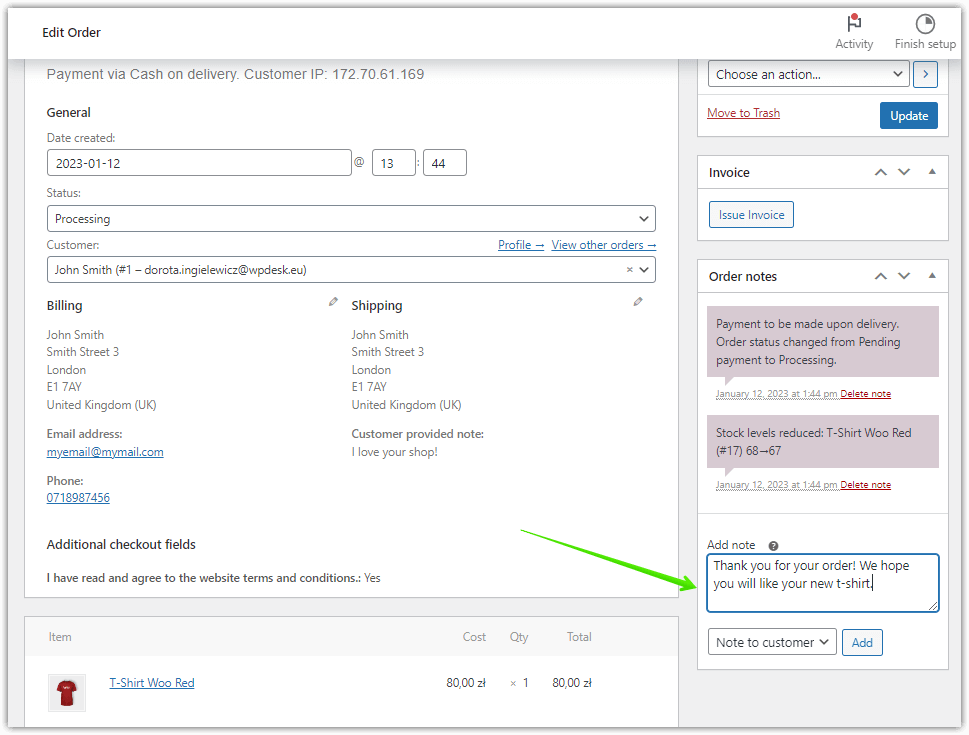 WooCommerce checkout questions
Let's say I'd like to add a mini-survey. I'd like to ask people, how did they hear about my store.
❔ How would it look at my store's checkout? It depends.
I could use for example:
radio buttons,
select,
or text area
WooCommerce checkout questions examples
You may want to use different types of fields to add questions in the WooCommerce checkout form. For example:
✅  Radio buttons: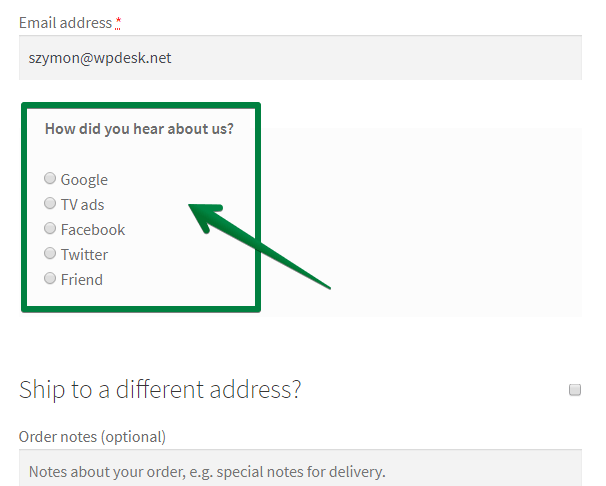 ✅  Select (Dropdown):

✅  Single Line Text:

So, how do you like it so far? If you want such a feature in your store, simply continue with this guide.
🤔  How can you add this feature to your store?
In general, you need a plugin: Flexible Checkout Fields.
WooCommerce checkout questions with a free plugin
Have a look at what you can get by downloading the free version:
✅ The free version lets you create:
Text
Textarea
Number
E-mail
Phone
URL
Checkbox
Color
Headline
Paragraph
Image
HTML
✅ With the PRO version you can create: 
Multi-checkbox
Date
Time
Radio button
Select (Drop Down)
Radio with images
Multi-select
Radio with colors
File Upload
Over 80,000 stores use it daily!
Download the free version and check out if you like it. Follow this guide to add checkout questions. If you need more field types, you'll be able to upgrade to PRO afterwards.
A step-by-step guide to adding checkout questions
That's quick and easy. Just follow the steps below.
Install and activate the FREE plugin

Add new questions to the WooCommerce checkout form

Once you install and activate the plugin, go to its settings. Just click WooCommerce → Checkout Fields:

Try adding a radio button to ask WooCommerce checkout questions

As you see in the screenshot, you need to:

select field type: Radio button, Select, or Single Line Text
provide a label (eg. How did you hear about us?)
click Add Field

Configure the field

Then you can configure the field's options:

Customize the WooCommerce checkout questions in the General tab

You need to provide a Value and a Name:

You'll see a value in the order's details as a store manager
Your customers will see a name in the checkout

WooCommerce checkout questions - the final effect

🎉 Voilà! We have successfully configured checkout questions.

WooCommerce checkout questions
More features of Flexible Checkout Fields
In short, Flexible Checkout Fields lets you create custom fields in checkout. Also, with this plugin, you can edit or rearrange default WooCommerce checkout fields. For example, you can disable address fields if you sell digital products.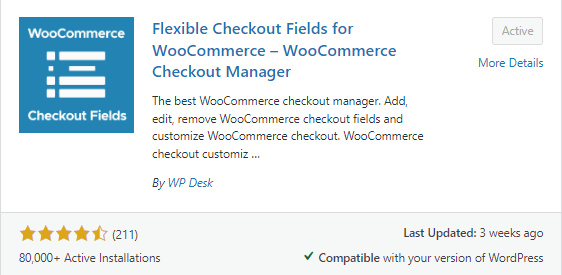 Over 80,000 stores worldwide use this plugin daily. People's ratings are 4.6 out of 5 stars. Look at the exemplary review: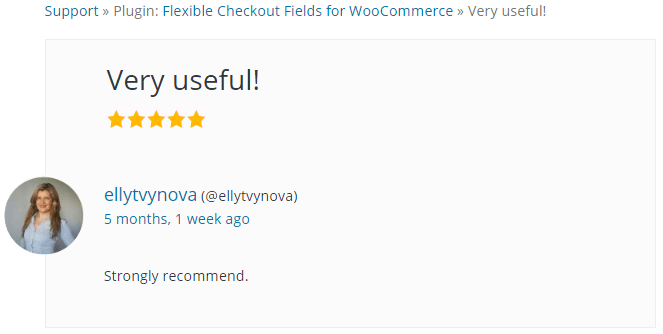 You can download Flexible Checkout Fields for free. Then you can upgrade to the PRO if you need more features.
🎉  There's more! You can also:
Show or hide fields (even the default ones)
Reorder fields
Display fields on other pages
Set fields as required or not
Configure validation of fields
Use the custom fields section
Use your meta names
etc.
💡 The plugin for adding WooCommerce checkout questions and a purchase note is free! Once again, don't forget to download it here:
Summary
You have learned how to add questions and configure the WooCommerce checkout form. Has this article helped you? Let us know in the comments section below!
You may also find these articles interesting: