A large percentage of restaurants and other eateries sell online as WooCommerce stores. An additional tip in the WooCommerce store is an interesting method for this business to increase profit in difficult times. Let's learn how to implement some improvements in WooCommerce for successful restaurant ordering online!
Have you found your restaurant getting fewer visits in the post-pandemic reality? Is your restaurant taking advantage of online ordering to increase sales?
Today, you will learn how to boost your income with WooCommerce, selling custom products, getting tips, and online ordering. Let's see your restaurant online with WooCommerce!
Table of contents
WooCommerce for restaurants - how to start?
Let's see how to get your restaurant online with WooCommerce for additional income!
Use WordPress as your CMS (content management system) to build your website.
Get hosting and a domain, and install WordPress.
Here, you can use your restaurant's website and get customers without selling online.
Boost your website with WooCommerce - install a free plugin to sell online.
Watch movies about setting WooCommerce, read our blog posts, and helpful articles, or hire a person to help you with that.
Now, configure WooCommerce to start selling restaurant products online. Read about WooCommerce products!
Next, customize your store with free plugins and PRO extensions to make your WooCommerce better.
Install our free plugin to adjust your restaurant products for ordering, getting tips, and returning customers.
Improve your restaurant & use the online channel to increase your sales! And make it better!
If you have any questions, please leave a comment below. We will be able to write more about things you're interested in!
Customize WooCommerce products for restaurants
We have created a plugin to help you sell customizable products in WooCommerce in minutes!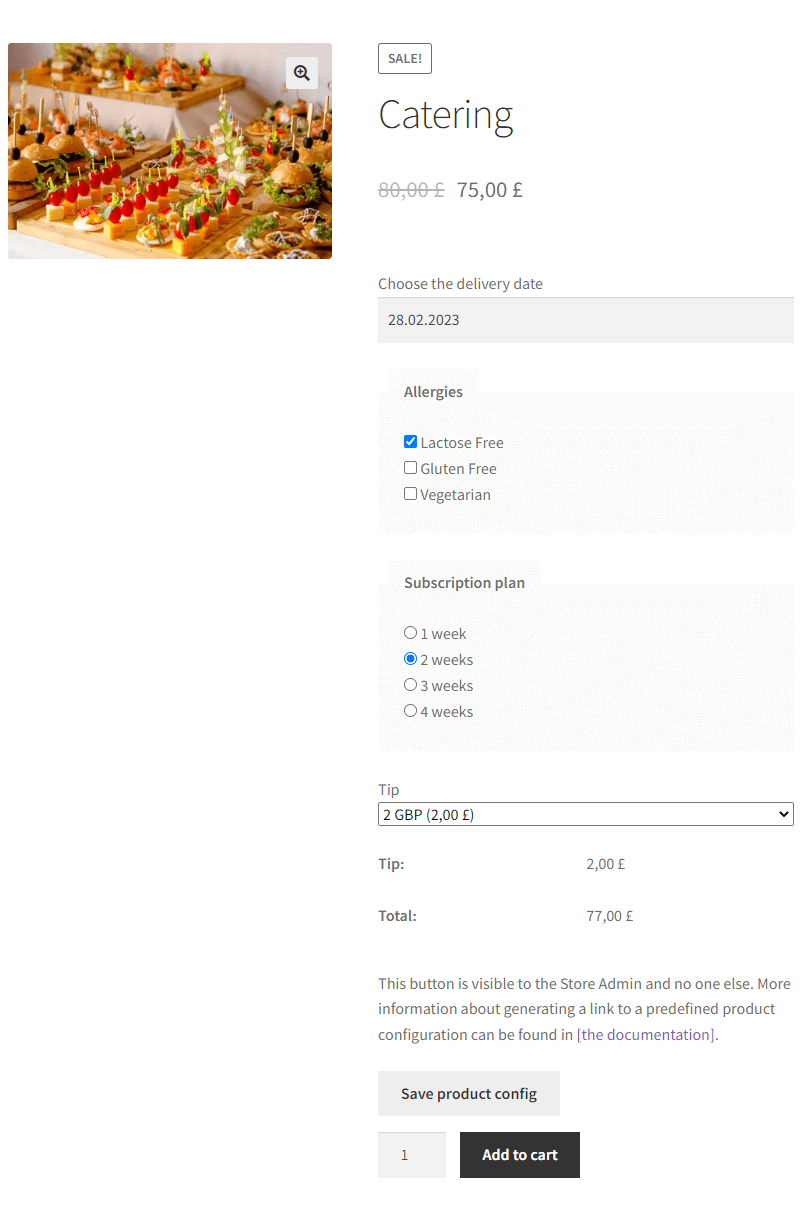 WooCommerce restaurant plugin
The Flexible Product Fields plugin provides additional product configuration fields on the product page of the WooCommerce store. For restaurants (where the products are meals) these are fields to indicate options such as Checkbox or Select.
Download the free plugin & start selling online.
Flexible Product Fields WooCommerce
Create a product wizard to sell engravings, gift wrapping, gift messages, business cards, stamps and optionally charge for it (fixed or percentage).
Download for free
or
Go to WordPress.org
WP Desk
Last Updated: 2023-09-25
Works with WooCommerce 7.7 - 8.0.x
WooCommerce for restaurants: add tips with a checkbox field
Not all cultures welcome a tip in a restaurant. This behavior is perceived as negative or even disrespectful in several Asian countries. But adding a few pennies to the bill is still a nice gesture in Western countries😊.
➡️  There are two places in the WooCommerce store where inserting a tip field makes sense. The first is a product subpage. You can add a tip with the plugin I've shown you above.
It happens that there are other fields to facilitate the configuration of the dish (e.g. pizza toppings🍕) so one more field will look natural.
👉🏽  The second place is the Checkout form. The total amount to be paid is shown there - so the customer can judge what amount of the tip will be adequate.
How to add a tip to the product page
Let's see now how to optimize your WooCommerce restaurant by letting customers leave tips with a checkbox field!
✅ This field will work best if the restaurant prefers a specific amount or percentage of the price of the meal. The customer does not have much choice - they will select such a checkbox or ignore it.
WooCommerce restaurant ordering plugin: add tips with a Select field
You can encourage to tip also by adding another type of field: the Select field.
✅ This field allows the customer to select one of the tip options. The customer will decide whether to tip at all and how much. If he does not choose one of the options from the list then no amount will be added to the bill.
First, add a new group with fields (click the Add New button) or edit an existing group. When creating a new group - assign it to e.g. a single product or categories.


Add a new fields group

Do not check the Required checkbox.
Next, enter the Placeholder text. This text will appear as the first option in the drop-down list. Enter here e.g. Select one of the options.
Add at least two Options for a different tip amount.
Now, go to the Pricing tab. Select the Price Type and Price for each of the options.
Finally, click the Update button and save these changes.


Pricing tab: define tips for a WooCommerce restaurant
If you want me to show you more about ordering in WooCommerce online restaurant, please leave a comment. Let us know what else would be interesting for you when selling restaurant products, additional services, or gift cards.
Summary & more about the plugin
Today, you've learned how to use the Flexible Product Fields PRO plugin to get tips for WooCommerce restaurants.
To sum up, WooCommerce for a restaurant is a good choice, also for online ordering.
What's more, with custom fields you can sell your restaurant products & services much better!
The plugin makes it possible to assign a field to more than one product. It is enough to create one group (field) with a tip and assign it to the entire menu or specific categories. So there is no need to add a field for each meal one after the other. The tip in the WooCommerce store is therefore global.
It is all about what options the customer gets to choose a tip. The simplest solution is a regular checkbox with an assigned price (fixed or percentage). With more options, it will be required to insert a field with a drop-down list or e.g. a Radio (works the same as Select).
Information about the selected tip option will then appear in the Cart and on the Checkout page. A note about the tip will also appear in the purchase summary (Thank You page) and in the WP panel (when editing the purchase).
Flexible Product Fields PRO WooCommerce

£

59
Create a product wizard to sell engravings, gift wrapping, gift messages, business cards, stamps and optionally charge for it (fixed or percentage).
Add to cart
or
View Details
WP Desk
Last Updated: 2023-08-11
Works with WooCommerce 7.7 - 8.0.x