WooCommerce product feed export is a critical process for every eCommerce wholesaler who wants to thrive in online sales. If you are one of them, understanding how to create WooCommerce product XML export will give you a competitive edge in the market. Also, allows you to showcase your products to a larger online audience.
This article will take you step-by-step through how to create a WooCommerce product feed export.
Step 1: Understand the Importance of WooCommerce Product Feed Export
WooCommerce Product Feed Export is the process of taking the details of your products and exporting them into a file format suitable to use by third-party platforms or resellers. Although, you may use the format for your products to be easily uploaded and displayed on different online marketplaces, shopping engines, or the stores of your partners. When you get your products out to more channels, you will be better positioned to sell more and increase your revenue.
Step 2: Install and Configure Your Exporter Plugin
There are numerous WooCommerce product feed export plugins available. One that allows you to create a product feed for Google Merchant, or Facebook.
Also, ones that help automate the synchronization of inventory and prices between stores. Finding one that suits your needs can be quite challenging. Once you identify the right plugin, go ahead and install it. After installation, you need to configure the plugin with the settings that suit your needs.
I won't help you with all of these plugins, although they are somewhat similar to each other. At this point, let me introduce you to the plugin:

Dropshipping Product Export
WooCommerce product feed export has never been easier. Try [nazwa wtyczki] out - it will help you in WooCommerce product XML export in no time!
Test free for 30 days →
or
View Details
WP Desk
Last Updated: 2023-04-27
Works with WooCommerce 7.1 - 7.5.x
Step 3: Customize the Export Functionality
Depending on the type of products you sell, you may tailor your WooCommerce product XML export settings to include more details. For example, you can include product descriptions, product images, pricing, stock levels, color variations, and more. By customizing your WooCommerce product feed export, you can ensure that your products are displayed accurately in the stores you work with.
🤓
Did I mention Dropshipping Product Export for WooCommerce?
With it, you can easily export:
Only those types of products that meet your requirement, based on:

Product taxonomy (categories, tags),
Price,
Product name,
SKU,
Stock.

Export products with price and stock values modified automatically by your multipliers.

Step 4: Schedule the Export of Your Products
When you're ready to create an accurate product feed to export, consider whether you need the file to be refreshed regularly. This will ensure that your product information is always up-to-date and available to customers, and it's possible by Dropshipping Product Export for WooCommerce: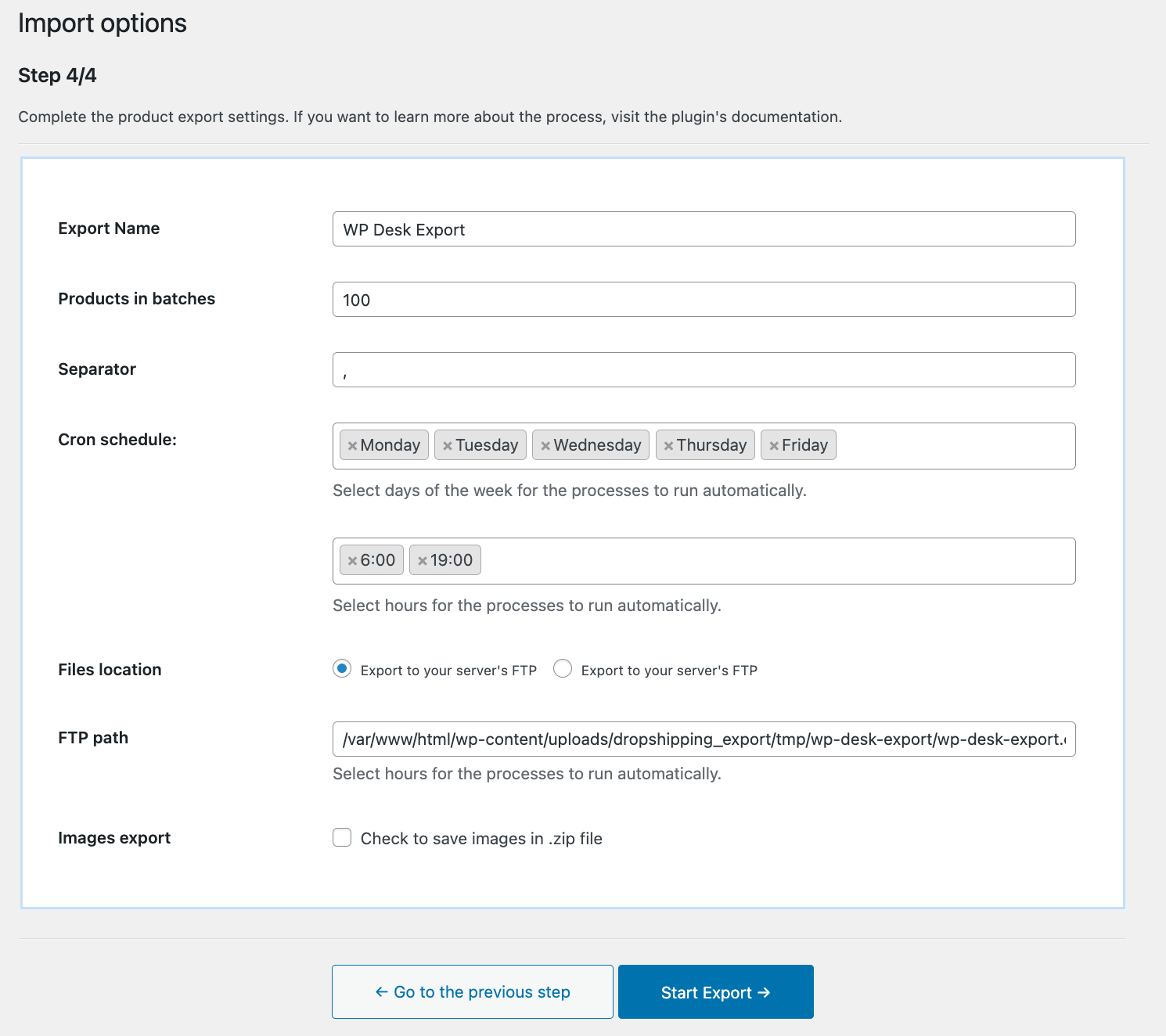 Export to file can also be synchronized with the import that will work in your customers' store. Our other plugin Dropshipping Product Import for WooCommerce can be used for this.
Conclusion
As you can see, creating a product feed to export is an important process to increase online sales. By following the steps outlined above, you can create a WooCommerce product XML export that is customized to suit your needs and your resellers. Remember to try out plugins to determine the one that works best for you!