There is an easy way to create WooCommerce checkout datepicker. I'll show you the method in this article. You'll learn how to implement datepicker to your store's checkout. Let's begin!
WooCommerce Checkout Datepicker - Quick intro
I respect your time. That's why I want to show you the final effect first. This way you'll be sure that this is what you are looking for.
I have a default styling of the checkout in my store (you can set yours). I use Storefront theme. WooCommerce Checkout Datepicker looks like this: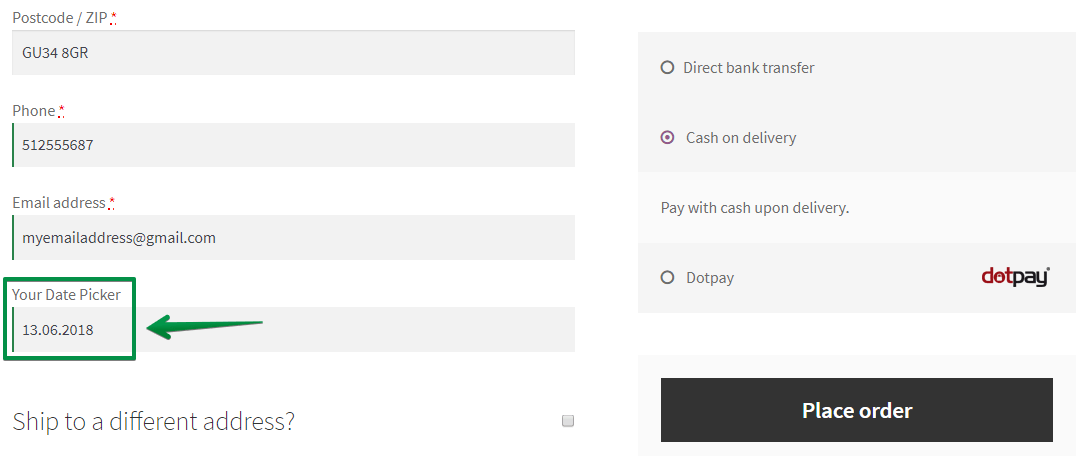 You can rearrange this field. You can place it wherever you want! Also, you can set this field as required if you need to. There are many more options such as conditional logic or custom validation. I'll tell you more about this later in this article.
Here you can see the select box of the WooCommerce checkout datepicker: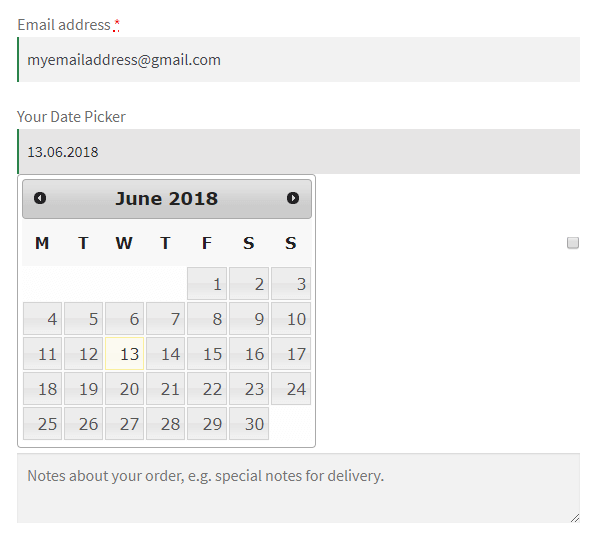 I didn't set any time range. However, this is possible, of course!
Below you can see the select box where I set time range to:
3 days before
7 days after
Look: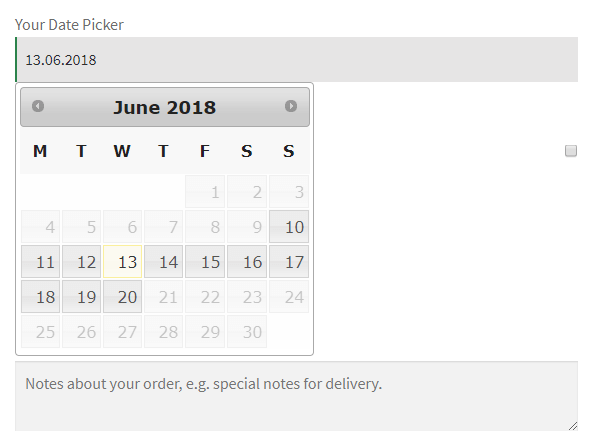 After a customer makes an order, you can peek the value of the datepicker field. Just go to order details in your WooCommerce admin panel: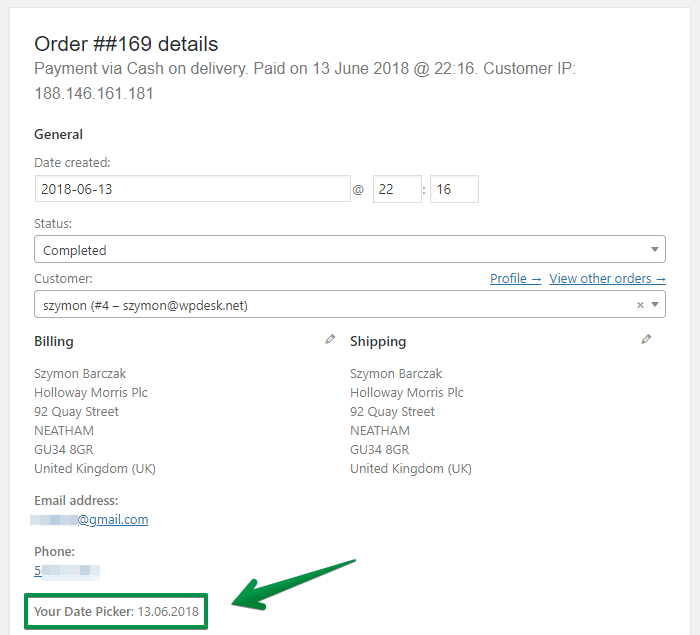 This field is editable by default. Customers can edit this field on their My Account page.
Here is the field in My Account - Addresses: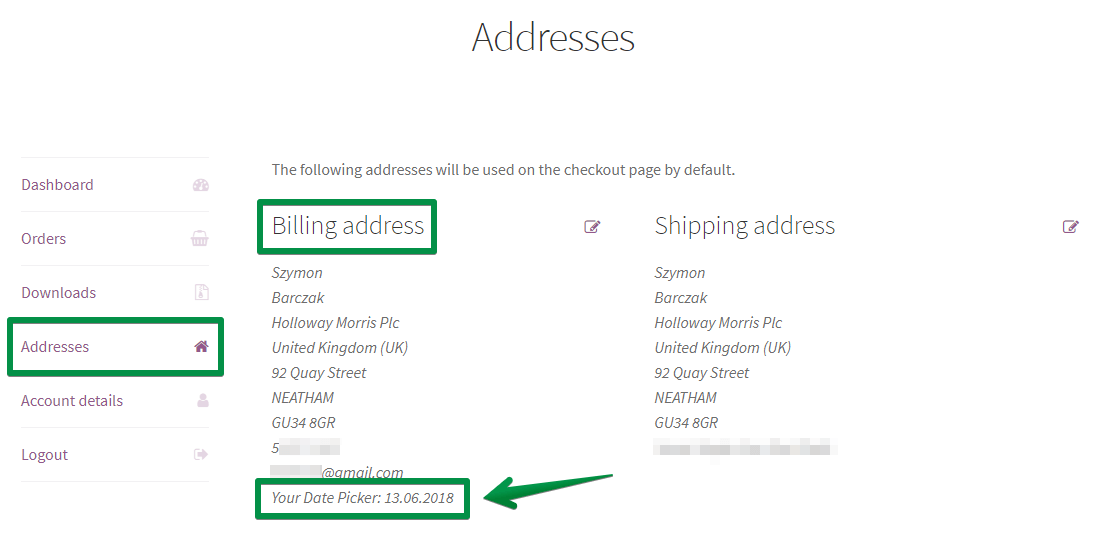 And this is the editing mode: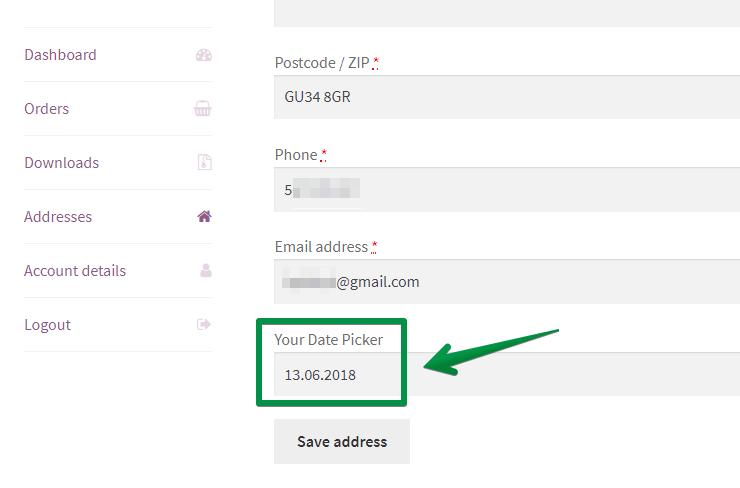 Also, a customer can look up the field's value in the Orders: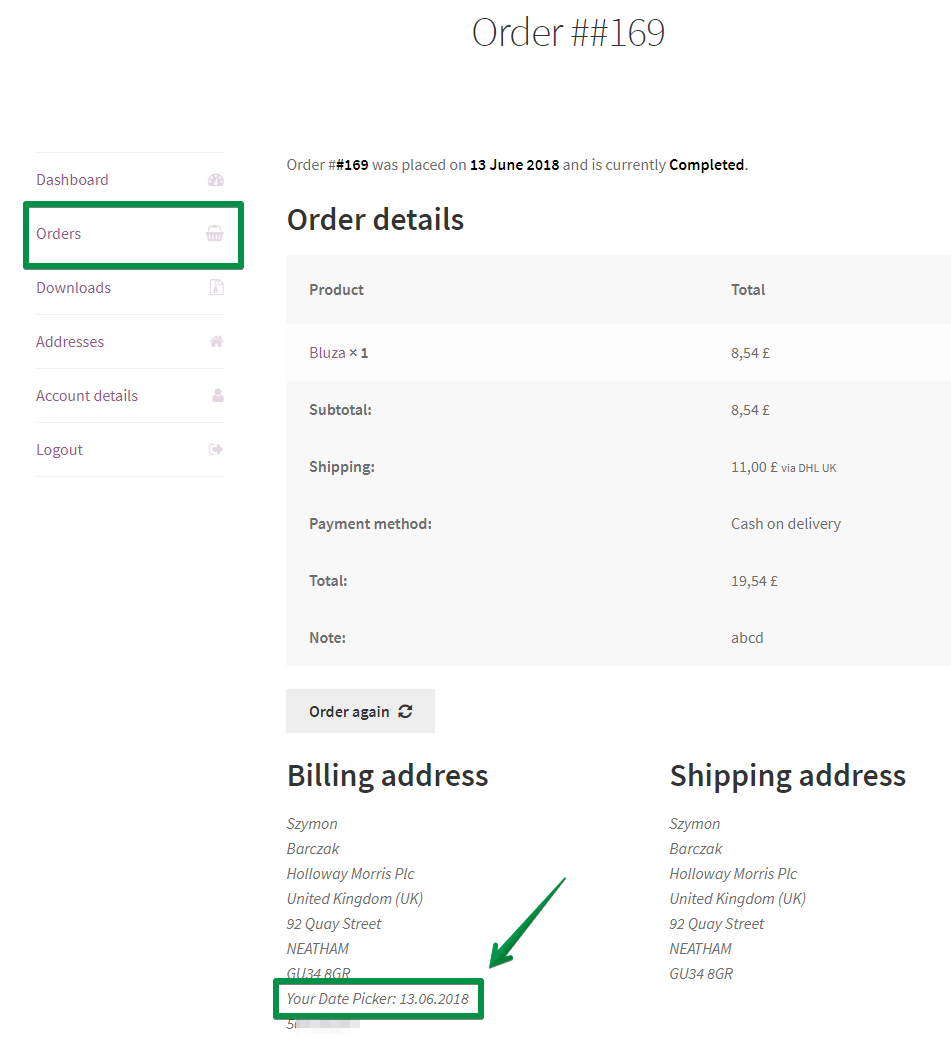 Is this what you want? In the next section, I'll show you what plugin you need to configure WooCommerce checkout datepicker.
Checkout Datepicker - there is a plugin for that

Flexible Checkout Fields lets you create WooCommerce Checkout Datepicker, of course. However, you can do much more!
This is the plugin which let you do some magic with checkout fields. With this plugin you can:
easily add custom fields to the checkout,
edit the present ones,
or rearrange fields in the checkout etc.
I want you to know that over 235,011 stores use this plugin worldwide on a daily basis. People rate this plugin 4.6 out of 5 stars.
As one of our users said, this plugin is very useful :)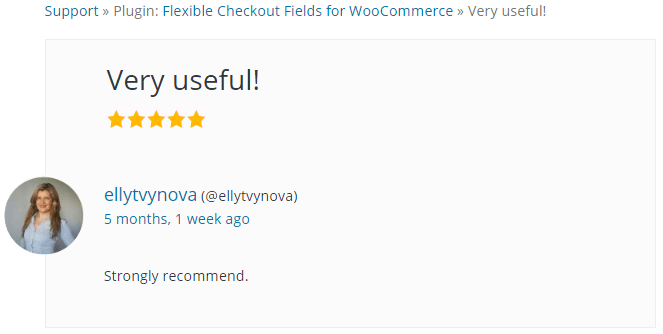 You can download this plugin for free but you need the PRO version to add WooCommerce Checkout Datepicker. That's because the free version offers different field types:
Text
Textarea
Number
E-mail
Phone
URL
Checkbox
Color
Headline
Paragraph
Image
HTML
The PRO version of the plugin offers these field types:
Multi-Checkbox
Select
Multi-Select
Radio
Time
Radio with images
File Upload
Radio with colors
Date
However, check out this plugin for free before you buy! Watch this video to see all its features in the free version:
Flexible Checkout Fields WooCommerce
Edit, add new or hide unnecessary fields from the checkout form. It's all about conversions and better user experience.
Download for free
or
Go to WordPress.org
WP Desk
Last Updated: 2022-11-24
Works with WooCommerce 6.7 - 7.1.x
How to add WooCommerce Checkout Datepicker?
First, install the plugin. Then, go to WooCommerce → Checkout Fields: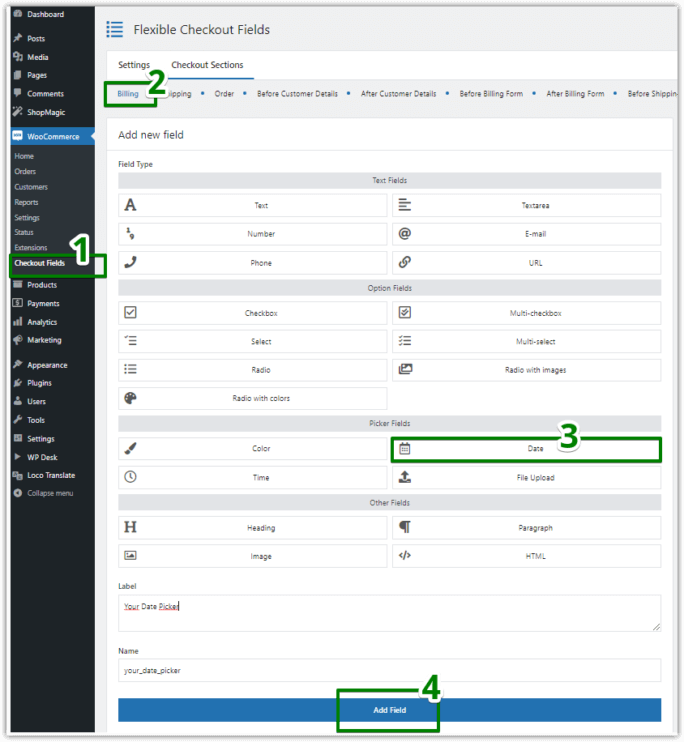 You can edit different sections here. By default, we will edit the Billing section. However, you can add WooCommerce Checkout Datepicker wherever you want.
Flexible Checkout Fields plugin lets you add custom fields to different sections of the checkout. You easily modify the Order, Shipping or Billing section. Also, you can add fields before or after:
Customer Details
Billing Form
Shipping Form
Registration Form
Order Notes
Submit Button
It may be the WooCommerce Checkout Datepicker but doesn't have to. As I said before, Flexible Checkout Fields let you create 10 types of fields.
Back to the main topic, select the Field Type, provide a Label and click Add Field button.
After that, you can modify the settings of this new field. Look, you can set time range in here: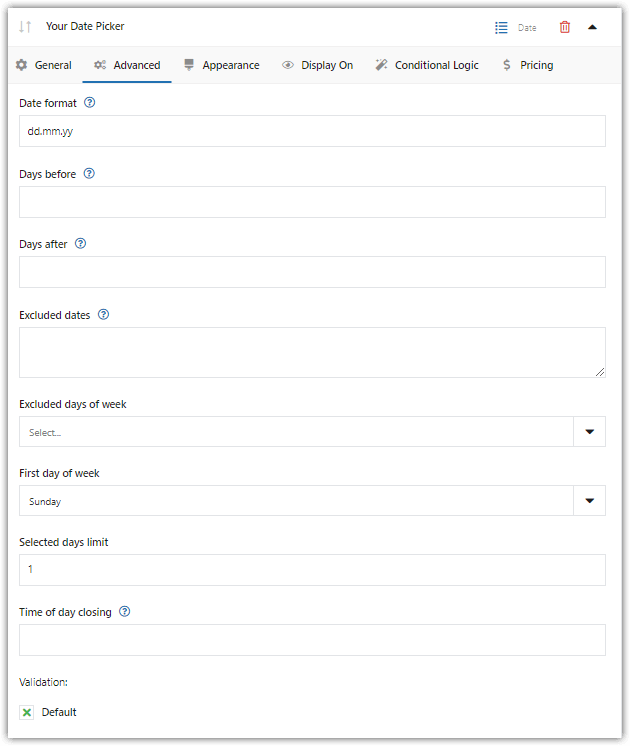 There is a Validation option as you may see. Do you need to add custom validation to this WooCommerce Checkout Datepicker? Read our WooCommerce Checkout Custom Validation Guide →
Next option, the Appearance. You can set your own CSS class to the field. Style the datepicker however you want!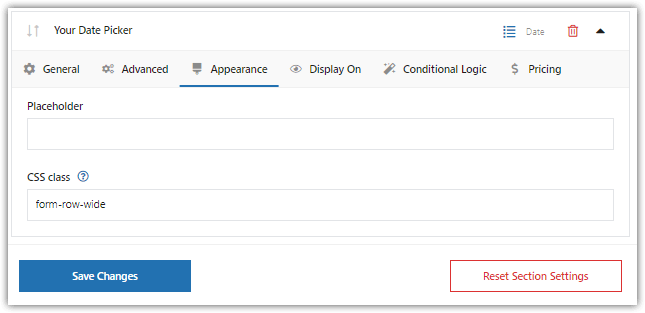 With the Display On option, you can set where to display the WooCommerce Checkout Datepicker. For example, you can set the plugin to display this field only in the checkout. This way user won't be able to change value of this field in My Account.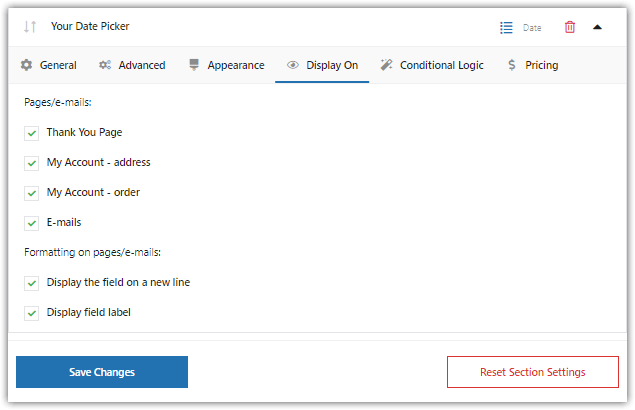 The last option: Advanced. You can configure conditional logic in here. I won't cover this topic in this article. If you need conditional logic for your fields, look up our Conditional Logic Guide →
Summary
In this article, you have learned how to create WooCommerce Checkout Datepicker. How do you like this method? Let us know in the comments section below! Also, you can ask us any question if something is not clear for you.