The WordPress Active Install Growth Chart is no longer available. What does this mean for plugin development? Why is the decision not to share data on a plugin's active install growth controversial? I'll explain it all in this article.
Active install growth charts were removed from the plugin directory. If you are an author or a contributor of any plugin available in the WordPress repository, you surely know that this chart was a very relevant one (if not the most relevant) among all the data provided by WordPress. 
While the vast majority of the WordPress plugin contributors' and developers' community is against these changes, there are those who see no problem with this issue, explaining their opinion by the fact that the Downloads Per Day Chart is still available. But is that enough and can this chart be treated as a substitute for the Active Install Growth Chart?
Downloads Per Day Chart vs. Active Install Growth Chart. What's the difference?
The Downloads Per Day chart reports the number of individual downloads of a particular plugin each day.

While for any developer and contributor of any plugin, this data is quite relevant, in this case, it is not entirely conclusive and indicative. Namely, when a particular plugin is updated, the user downloads it from scratch. What does this mean in practice? The Plugin Downloads Per Day chart counts each plugin download as a new download, and thus can be misleading, having in mind downloads after updates.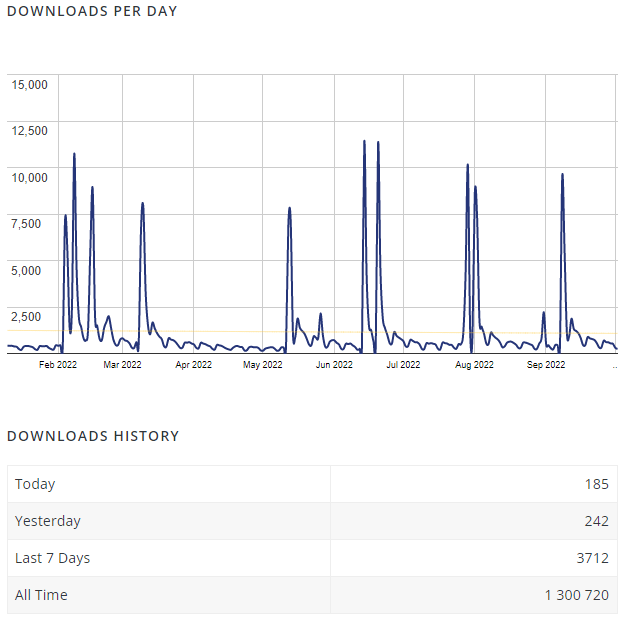 The chart above shows the download history of a random plugin. Do you see spikes? Yep, that's the plugin updates downloads. 
Whereas, when it comes to the Active Install Growth Chart, it gives us an insight into another aspect of plugin development.
The number of active installations of a particular plugin tells us how many users are actively using it - that is, in short, on how many devices the plugin is currently installed and active. However, the Active Install Growth Chart shows (or rather, used to show!) us the current trend, that is, by how much the number of active users of the plugin has changed compared to the previous week.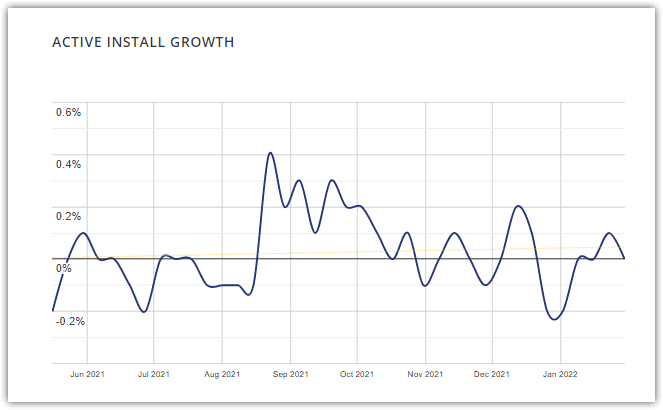 The data that relates only to the number of downloads of a particular plugin is not a sufficient indicator of a plugin's success or failure. Its author will always strive to achieve as many active installations of it as possible, which in effect gives him credible information about how many WordPress users are actively using his plugin and consider it a quality product. Without insight into this information, working on the plugin and its further development, can be extremely demotivating. 
The importance of the Active Install Growth Chart
This chart, which is no longer available on WordPress, was by many plugin developers and contributors the most relevant source of information on plugin development. 
Here are some reasons why:
✅​Insight into the actual plugin trend and the capability to make decisions based on it
As a matter of fact, this is the main reason that advocates the importance of bearing this data. Without insight into data on the growth or decline of active plugin installations, it's hard to make decisions about future plugin development.
✅​Comparisons with competitors' performance (not to be confused with rivalry)
Especially useful in creating a plugin addon. Imagine developing an addon for, let's say, WooCommerce. If WooCommerce has a declining trend in the growth of active installations, you can assume that your new addon will also score a decline. In this case, without knowing how WooCommerce is performing, we don't know how to interpret our results. Creating addons for major plugins is not uncommon, but it is most apparent in extensions for WooCommerce.
✅​Customer Feedback
The increase or decrease in active installations by many was interpreted as a kind of feedback from customers. It won't come as a surprise if I tell you that nothing motivates like feedback from customers. Of course - the ideal solution would be to receive comments (both positive and negative) from plugin's users. But let's not delude ourselves - only a small percentage of users give such feedback. Imagine that you have made significant changes to your plugin. By observing the increase in active installations, you can assume that you are going the right way. After all, active installations are not decreasing.  The ability to observe changes in active installations in this case, is perceived by many developers and contributors as a kind of feedback.
✅​Overview of the current situation of the plugin
The capability to find out at what point a plugin is. This is the case when the plugin has an active installation growth and the interval between active installs milestones extends over months. Particularly essential when aiming to reach a given active installations milestone. Imagine how frustrating it must be not knowing how many active installations your plugin has at any given time. What will be your guiding principle in the development of the plugin?
What will happen with WordPress plugin analytics tools?
Note that tools dedicated to analyzing plugin data available in the WordPress repository, draw data from the WordPress API. Namely, these tools and applications (such as Active Installs) will not have all the data needed to perform the estimated calculations. This means that with the discontinuation of the availability of these data, the functioning of these tools misses the point. Other available statistics still work properly. However, eventually each plugin author aims to increase the number of active installs of their plugin.
Conclusion
In short, observing the increases or decreases in active installations of a particular plugin allowed its author to create a more valuable product and better adapted to the needs of its users without having to involve them. This capability was taken away with the ceasing of publication of data on active installations in the WordPress repository.
Without insight into the active installation chart, the work of the developer and contributor has become quite a senseless job. The issue has reverberated among the WordPress Community, making the removal of the Active Installation Chart a rather controversial issue. If you are a Slack user, you can join the Making WordPress Slack channel and express your opinion on the subject. What is your opinion on this subject? Feel free to discuss in the comments.