Do you need valuable WooCommerce tips and tricks to boost your sales? I'll give you 5 most essential WooCommerce tips and tricks. If you follow them, you can make changes that will boost sales in your store!
Choosing the right tools is very important, but first, you need to know the things you want to improve!
Let me help you discover several ways to boost your sales and optimize your WooCommerce store!
Table of contents
Before you go any further, I'd like to let you know about a super discounted offer on the All Plugins Bundle. If you are considering more than one plugin, this may be the offer for you!
Last Updated: 2023-12-06
Works with WooCommerce 5.6.0 - 6.0.x
WooCommerce Tips for Your Business
Ok, let's go! People say that the simplest solutions are the best ones. I agree with them. You don't have plenty of time and money. You need simple and valuable WooCommerce tips and tricks for small businesses.
This is why I decided to create this article. You'll learn how to easily test different solutions at a low cost.
I decided to ask you 5 questions. This way you'll have to think about your store's conversion, test solutions, and make changes in your store.
💸 I wish you a much higher conversion rate after using these WooCommerce marketing tips!
1. Where do your customers come from and how does the source convert?
Customer Acquisition
Customers visit your store from different sources. When they know your brand very well, they often come to the store directly. However, most of the time, there will be different sources like Organic Search, Paid Search, Referral, etc.
One of my eCommerce tips is that you have to know how many people come from different sources. Also, you need to know what they do in your store in general.
👉🏼 If you're a newcomer to online retail, start by acquiring organic traffic. It's better to leave the paid traffic based on CPC (acquired with Google Adwords, for example) for now.
Organic Search may be a better investment at the beginning of your adventure with selling online. You will need a good SEO copywriter. Once the copywriter creates the content for your store, it attracts traffic.
There is one, very important thing to know. You write content once, and it attracts traffic for a long time. That can make this strategy more economical.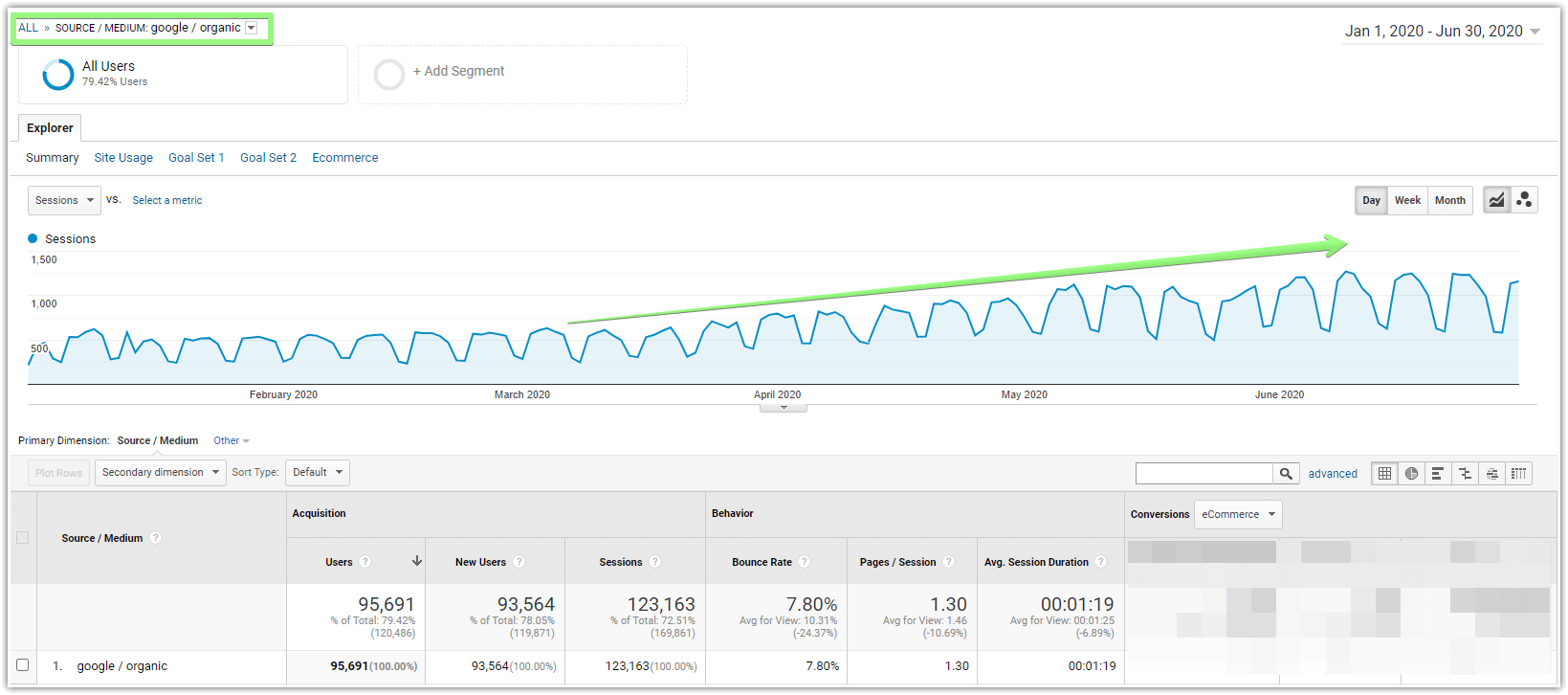 It shows the number of organic sessions for my site in 6 months. As you can see, the trend was upward at that time, thanks to several articles that appeared on my blog back then. These articles were written to improve my SEO performance.
👉🏼 In finding keywords that should be included in an article, Google Keyword Planner works great.
💡 In articles with SEO-friendly content, try to position the products you sell.
Conversions
How much time do users spend on your store's website, and how many pages?
This is important. It doesn't mean that their journey has to be long. It depends on your business strategy. Our users spend a few minutes on our website but their journey is often limited to one page. However, they convert.
That's because most users just read a specific guide on our blog and then they exit or buy. Sometimes they come back but that's another session.
There is another important thing you should know about. That's the third one of the WooCommerce tips I show you in this article. It is very important to link internally.
If you blog, then link to other posts on the same topic. On the product page, you should have internal links to other products in the same category. Read Yoast SEO's Guide on internal linking.
2. What do people do on specific pages of your conversion funnel?
You can create a lot of content for your products. Your copywriter may write the best product descriptions. However, it doesn't matter if no one reads it!
My questions are, do people spot the elements in which you have invested so much time and effort? Do they expand product images so they see the best quality pictures your photographer made? Do you know what exactly they see on your store's website?
We may design websites using good practices. We may think that this way we'll make that website will convert more often. But it's just an assumption. We need to verify it after implementing it.
The best way is to see the website the way the customer sees it. With this method, we can notice a lot of interesting behaviors. People are different and they don't always do things the way we predict.
What a convenience we run e-shops!
💡We can use cheap and easy tracking technologies such as
Smartlook
.
Once you find answers to these questions, you can optimize your store's website for a better user experience.
Sometimes it will be just a few improvements such as rearranging elements, shortening copy, or placing hints on the site. When you know how users use your website, you get ideas for improvements very quickly.
I hope that you won't have to redesign your project😉!
3. How do your copy and product photos influence the conversion funnel?
You already know how customers use your website. However, do you know which improvements work and which don't?
👁️‍🗨️ So, you will need to test it.
You may have different conversion goals in your store. It depends on your marketing strategy. However, every visit should push a customer to make at least one step further in your conversion funnel.
The way you design your website equals how people use it. So, when you make changes on the site, it may affect everything in the conversion funnel. How do you know your changes make it better? With A/B testing.
You don't need to spend a lot of money on A/B test software. There is a free tool right away. You should check out Google Optimize. It integrates with your Google Analytics account, so it's easier to start.
💡A/B testing means you have two variants of a site. It doesn't have to be two different website designs. You can test simple things like the Call-to-Action button's color.
For each test, you set a conversion goal. Google Optimize shows two different versions of your site. One user sees the A, while the other sees the B.
When the test is running for enough time, you have a record of what version converts better.
Experiment with your website's look and content. I wish you boost your conversion this way!
Bonus: use a plugin to manage the WooCommerce product page
👉🏼 It's not just the picture that is important in keeping the user on the product page and in attracting them to buy.
💡 One of the reasons why a customer doesn't decide to buy a product is the small amount of information that is on the product page.
We love WooCommerce but we think that by default it limits the information that can be included on a product page. That's why we're coming to you with a plugin to help.
Meet Flexible Product Fields - a free plugin to manage your WooCommerce product page.
With the plugin, you can add personalized product fields, remove those added by WooCommerce, and personalize the product page to your needs. I leave you a link where you can download the free plugin!
Flexible Product Fields WooCommerce
Create a product wizard to sell engravings, gift wrapping, gift messages, business cards, stamps and optionally charge for it (fixed or percentage).
💾 Active Installations: 10,000+ | WordPress Rating:
Download for free
or
Go to WordPress.org
WP Desk
Last Updated: 2023-11-07
Works with WooCommerce 7.9 - 8.3.x
4. Why do people leave your checkout?
One of the common mistakes is to make checkout complicated. The checkout needs to be as easy as possible. It's like a long queue in a stationary shop😉.
You're ready to spend your money but you leave. It's all about the inconvenience.
Your checkout may be distracting. It also can be unclear. Some options that are easy to understand for you, may not be for others. Sometimes there are too many or not enough steps in the checkout. How is it possible that fewer steps lower your conversion?
💡 The fewer steps you have in your checkout, the more information your store displays on each step.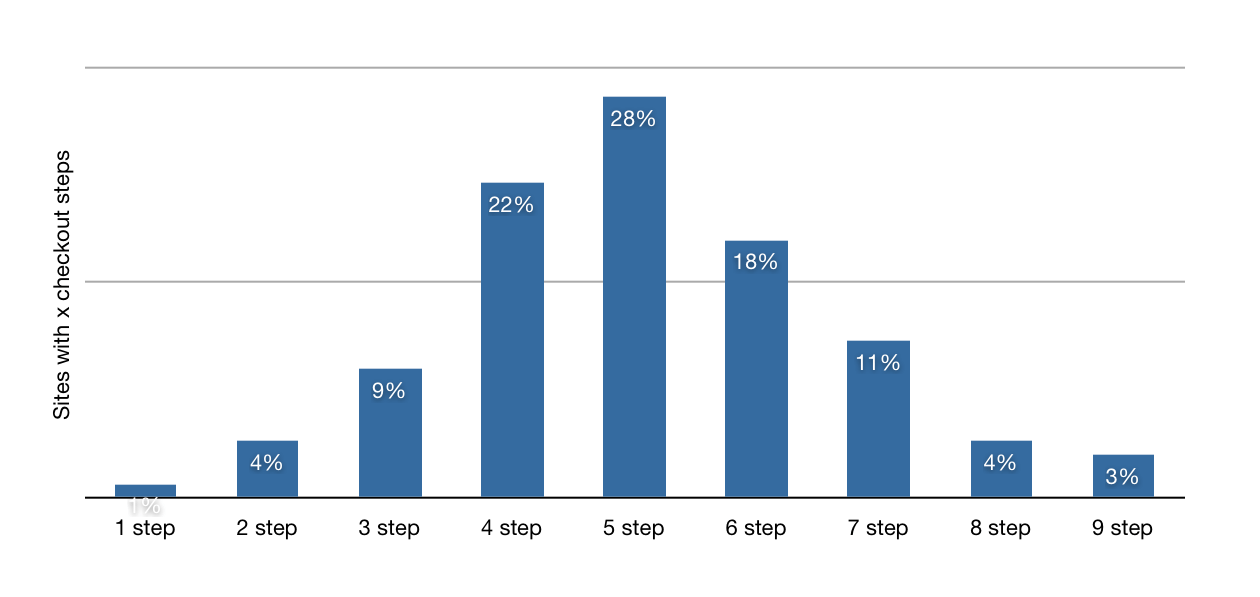 As you can read on a Chargebee blog, most of the top 100 eCommerce companies had a 5-step checkout process. But that's just statistics. It doesn't mean it will work for you if you make 5-step checkout in your store.
You simply need to test it. I have already shown you the Smartlook tool. Use it to watch what people do at your checkout. Also, using Google Analytics, find out at which step they leave.
This way you'll find out why people leave your checkout. Next, you'll be able to make changes... and test the behaviors at the checkout again 😉
Use a WooCommerce Checkout Manager Free Plugin
We developed a plugin that can help with checkout modifications.
Flexible Checkout Fields WooCommerce
Edit, add new or hide unnecessary fields from the WooCommerce checkout form. Add pricing to fields and use conditional logic. It's all about conversions and better user experience.
💾 Active Installations: 90,000+ | WordPress Rating:
Download for free
or
Go to WordPress.org
WP Desk
Last Updated: 2023-11-09
Works with WooCommerce 7.8 - 8.2.x
💡 We have created a
Youtube playlist
where you can see all video tutorials about this plugin.
This plugin is an absolute must-have for your store. It will help you modify your WooCommerce checkout form. The free version lets you add 12 different field types to the checkout order form.
The PRO version expands these fields by another 10! But that's not all, the premium version allows you to set conditional logic or assign a price to checkout fields.
Download the plugin, customize your WooCommerce checkout page, and increase conversions in your store.
5. Do you promote your store the right way?
Running an online shop is one thing, and promoting it properly is another. Another of my WooCommerce tips and tricks will be to enhance your store with additional WooCommerce plugins that will help you improve the experience of users browsing your store.
💡 Remember that competition in eCommerce is huge. To stand up to the competition, your store must not be inferior to your competitors' stores. Are you confident that navigation in your store is simple and pleasant for users?
👉🏼To improve the user experience on your site, and get more orders, we have a suggestion for you.
Try to broaden your store offer with new products, variations, or flexible product options.
Then, test what works and improve!
You can use some plugins to extend WooCommerce or product options.
A list of great free plugins for better marketing
Flexible Wishlist

Flexible Wishlist provides customers and guests with the possibility of saving favorite products they want to keep an eye on or simply buy in the future.

Can you create a WooCommerce store without having wishlists? Sure – but you can forget about increasing your sales and winning customer loyalty.

Download the plugin for free:

Flexible Wishlist for WooCommerce

Allow customers to save their favorite products for later. Gain their loyalty and boost your sales. Make customers want to come back to shop on your site.

💾 Active Installations: 800+ since Apr '22

Download for free

or

Go to WordPress.org

WP Desk

Last Updated: 2023-10-09

Works with WooCommerce 5.6.0 - 6.0.x

Flexible PDF Coupons

Create and sell PDF coupons, gift cards, and vouchers.

This plugin is a game changer - definitely during hot periods such as Christmas and Black Friday. With this plugin, your customers will be able to give their loved ones gift cards, vouchers, and coupons that you will offer them on your site. A simple solution that will contribute to a rapid increase in conversions in your store.

Download the free plugin:

Flexible PDF Coupons WooCommerce

Design your own PDF coupons and sell them as gift cards, tickets, or service vouchers. Use extra add-ons and insert your own shortcodes, delay sending coupons by email, or even generate QR codes.

💾 Active Installations: 1,000+ | WordPress Rating:

Download for free

or

Go to WordPress.org

WP Desk

Last Updated: 2023-11-16

Works with WooCommerce 7.9 - 8.3.x

Bonus: ShopMagic - Follow-Up Emails & Marketing Automation for WooCommerce

The plugin lets you run email marketing campaigns, send newsletters, and follow-up emails, recover abandoned carts in WooCommerce, and more.
💡Have a look at our
Youtube Playlist
where you will get more tips about promoting your WooCommerce store with these marketing plugins.
Summary
You have learned a few valuable WooCommerce tips to improve your store. How do they help you? Have you reached your goals? Let us know in the comments section below.