New WooCommerce version has been released today! What are the new features?
New WooCommerce in version 3.3 has some new features for you. Some of them are very interesting, developmental and making the plugin easier to use. New version is backwards compatible so the update should proceed without any hassle. You can simply click Update in your WordPress admin panel and enjoy the news I described below.
We are ready! All of the WP Desk plugins are fully compatible with the latest WooCommerce version! Don't hesitate and update both WooCommerce and WP Desk plugins.
Better support for non-WooCommerce themes
When you where using the previous versions of WooCommerce, some of the WordPress themes were not fully compatible. It's over yet! Now, all themes are supported by WooCommerce!
Better orders managing
WooCommerce has made major changes to the orders site, which are intended to improve the browsing and management of orders. The biggest changes include:
Customer address is hidden by default
Order number and customer name are joined in one column
The icons are replaced by message of order status
There is a quick order view added to the site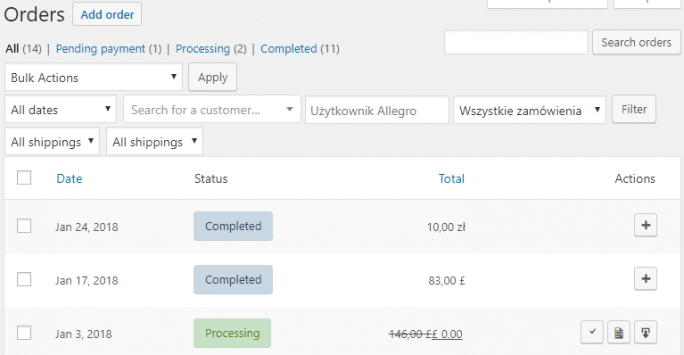 Better images managment
You can now use Customize menu to adjust the size and dimensions of your images. The images will be processed on-the-fly, so you don't need to use additional plugins anymore.
Better stock managing
In the version 3.3 stock managing is improved - it's simpler and more intuitive. WooCommerce will now automatically change product status to In stock, when the shop manager adds the quantity.

Download logging
At last but not least, something that annoyed the sellers of virtual products. WooCommerce 3.3 gives you possibility to see who, when, and how many times has downloaded files from your website. If you like, you can even see the IP number of your customer!

There is more to check in official changelog! Use the built-in update system and update your WooCommerce.