WooCommerce 3.0 is just around the corner! It will be available in the beginning of April. Celebrate with us and take minute to read the post and find out what the update brings us.

New, 3.0 version has its codename: Bionic Butterfly. Of course, the update will be available in your WordPress admin panel. Updated plugin can be also downloaded from the official WordPress plugin directory.
This updates brings major changes in WooCommerce core. Remember: before updating WooCommerce, make sure that all of your plugins and themes are compatible with WooCommerce 3.0. Always make a backup of files and database before updating WooCommerce.
New gallery system
For me, it's one of the most exciting changes. Presenting a picture gallery in WooCommerce is now better more intuitive:
Users now have an ability to zoom into pictures.
Gallery behavior is more intuitive – clicking a thumbnail updates the main image rather than opening a lightbox.
Changes for mobile users! Now, when using handheld devices, you can use touch gestures. They will also work on PC.
Opening the lightbox on mobile now displays the image in it's true size, larger than the in-page display.
Developers have prepared a little video showing main changes:
Better logging system
This update doesn't bring much for your shop's users, but it's a big step forward for admins. They now have an opportunity to view WooCommerce logs in simple interface in admin panel. With all the info they get, admins can easily report errors to plugins' authors: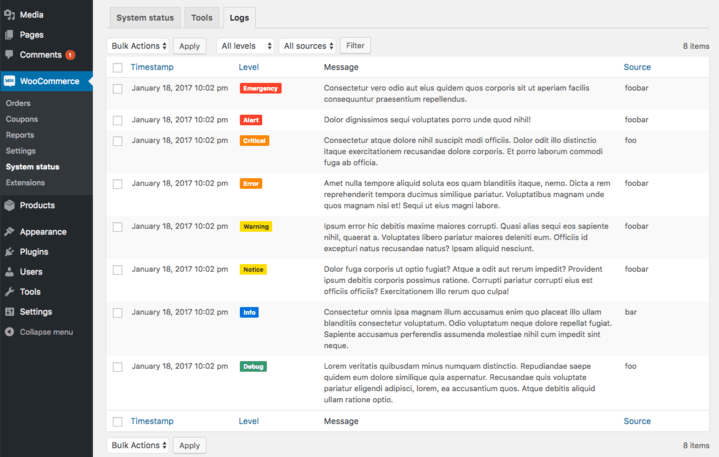 All logs will also be available in location wp-content/uploads/wc-logs/.
WP-CLI
WP-CLI support has been extended. From now, managing shops created with WooCommerce using a command line will be even more effortless!
Performance
Core changes has been made to make WooCommerce faster, cleaner and more reliable. Many lines of code has been optimized to reduce the use of resources and overwriting.
To read about all changes head to the official WooCommerce blog.
WooCommerce 3.0 and WP Desk plugins
We also prepared another, more technical post about WooCommerce 3.0 and compatibility with WP Desk plugins. Make sure to check the plugins' compatibility and update →