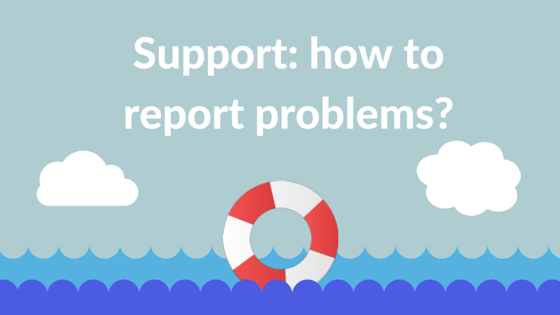 Problems are there to be solved. In theory, that's simple. In practice, a bit harder. But nothing's impossible. What can be done to make sure that the problems reported with the support can be solved as quickly as possible? There is a number of helpful tips out there, but we've gathered 5 of the most important and useful.
1. The devil is in the detail
Make sure that the very first message is as detailed as possible. Consider what could have caused the problem. To explore the possible source(s), answer the following questions:
When did the problem appear?
Has the page been updated recently?
Have you made any changes as far as the theme goes?
Is the troubling plugin up-to-date?
Have you installed a new plugin recently?
2. Clarity is the key
Make sure that the support understands your report from top to bottom. Use simple language. Be as clear as possible. Try to follow this simple blueprint:
It is,
It should be.
When a text needs to be read quickly, its formatting truly matters. When you properly format your message, it's easier to get to the bottom of the problem. A picture is worth a thousand words, so don't be shy: send screenshots (I especially recommend Monosnap for Windows and Mac users!), photos and graphics to unequivocally show what's wrong. It will make it easier to know what you mean.
What some might find obvious, the support finds useful: remember to mention which WordPress, WooCommerce and plugin version you're using. Here, the WooCommerce system status may prove to be of service.
3. Business hours are in business!
While it's become standard to offer 24/7 support, it's still best to report your problem during the business hours, meaning Monday to Friday and 9 to 5. It is more probable that you get an answer from an actual human, instead of an automatically generated e-mail.
4. Monitor the progress
If you have been waiting for the answer for too long, don't be shy – contact the support. You should get an update on what's being done. Still, be patient. Remember that your problem is one of many that await solution and it's waiting for its turn.
5. Let's recap!
I hope that you now better understand the way the support works and, thanks to that, your problems will be solved on the spot. Or, even, that my tips will never be needed.
If you require any help with our WP Desk plugins, contact us. The fastest way to get an answer is contacting us Monday to Friday, 9 to 5. We will be happy to help.