The sale is on! In summer 2018 we are offering quantity discounts on all plugins. There will be no minimum order amount from which the discount will apply. All you have to do is buy at least 2 plugins to get a discount.
Quantity discounts on plugins
| # of plugins | Discount |
| --- | --- |
| 2 plugins | 10% |
| 3 plugins | 20% |
| 4 plugins or more | 30% |
Go to the store →
Questions and Answers
Why did you choose such a promotion? Usually you do not give such discounts.
We are listening to you. Quantity discounts were one of the most frequent requests from you.
We honestly admit that we are not big fans of such promotions. We would like you to buy our products because of their quality, trust and the results you get from them. Not because they are cheap. However, you argued that for stores that are just starting to sell, buying plugins is a challenge.
Therefore, we want to meet the needs of those who want to choose our solutions, but do not have big budgets. We hope that the entry barrier of 2 plugins will be be much smaller, also for smaller or just beginning stores.
Will it be a permanent promotion?
For now, we are launching this promotion temporarily. Currently, we do not have plans to make it a permanent promotion. However, we will analyze the results and maybe we will decide to extend it or introduce it permanently.
Is there a minimum order amount to activate the discount?
No. Just add at least 2 plugins to the cart and the discount automatically activates.
Where will the discount be visible?
The discount information will be visible in the cart after adding at least 2 plugins. The price of each plug will be reduced proportionally.
Are there any restrictions on who can take advantage of the promotion?
No limits. The promotion can be used by a new customers as well as a previously registered one.
Are discounts also valid for a 5 or 25 site licenses?
No. Discounts are only valid for 1 site licenses. 5 and 25 site license prices already have a huge discount, so they are not included in the promotion.
Are discounts also valid for renewals?
Yes, you can also get a discount for renewals.
Can I buy one plugin first and then buy another one and get a discount?
No. The discount applies only to individual orders. It does not include order history. We won't manually issue discount coupons for subsequent purchases. If you want to receive a discount, you must meet the promotion conditions in a single order.
This applies to further combinations, i.e. if you first buy 2 plugins with a 10% discount, and then you want to buy a third one in a separate order, you will not get an additional discount. If you buy 3 plugins with a 20% discount, then the fourth one will not receive any additional discounts, etc.
Is there a discounted order limit for one customer?
There is no limit. You can place any number of orders and if in each order you meet the conditions, you will receive a discount for this order.
Do you plan to make any more promotions in the near future?
Yes, we plan to do a promotion for Black Friday and Cyber Monday 2022. The promotion will be for selected plugins only. Make sure to visit our site regularly to take advantage of our WordPress plugin deals 2022.
I want to make such a promotion in my store too! How to do it?
We have configured the promotion using our Flexible Pricing plugin. This is probably the most flexible plugin for creating promotions in WooCommerce. It supports many promotion scenarios and has allowed us to organize some interesting promotions in the past.
The current promotion is configured using Advanced Category Pricing: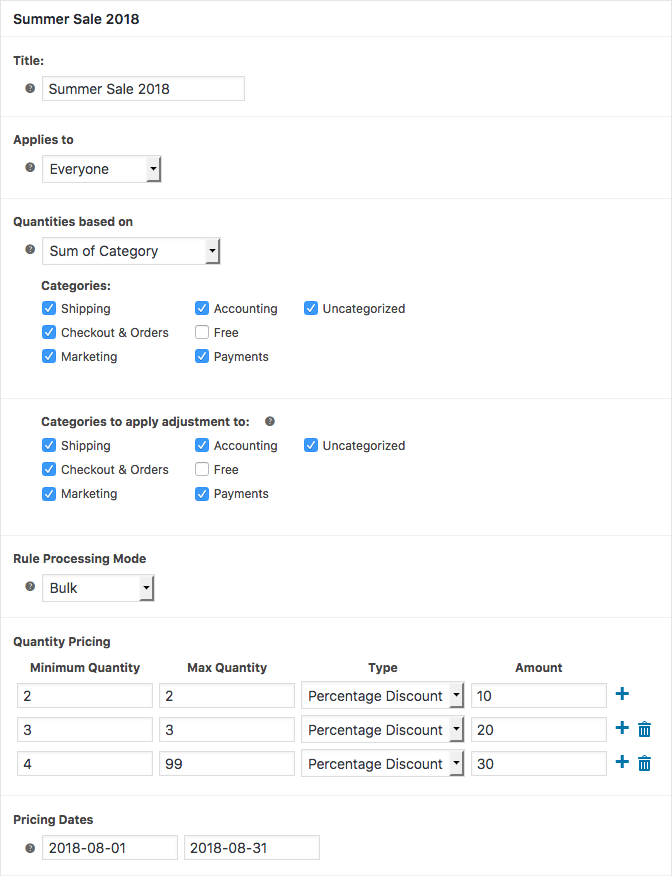 Flexible Pricing WooCommerce

£

79
Customers love sales and pricing deals. Use this! Create promotions like Buy One Get One Free to get more sales in your store. The most dynamic pricing plugin for WooCommerce.
Add to cart
or
View Details
WP Desk
Last Updated: 2023-11-07
Works with WooCommerce 7.9 - 8.3.x
Go to the store →