If you are using the free version of the Flexible Wishlist for WooCommerce plugin, this article will be very useful for you. We recently released the PRO version of our WooCommerce wishlist plugin, which allows you to, among other things, create promotional campaigns based on the products that are on your customers' wishlists. You can do this in several ways, and in this article I will tell you how I did it in my store.
Black Friday WooCommerce wishlist plugin
Are you looking for a plugin to help you promote your store for Black Friday 2022? During the holiday season, your customers create holiday wishlists with their favorite products with the intention of buying them on Black Friday. In 2022, Black Friday and Cyber Monday fall on November 25 and November 28, respectively. Prepare for this time and give your customers the opportunity to add products to their Black Friday wishlists. By doing so, you'll make it more efficient for them to return to the products that caught their attention during the 2022 Black Friday period, and you'll increase the chances of those products going straight to the shopping cart instead of on the wishlist.
The plugin, which the article is devoted to, will do a great job . In addition to the basic function of adding products to Black Friday wish lists, it will also allow you to create email promotional campaigns. This way, the success of your store on Black Friday is basically assured!
Flexible Wishlist for WooCommerce
Since you've come to this article, I'm assuming that you're already familiar with our free WooCommerce wishlist. But if that's not the case, let's start this article by downloading the free version of the plugin. Don't let the word free wishlist fool you. The plugin I'm offering you has a lot to offer and is full featured. if I had to list the three most important features of this plugin, it would definitely be:
The ability to create unlimited wishlists.
Choice of custom wish list icon.
Editing of any text field visible in the wishlist panel.
I strongly recommend you to download the free version of the plugin and try it out in your store.
Last Updated: 2023-08-16
Works with WooCommerce 5.6.0 - 6.0.x
Meet Flexible Wishlist PRO
So let's assume you already have the free version of the plugin. What's next? Now it's time to install and activate the PRO version, which will allow you to analyze data and create a Black Friday promotional campaign. Thanks to the thorough data analysis, you will be able to make marketing decisions that will ultimately lead to increased conversions in your store. Flexible Wishlist PRO - Analytics & Emails is currently on promotion, which may be a great opportunity to try it out by paying less. If you don't like its performance, you have 30 days to return the product.
Flexible Wishlist PRO - Analytics & Emails
✔️ Identify the most popular products ✔️ Track wishlists' content ✔️ Create and send promotional e-mails
Add to cart
or
View Details
WP Desk
Last Updated: 2023-06-29
Works with WooCommerce 5.5 - 7.0.x
Creating promotional emails
Having installed and activated the Flexible Wishlist PRO - Analytics & Emails, we will focus on the Promotions tab. A list of all the promotional campaigns created so far using the WooCommerce Flexible Wishlist plugin will appear. In this view, you can see to how many users each promotion has been sent, when the last promotion campaign was sent and the date it was created.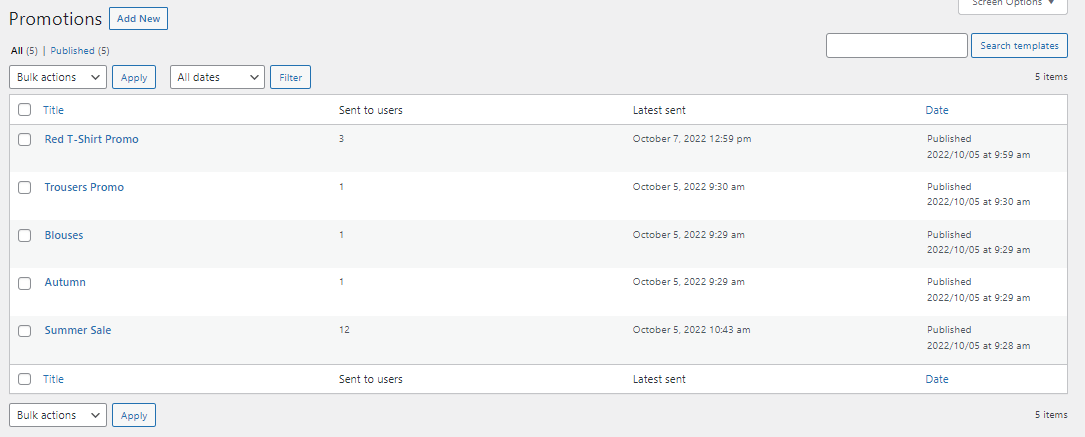 In what cases can this functionality be used?
Let's imagine the following scenario: in the Most Popular tab, you have noticed that the product T-Shirt Woo Red is on 6 wishlists.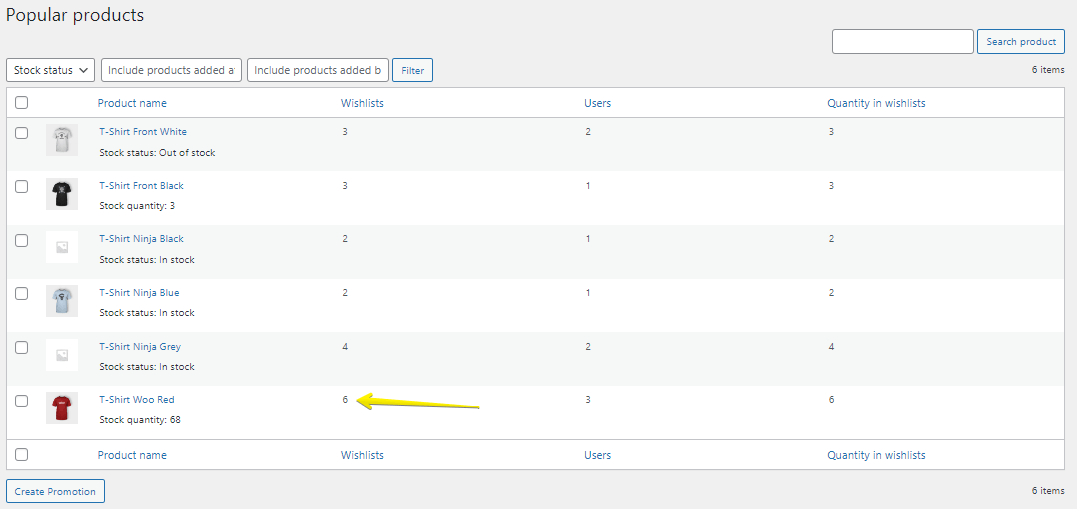 However, these data do not coincide with sales figures - the product does not sell well. Sure, the reasons for this situation can be multiple. It may be caused by, for example, low stock of the product, unavailability of the most popular size, poor description of the product, a small number of preview photos, their poor quality or high price of the product compared to your competitors'. In case you have improved the above issues, and you do not want to reduce the price of the product for all customers, you can create an promotional email campaign that includes your selected item.
Go to the Promotions tab and Add new [promotion template]. Start creating your first email promotional campaign.

Promotions: Add New Template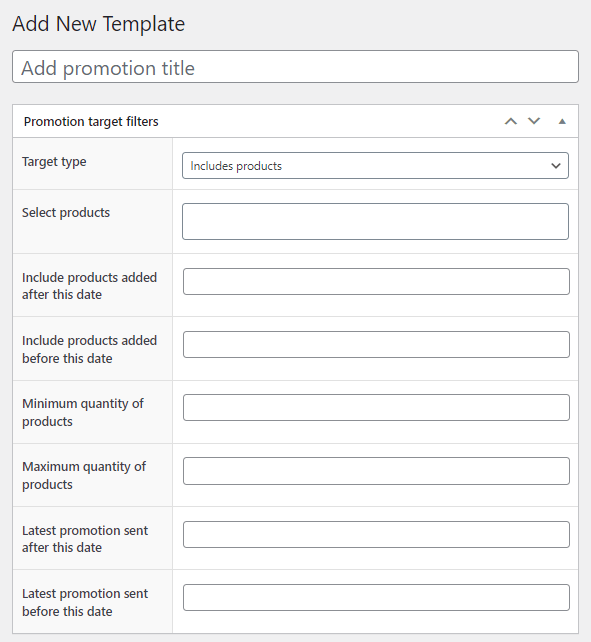 You'll see an editing template for your new promotion. We will start creating it by choosing the right promotional campaign target. As we have previously determined in our case, it will be the promotion of a certain product: T-Shirt Woo Red.
In the Target Type field, I select Includes Products and enter the product (T-Shirt Woo Red) that needs to be on my customers' wishlists for the promotional email to reach them.
Secondly, I can add a date filter. In my case, I want the promotion to reach users who have added this product to their wishlists within the last month.
The minimum and maximum quantity of products [on the wish list] filter will be useful if you want to hit the people who have a lot of items on their lists of favorite products that have not made it to the shopping cart (yet 😉 ). In my promotional campaign, I will target users who have a minimum of 1 product on their wish lists.
The last filter we can set in our promotion is to exclude users who have already received a promotional email from us in the past. I will focus on customers who have not received any promotional action within the last month.
This is how the filters I have set up look like: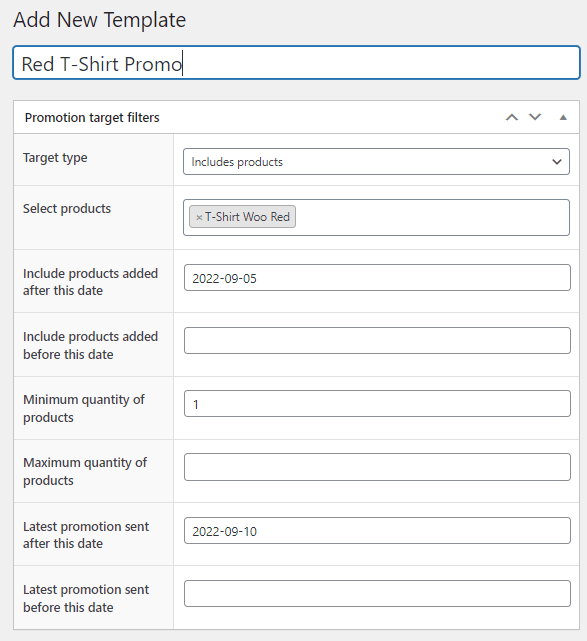 Creating a promotional email
In the text area, we have the content of the email and its subject prepared by default. Obviously you can change the message and subject line and enter whatever you want. Focus on what is in line with your promotion. In my case, I intend to give users who have T-Shirt Woo Red on their wish a 15% off. This way I hope to sell more quantities of this item and encourage my clients to move the product from their wish lists to their shopping carts.
To run such a promotional campaign, I'll need to set up only two things. First will be entering the discount code I prepared. The other one will be entering its expiration date. See for yourself: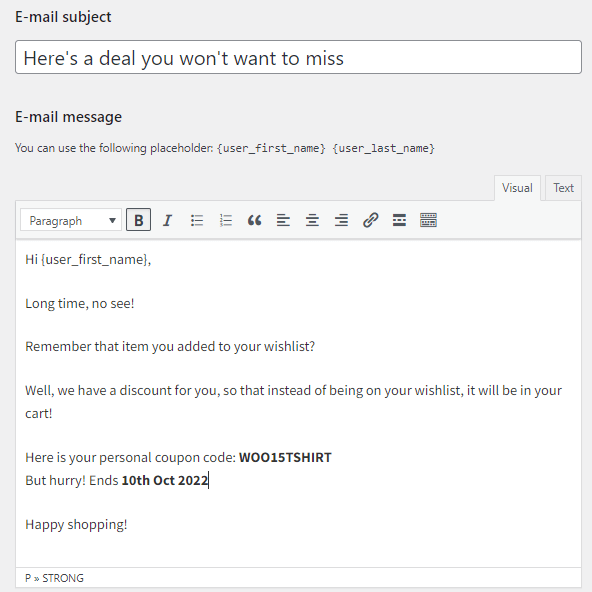 Sending a promotional campaign to the customer
All done, we can send the promotion to the customer! On the right side you will find a box for sending the promotion. In the box you can add a description of the promotional campaign, send a test email and preview the number of people the promotion will reach. As a result, my campaign will reach 3 people: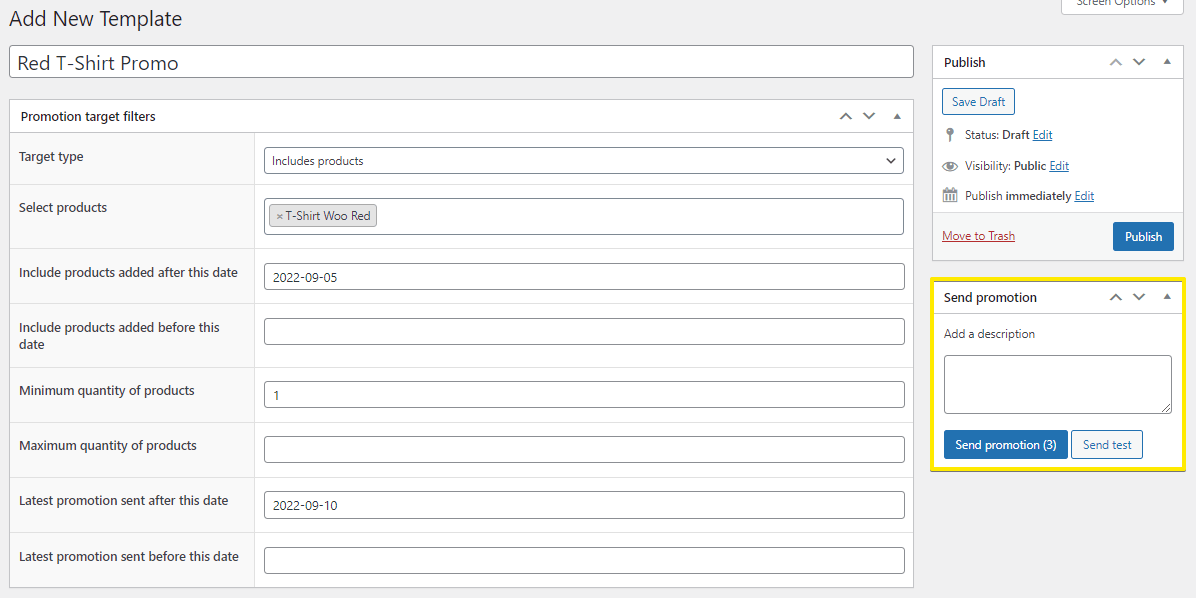 My first promotional campaign has been sent🎉​. Now I can continue analyzing the data on the products added to my customers' wish lists and create more promotional campaigns🙂