Sold By: WP Desk
Flexible Coupons PRO - Custom Shortcodes
Custom Shortcodes is an add-on to the Flexible PDF Coupons PRO plugin that lets you create your own shortcodes and import the values of the WooCommerce fields into the PDF templates of your gift cards.
A small-great addition to Flexible PDF Coupons PRO
Import into the gift card template values from the WooCommerce fields..
...and Flexible Product Fields i Flexible Checkout Fields plugins
Easily and attractively expand the offer of your store!
WooCommerce
The plugin supports WooCommerce attributes, product fields, and orders
Your own functions
Create your own functions and then shorts which will import the value to the PDF
See how simple is this!
Creating of new shortcode is a matter of a few minutes!
1st step - creating a shortcode
After installing the plugin, go to Coupons → Shortcodes and define your own shorts in the same way as on the picture 👉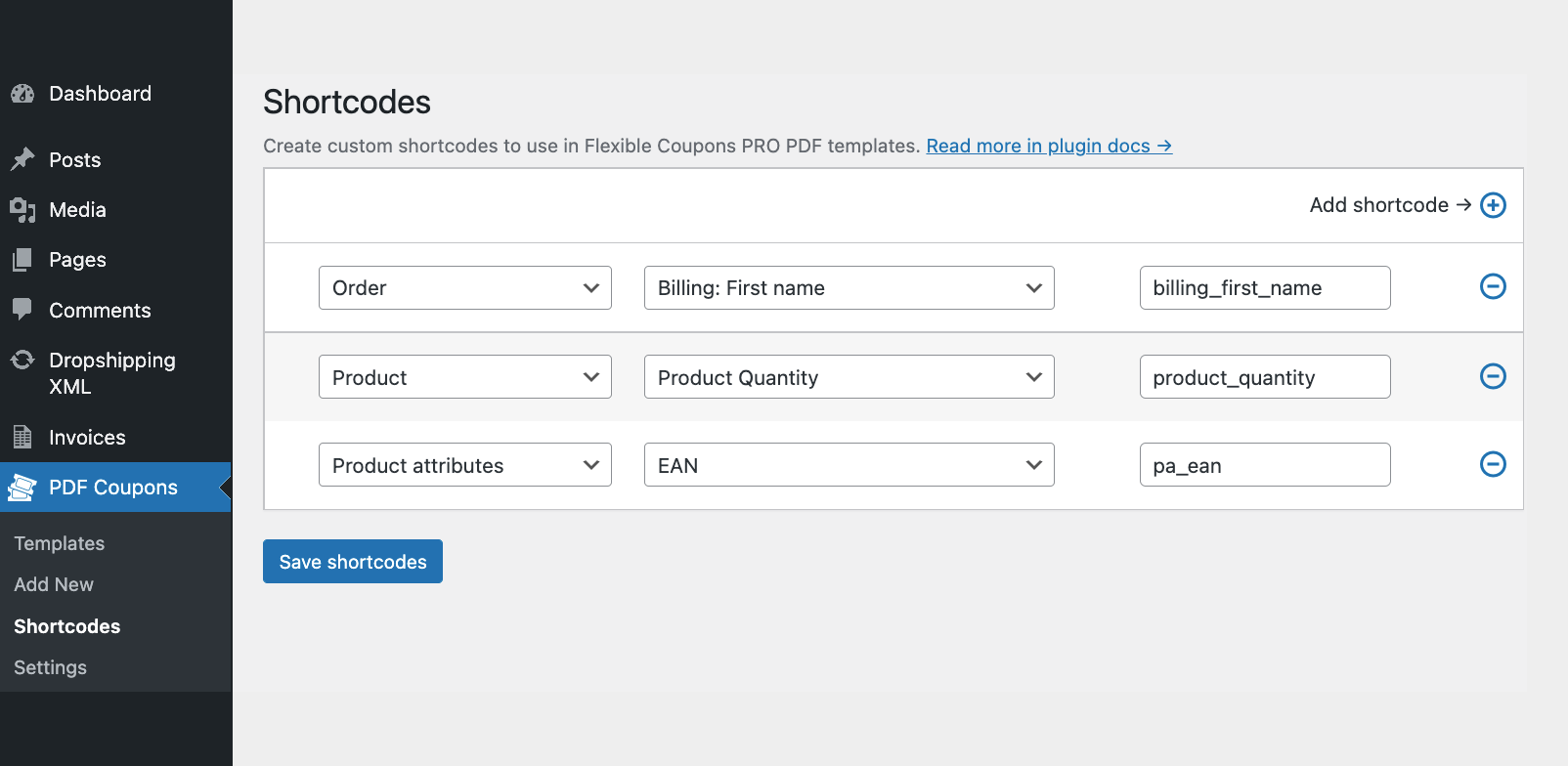 2nd step - using a shortcode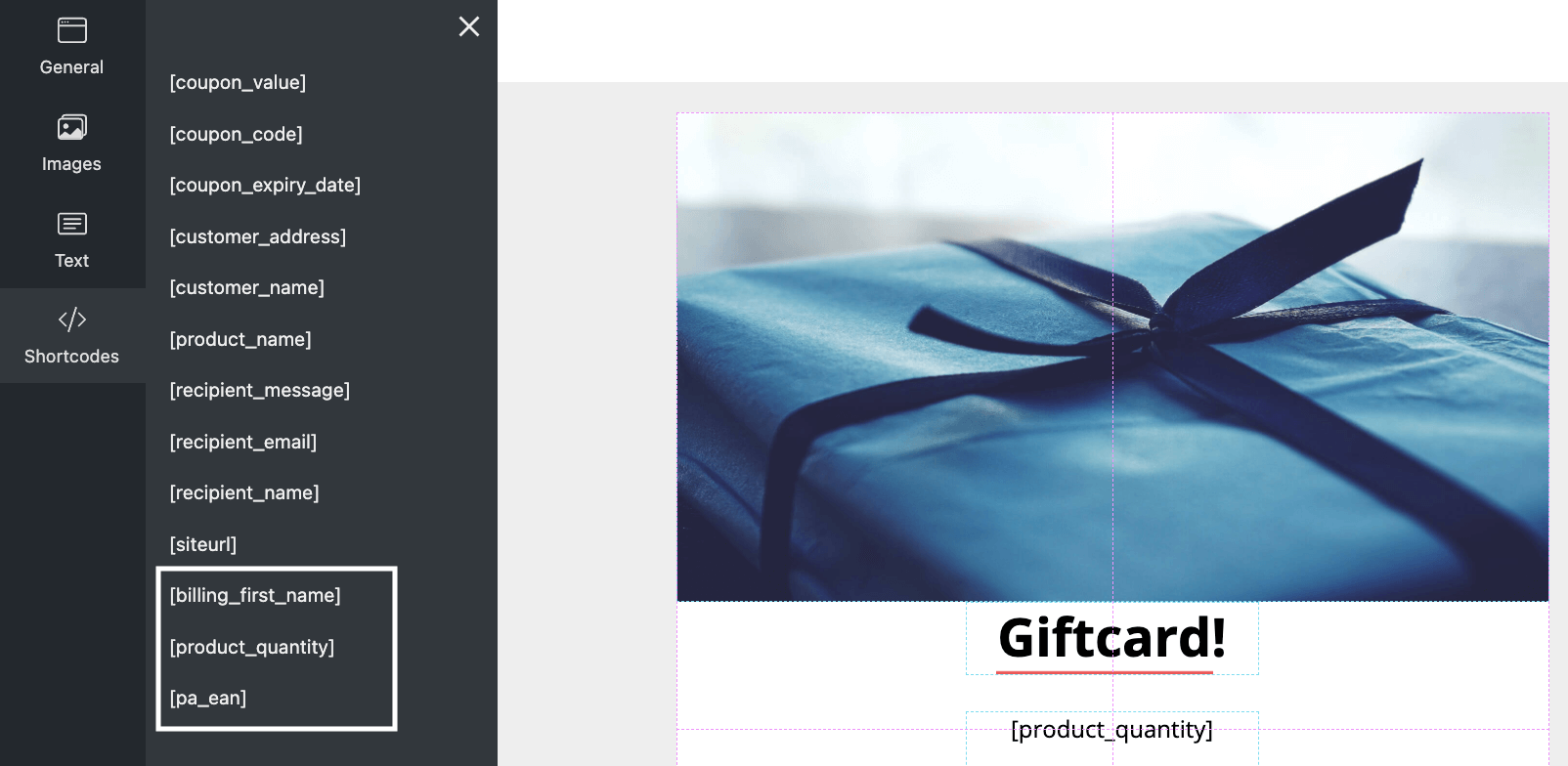 After saving your shortcode, go to Coupons → Templates → Template Name and open the shorts tab.
Voilà, the shortcode is here! Place it on the template and place a test order with the PDF Coupon to see if it gets the value correctly. 🚀
Join 222,970+ happy customers using our plugins
Choose a version tailored to your needs. You will always receive professional and friendly technical support from us.
Professional
£29 Single site
1 Year Updates & Support for 1 Site

30 Day Money Back Guarantee

Premium 1-on-1 Support
Best choice
All Plugins Bundle (1 site)
88% discount for 16 plugins included!
1 Year Updates & Support for 1 Site

30 Day Money Back Guarantee

Priority 1-on-1 Support
All Plugins Bundle (25 sites)
£199 84% discount for 16 plugins included!
1 Year Updates & Support for 25 Sites

30 Day Money Back Guarantee

Priority 1-on-1 Support
30 day money back guarantee
97% customer satisfaction ratings
Secure checkout and download
FAQ & Plugin Details
Learn more about the plugin and check some of the most popular questions about the purchase.
Where can I find the plugin documentation?
How do our plugins' subscriptions work?
All the plugins we offer can be purchased in a yearly subscription model and are paid annually. An active subscription entitles you to 1 year of updates and our support.
Renewing the subscription after 12 months is optional, not required, and you can cancel it at any time. The renewal cost is the same as the initial price. You may renew the subscription if you like or not if don't need to.
Please mind that an active subscription grants you the possibility to download the plugins' newer versions and updates, get our tech support if you encounter any problems and move and activate the API keys between the sites/domains.
If you decide to cancel the subscription or if it expires, you can keep using our plugins. They will work the same as before but you won't be able to do the updates, get our support and transfer the plugin files between sites and activate them in the new environment.
Do you have the plugin demo or trial?
You can set up your own full featured demo here: WP Desk Demo.
We also offer 30 day money back guarantee, so you can test the plugin risk free in your WooCommerce store.
Do you offer money back guarantee?
Absolutely. We stand strongly behind our products and offer 30 days money back guarantee. Please read our refund policy for details.
What payment methods do you accept?
We accept Stripe payments including the most popular credit cards.
All payments are handled by Stripe secure payments and SSL checkout. We do not store your credit card details.