Hi. Today I would like to share with you an idea for an interesting use of the Flexible PDF Coupons WooCommerce plugin in your store. Read how you can create and use a pdf gift card for shopping locally and online as well.
WooCommerce Coupon for local shopping - really?
Yes :) This is exactly what I am going to write about. Today I will present the idea and show how you can get new clients for your online store. Or should I write 'for a local shop' instead? I will explain it in a bit.
WooCommerce Coupons for a stationary shop
Take Paul, who runs an online store with organic food. He also established cooperation with local vegetable and fruit sellers. Every day they appear on local markets and offer organic food. Paul wants to provide customers with high-quality products. This cooperation with the best suppliers is therefore an important part of Paul's mission. Also, he set his goal to increase awareness of the local farmers' rich offer and to promote their activities.
So Paul sells healthy food in an online store, right? But from today he will also offer a coupon - a voucher for local purchases. It will appear as ... another WooCommerce Product in his store. According to Paul, some customers would like to buy such a voucher as a gift. With the Flexible PDF Coupons WooCommerce plugin, Paul will offer customers the option to buy a gift card for purchases in his store and for purchases from best local sellers at the same time! He will let his clients decide by themselves.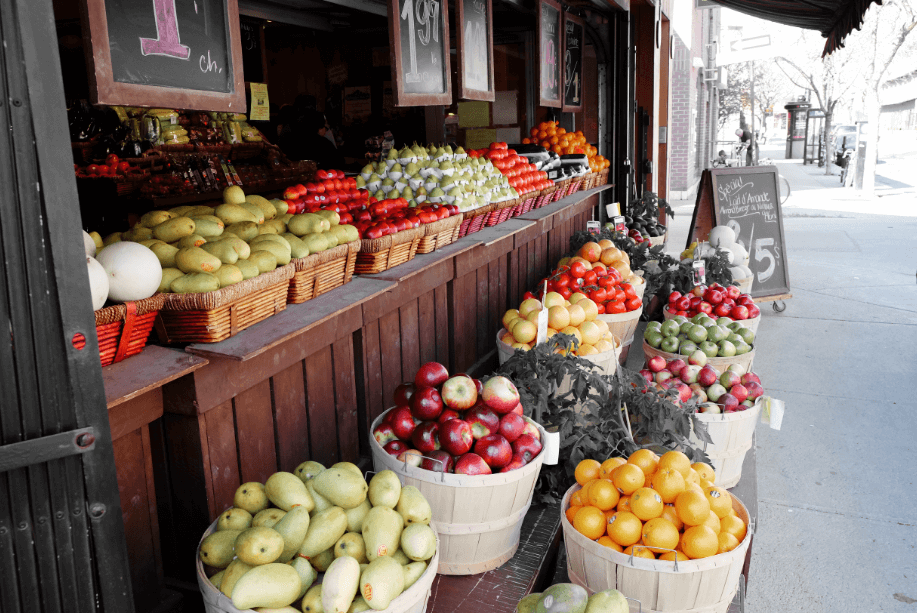 How to create pdf gift cards in WooCommerce?
At first, Paul downloads the free Flexible PDF Coupons for WooCommerce plugin, which allows him to add a new product - voucher in WooCommerce. Then he buys the PRO version of the Flexible PDF Coupons WooCommerce plugin. The PRO functions allow him also to let the buyer choose a recipient for a gift card for shopping online. And what is more, the recipient will also be able to print it and buy fruits and vegetables locally. Looks like a great opportunity for customers to meet suppliers and to make friends with them as well!
How to design pdf product vouchers in WooCommerce
Paul adds a coupon template to be used for this new type of product - voucher (gift card) for online and local purchases: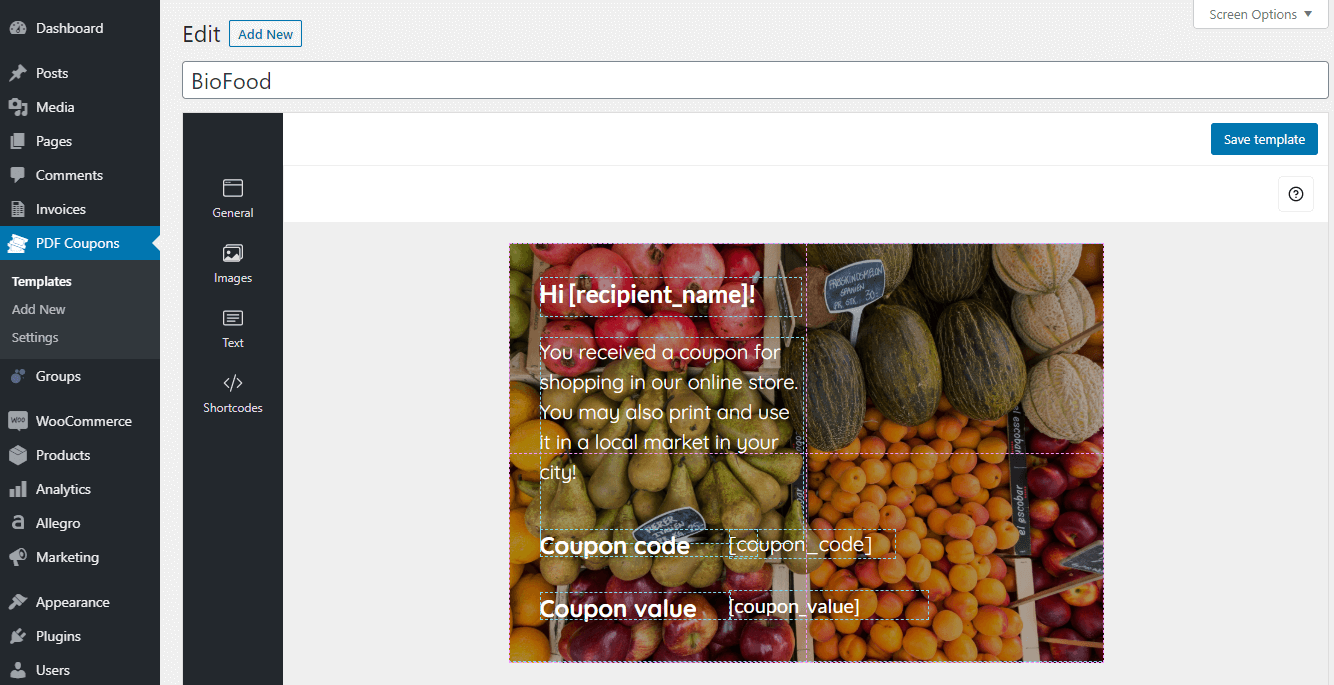 In the product settings, he chooses the parameters and additional fields available to the buyer when purchasing the gift voucher: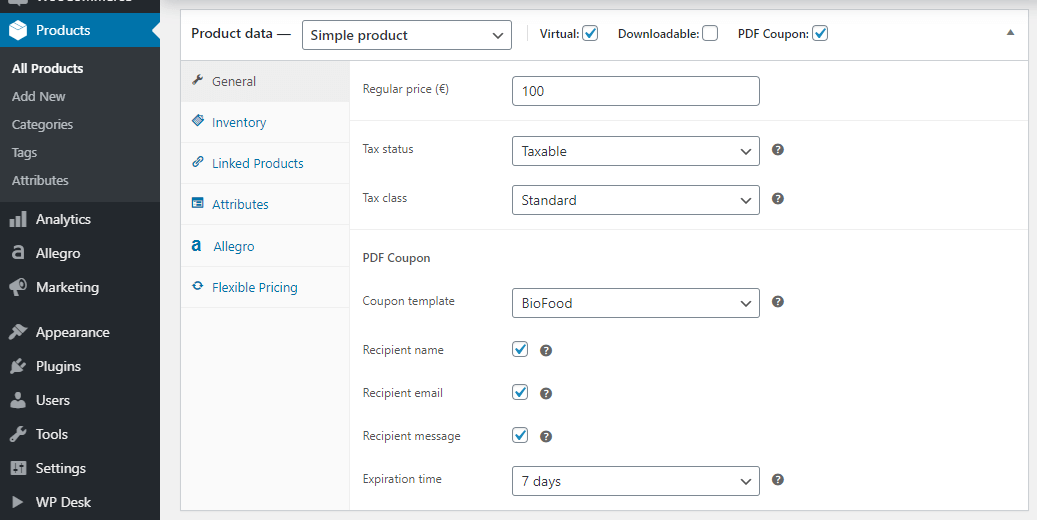 Customers will see this new product - voucher added by Paul: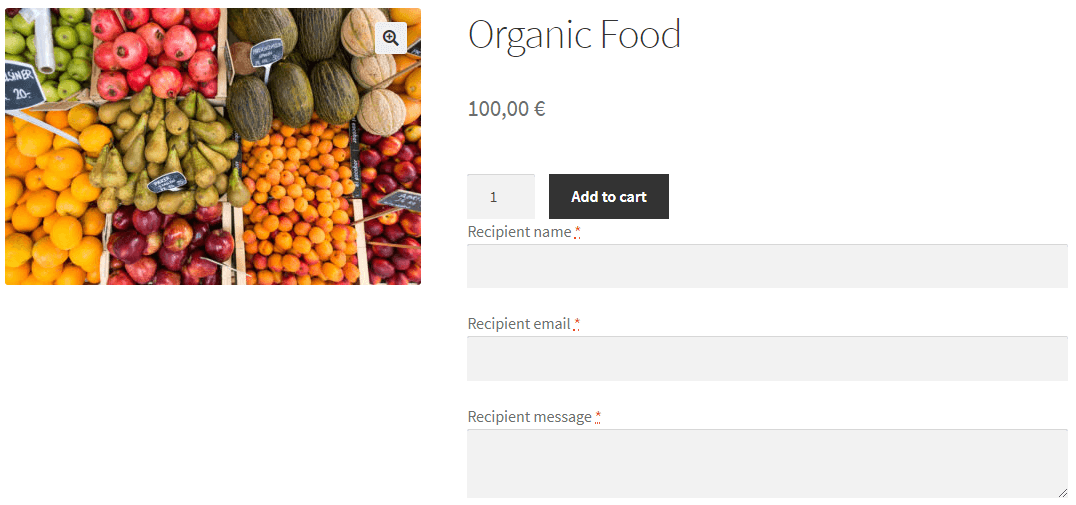 After purchasing such a gift voucher, the recipient will receive an email with the buyer's message: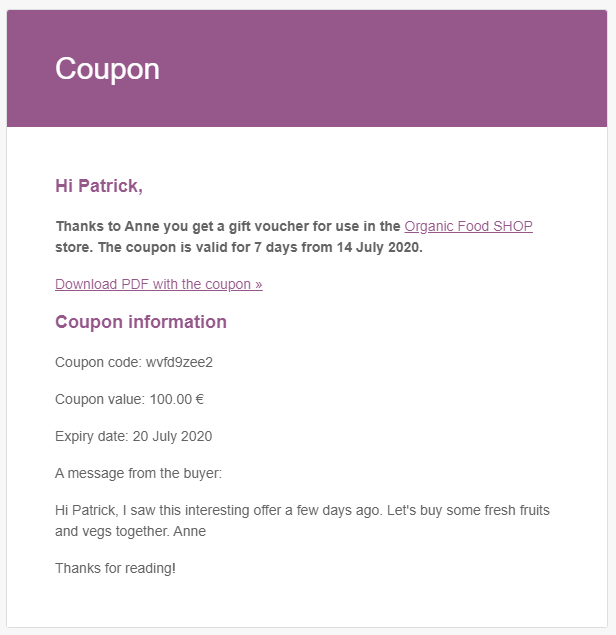 Discount in WooCommerce and PDF Coupon printed version
The recipient will decide to use a coupon to get a discount online or download/print this PDF gift card for later local use: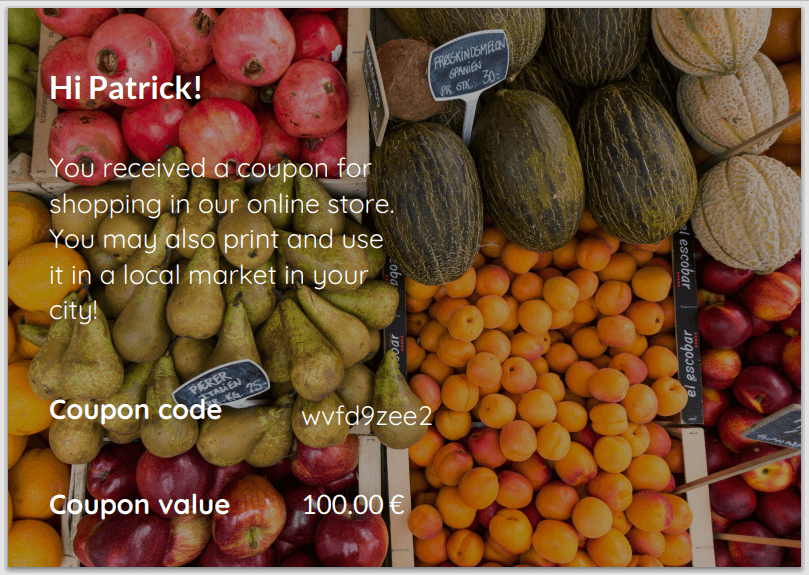 If Paul needs to edit coupon parameters later, he may do it just like other WooCommerce coupons:

Sell WooCommerce Products both online and locally
Paul hopes that the new type of product will increase his store offer and reach new customers. Besides, his store will be seen as innovative and supportive of local producers of healthy food. Paul will also get better prices from farmers. In return, they will get customers from this new online channel and sell their products easier. This cooperation will also get Paul a small commission on vendors' sales.
What's more, thanks to the agreement with suppliers, customers will receive additional products during local shopping as an encouragement to return to the store. By increasing the shop offer, Paul will gain customer trust and long-term cooperation with the best suppliers at the same time. Perhaps this cooperation will develop over time, and the store's offer will be expanded to include more valuable products.
Of course, by sharing his experience with farmers (e.g. about online marketing) Paul will help them to improve the quality of their offer, packaging, or combined sales. The customers' opinions regarding products will also be a great source of knowledge about preferences and trends to plan for the next season. Paul is already looking forward to working with producers, promoting local healthy food, and increasing the offer for customers in his WooCommerce online store.
More ideas for gift cards in your WooCommerce store
PDF gift cards and coupons can also be a great idea for using in a store with:
clothes, shoes, fashion
services, courses, training
perfumes, cosmetics
toys
concert tickets
subscription-based products
Use WooCommerce vouchers and coupons for local shopping
Today I showed you how to combine selling online and locally by using Flexible PDF Coupons WooCommerce. I hope that you will find an idea to use the plugin to boost sales in your store. Also, I encourage you to test the plugin in the free demo shop. You may also try there all of our plugins. If you have any questions or want to share your idea (of using coupons and vouchers in your WooCommerce store), leave a comment. Good luck!