Christmas gift cards are a quite popular form of promotion services and products. A bronze, silver, or gold voucher package can also be used in WooCommerce. They will encourage those customers who will not pay attention to the selected product offered in the standard formula. How can you easily create a gold voucher package in your WooCommerce store? Look it's simple.
Generating a Black Friday or Christmas voucher in your WooCommerce store doesn't seem like a very complicated task, especially if you use the free version of the WooCommerce PDF Coupons plugin. First, you create a Christmas voucher template and a PDF Coupon product and that's it. However, sometimes you will need to create gift card variations as well. In this case, you will need the PRO version of our plugin, which offers much more capabilities than the FREE version. The effect is as follows. A $100, $200, and $300 coupon, each variant in a different layout.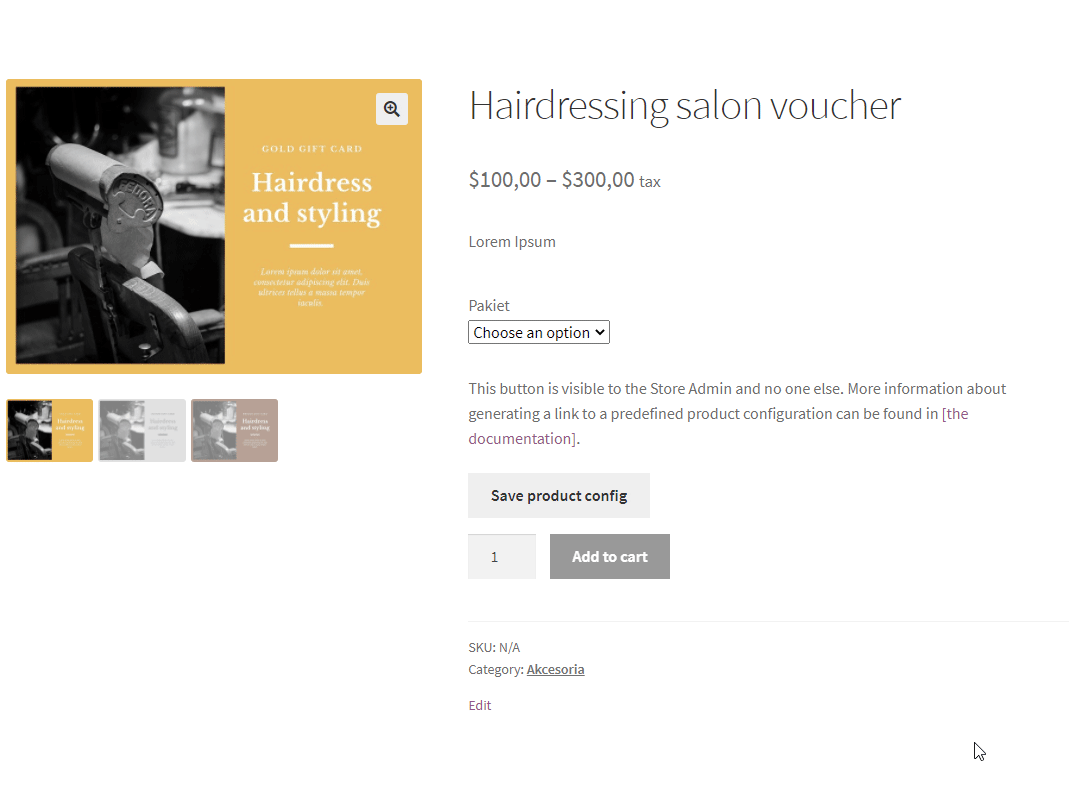 How many times have you wanted to give Christmas gift cards to your customers? Bronze, silver, gold, or whatever else you call your coupon variations are perfect for promoting your services in occasional Black Friday promotional campaigns. Until now, our plugin did not allow you to create coupon variations. The newest version already allows you to do it.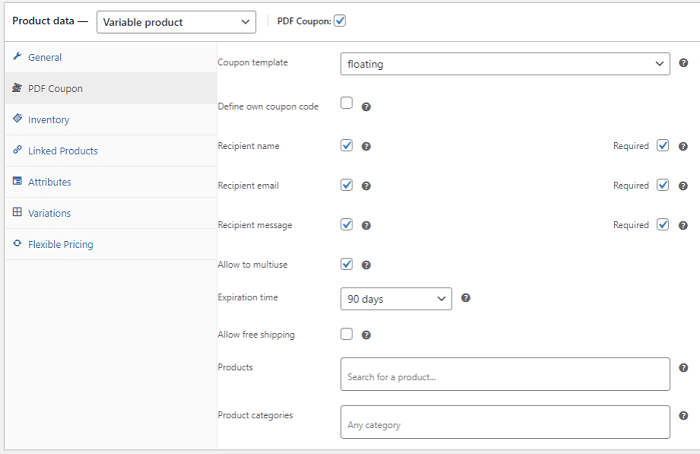 How to do it? It's simple. Go to the voucher editing panel and set a product as a product with variations, then select the PDF Coupon checkbox. In the product edit panel, you will see, as in the case of a regular product, a PDF Coupon tab where you can set global settings for all variations of a specific voucher.
Can you define variations elements?
The global settings will work for all variations, but you may want each voucher to have slightly different parameters. The good news is that with the WooCommerce PDF Coupons PRO plugin, you can define settings for individual voucher variations. You just need to select a specific variant and in the same way, as with the global settings, you can define the properties of the voucher variant.
For example, the bronze package will only require the customer to enter the email address of the gift recipient. The silver package will additionally require a first and last name. On the other hand, the gold voucher package and this is another interesting fact will also have a coupon code defined. This is all to be set along with our plugin.
How to define your coupon code?
One of the new features of the plugin is the ability to set your coupon code. It allows you to have more fun than before with the convention of the promotional actions you create. You can modify the prefix and suffix of the code. Additionally, you can set the number of digits that the code should contain.
Playing with this convention can be carried out from the global settings for the product, as well as for individual variations. The mentioned new functionality is an introduction to a new dimension of promotional activities. No more random codes. Personalize your Black Friday coupon code and make it memorable for your customers. Now you can generate codes in any convention of your choice.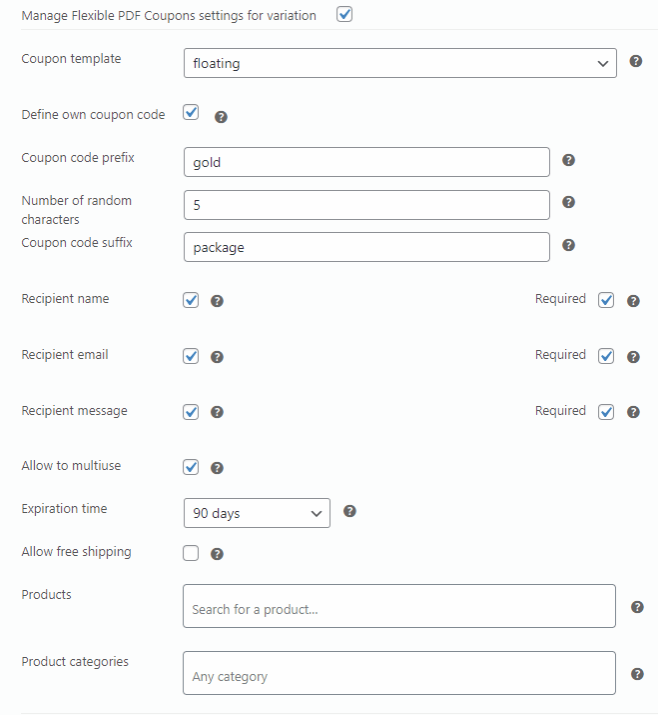 In addition to setting your code, you can also set the fields to be filled in when buying a voucher variation. These are recipient name, recipient email, recipient message. These fields can be optional but also obligatory.
What else does the app offer? The ability to set multiuse of the Black Friday coupon, the time after which the coupon will expire, enable free shipping, and select the products, the product category for which the coupon should be applied in the store. That is what was already offered for simple vouchers. Now the mentioned functionalities can be set for individual variations.
Is it possible to set up a voucher package template for a variation?
Yes. The first step to create any voucher is to create a voucher template. In this case, you will use the plugin's built-in coupon template editor. Go to PDF Coupons > Templates > Add New. This will launch the coupon template editor, which allows you to define the coupon template, as you'll learn more about in this article.
If you have already prepared Christmas coupon templates, you can assign any of them to specific coupon variations. All you need to do is to go to the Variations tab in the Voucher Editing panel, where you can assign the previously prepared template in the Voucher Template checkbox. As with other settings, you can assign any template to all variations from within the global voucher settings,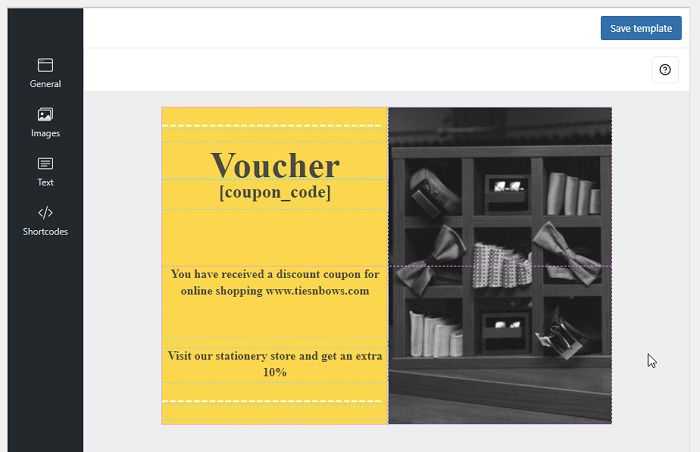 The template editor together with the voucher variations allows you to quickly create any voucher with which you can interestingly advertise your products. By adding our Flexible Invoices for WooCommerce PRO plugin, you can enable your store with automated invoicing.
By adding ShopMagic plugin, you'll be able to manage a "Thank You" message for purchases, or a Black Friday newsletter to inform your customers about a new coupon package or other products/services. Still not convinced about the possibility to create coupons? Well then test the plugin in our demo store and share your impressions.
Flexible PDF Coupons WooCommerce

£

59
Design your own PDF coupons and sell them as gift cards, tickets or service vouchers by using Flexible PDF Coupons for WooCommerce.
Add to cart
or
View Details
WP Desk
Last Updated: 2023-09-19
Works with WooCommerce 7.7 - 8.0.x
That's it for today's encounters with the world of WooCommerce. Do you have any questions about how to issue coupons? Leave a comment below. We will try to answer them quickly and show you a couple of tricks that our plugin can do.
By the way, did you know you can save a lot of money this year? Take advantage of our Black Friday deals on WooCommerce plugins. Some of the plugin deals are already live. Others will appear in the week leading up to Black Friday 2022. Keep an eye on our site and take advantage of the deals.