Hi. Do your customers ask sometimes about the possibility of purchasing gift cards? Did you know that selling gift cards can increase interest in your products? Today, you will learn how the Flexible PDF Coupons WooCommerce plugin allows you to create a voucher with a coupon code for future shopping. You will see how such gift cards for a course or a subscription can be beneficial in your WooCommerce store. Let's start!
Gift card with coupon code for digital products
Recent months have increased the online shopping trend. Interest in digital products and services has increased in 2020. Ebooks, audiobooks, concert tickets, computer games, music, films, you name them, are eagerly chosen, often as gifts.
It's also worth mentioning a subscription-based model of digital products. Why? Because language courses, training, or other online services can be offered that way. Various forms of subscription of home deliveries, recurring purchases, or online access make clients' lives much easier, save time, and thus is simply more convenient.
Fresh coffee every week, diet catering, accounting course, or gym training? The sky is the limit!
Recently, I have written about
discounts, coupons, and gift cards in WooCommerce
. I have explained the possible use of WooCommerce coupons codes. You may see below how such a gift card for training may look like. It is quite encouraging, won't you agree?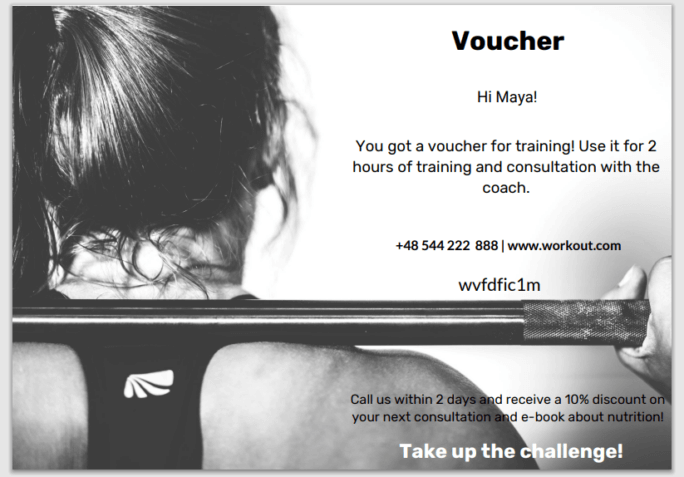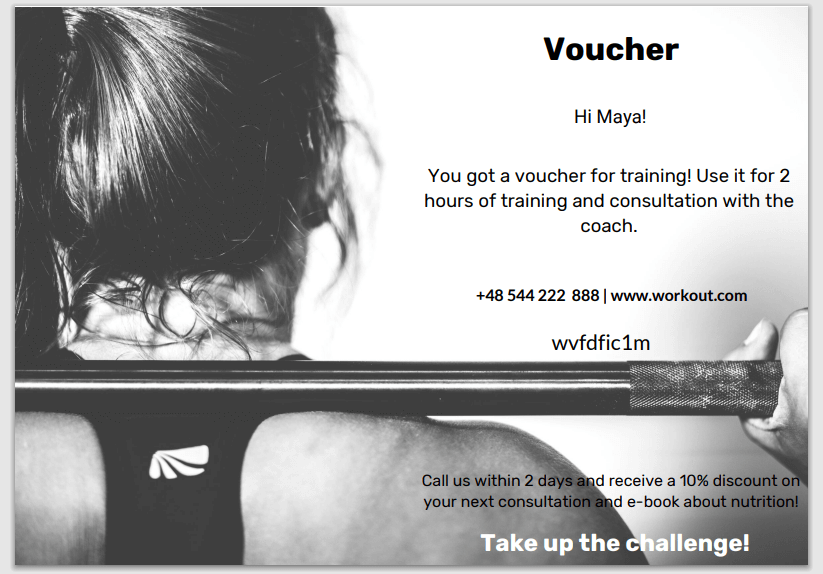 Voucher for courses and subscriptions in WooCommerce
Suppose you want to offer your clients new skills and knowledge. You will be adding courses, ebooks, podcasts, and videos. You will be offering them as separate digital products and in a subscription-based model. In the second case, acquiring knowledge, gaining new skills and learning hours will be spread over time. Such a systematic return to the content on the website will help build brand awareness among your customers. Subscription with valuable content itself will also allow you to build more lasting relationships with customers.
Thanks to the Flexible PDF Coupons WooCommerce plugin you will offer a voucher for a one-time purchase or the subscription sign-up fee.
According to the customer's choice.
You could offer such gift cards also in the case of stationary training. As you see, you might offer your products or services also as gifts. In this way, sales will not be limited only to the most decided, but will also reach new people.
You can add gift cards for courses or subscription-based products today! That is great, isn't it? You may start using the free version of the plugin right away.
See also a comparison of functionalities of the free and PRO version:
Flexible PDF Coupons
Flexible PDF Coupons PRO
Graphic Editor
Shortcodes for a gift card in the Graphic Editor
Coupon value
Coupon code
Coupon value
Coupon code
Coupon expiry date
Product name
Customer name
Customer address
Recipient message
Recipient email
Recipient name
Site URL
Sending the gift card to
Customer
Customer and
The option of providing a different recipient email address
Gift Cards Templates
Automatic sending for a chosen status
Additional coupon fields:
name, e-mail, message
Editing the coupon expiry date
Sending an email with a gift card to the recipient
Editing the content of the email
WooCommerce Plugin
Flexible PDF Coupons
Flexible PDF Coupons PRO
Gift Cards for digital product and subscription in WooCommerce
Adding such a gift card in a store using the plugin's free or PRO version is very similar. Below you will see the process of creating a coupon template, product setting to create a voucher, store view, and a gift card itself with the message: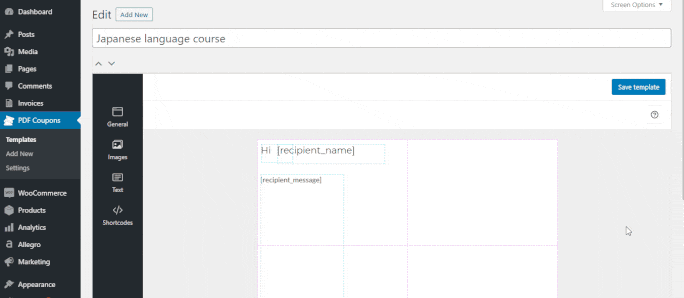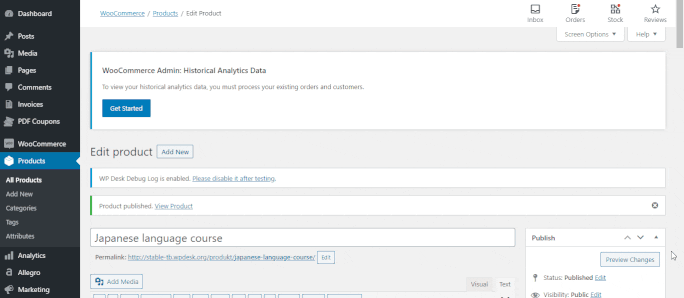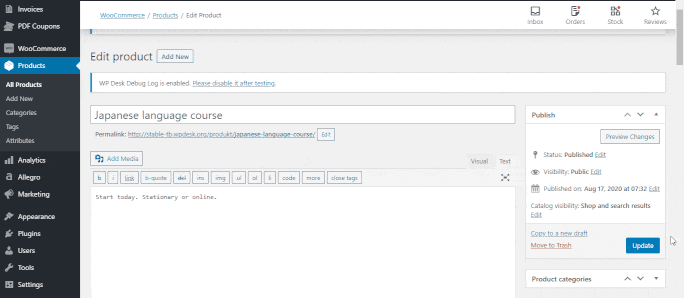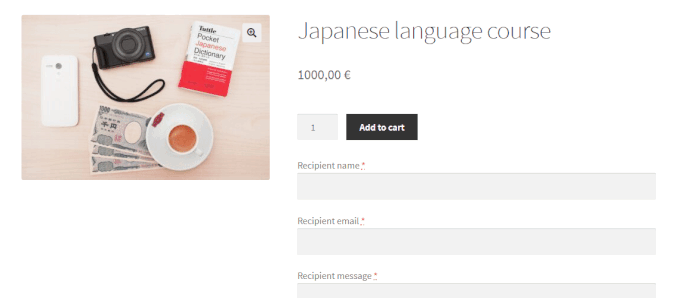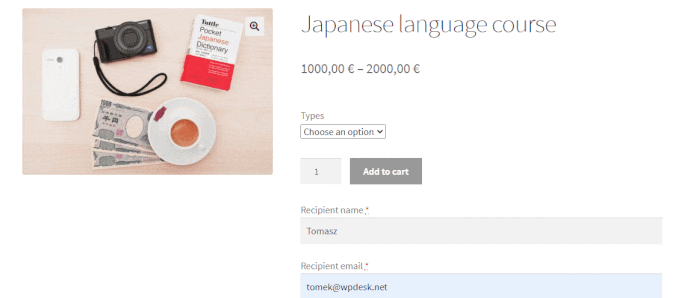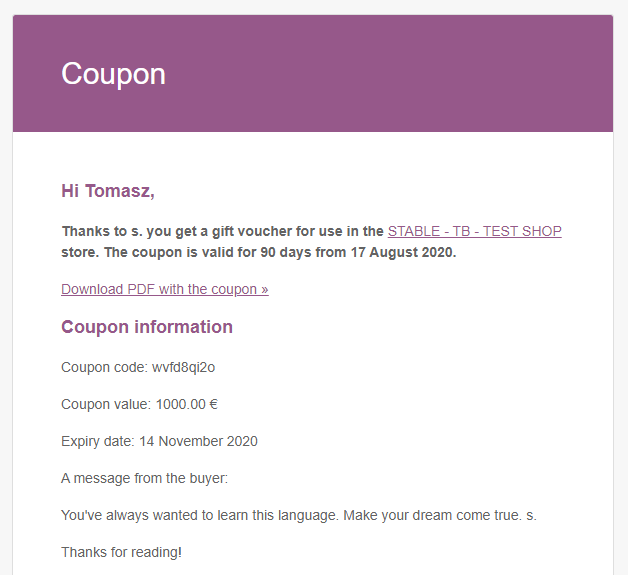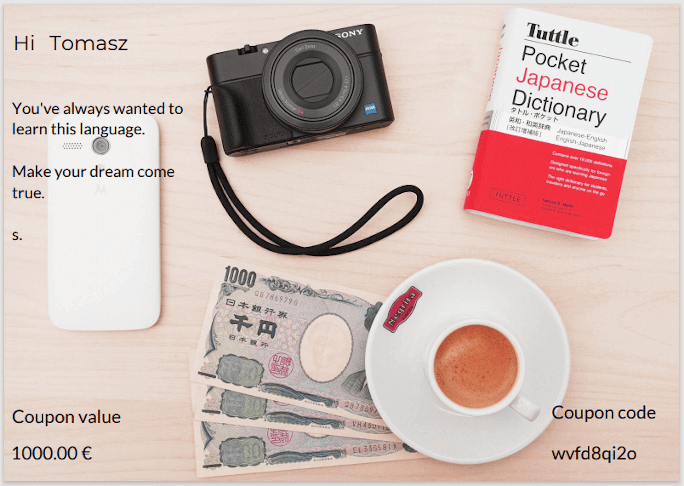 Gift cards and customer retention
Please remember that gift cards you will offer in your store might be just the first step. What I mean is that they will help you in getting more people interested in your products. Then, you can use the plugin to generate your own cards with WooCommerce discount codes. Finally, you could send such personalized gift vouchers to your customers inviting them to buy again in the store.
This way you could also, after some time, encourage your clients to check new courses in the store. And ask for their opinions, suggestions, or to share their learning experiences. This way you will better understand each person and their needs. By the way, you will also be able to check the path and interests of customers analyzing their purchases with coupons. You may use for this purpose e.g. statistics of sales and coupon use in WooCommerce (from version 4.0):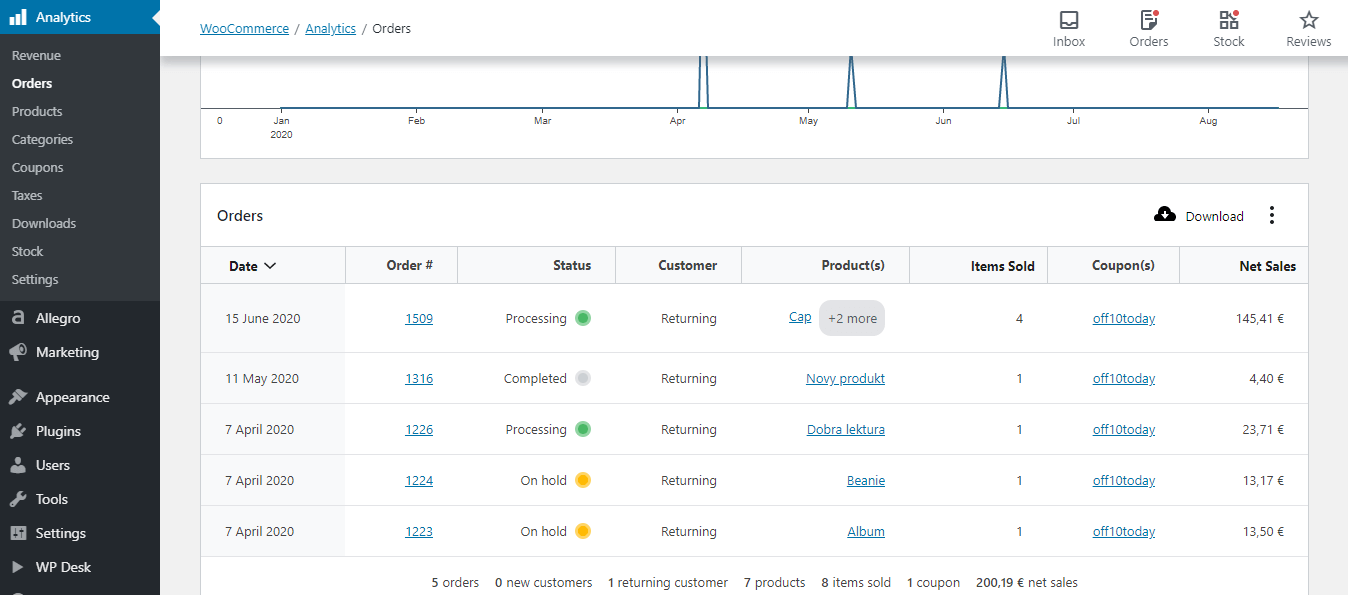 Of course, when buying a gift card - voucher, you can allow customers to enter additional information about the recipient. You can add new fields with the free Flexible Product Add-Ons Free WooCommerce plugin. It can be used, for example, for additional information about interests of the recipient, date of birth, or ... favorite color. Such information would help you in getting to know your customers better and personalize your future messages, your store offer, or even website design.
Gift card with discount code for a course and subscription in WooCommerce
Today I showed you how to create a gift card for a language course in WooCommerce. First, you can download the free version of WooCommerce PDF Coupons to add gift cards in your store as well! Also, check the PRO version of the plugin in a demo. See how new options may enhance gift cards even more. If you have any questions, ideas for improving the plugin, or an interesting use case scenario write to me. Good luck!
Flexible PDF Coupons WooCommerce

£

59
Design your own PDF coupons and sell them as gift cards, tickets, or service vouchers. Use extra add-ons and insert your own shortcodes, delay sending coupons by email, or even generate QR codes.
💾 Active Installations: 1,000+ | WordPress Rating:
Add to cart
or
View Details
WP Desk
Last Updated: 2023-11-16
Works with WooCommerce 7.9 - 8.3.x