During the break between adding new features our Developer devoted himself to improving the appearance and UX of Flexible Checkout Fields plugin. But the word "improving" does not reflect the scale of the change. It is more of a small revolution and taking care of the user of the WP dashboard.
The last big (and much anticipated) change was the introduction of pricing. From the beginning of November it is possible to set a fixed or percentage price in the field options. The price is then added to the total purchase price. The change was significant - but it did not deserve a "major" update and came out as version 2.3.0.
But this little design revolution changes the plugin experience so much that we named it Flexible Checkout Fields 3.0. We will release the version in the coming weeks. Projected exceeding the magic number of 50,000 active installations will be a good occasion to launch it.
Chances are that a user who sees the panel in version 3.0 will be surprised (in a positive sense). Perhaps he would even glance at the left-hand menu...
Did I click on the Checkout Fields tab?

After a few seconds the seeing will adjust. After all - the horizontal plugin menu will remain. The section with new field options on the left and lines with fields on the right reappear. But this time we plan to use the entire screen area. The soap gray lines will be replaced by a white background and colored accents. Green buttons will encourage the admin to click. Tooltips will suggest the settings. There will also be icons. Lots of icons.
The Flexible Checkout Fields settings panel will have a modern look and convenient to use ReactJS-based interface. But more about the advantages of this solution in the next post - right after updating to version 3.0.0.
Comments are more than welcome.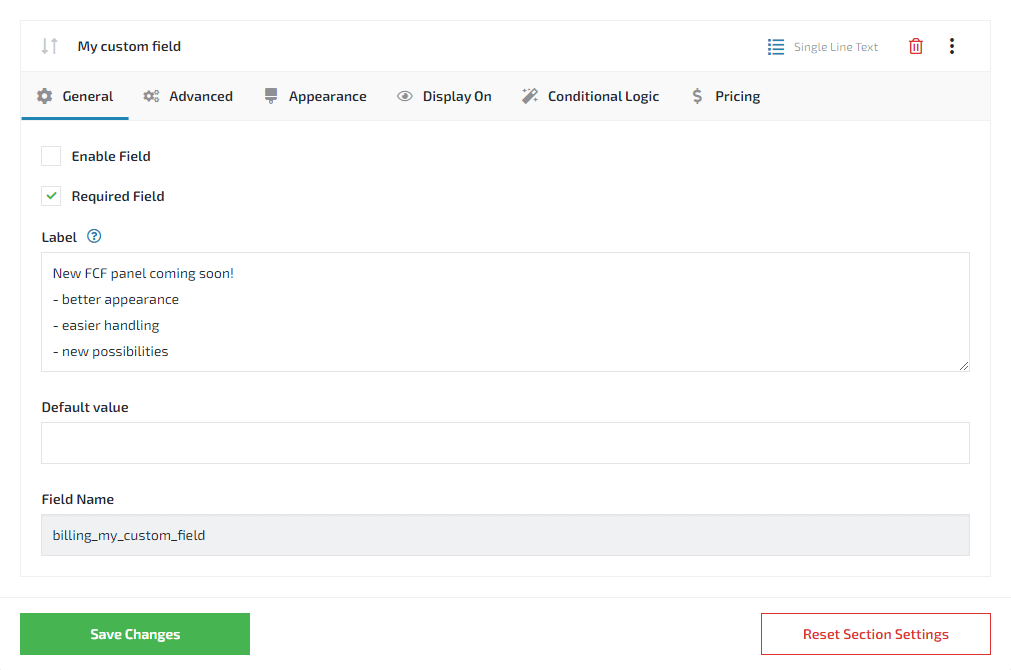 Flexible Checkout Fields PRO WooCommerce

£

59
Edit, add new or hide unnecessary fields from the checkout form. It's all about conversions and better user experience.
Add to cart
or
View Details
WP Desk
Last Updated: 2022-08-10
Works with WooCommerce 6.5 - 6.8.x